The Most Beautiful towns on Lake Maggiore, Lake Como, Lake Garda and Lake Orta
The Bookings For You team are all huge fans of the beauty of the Italian Lakes. Whether you're planning a holiday on Lake Garda, Lake Maggiore, Lake Como or Lake Orta, each lake has so much to offer. If you're after a bit of peace and quiet, then we recommend you head to Lake Orta but if you're after beautiful gardens and historic villas, then Lake Como is probably your best bet. If you're after a balance of sightseeing and outdoor activities including water sports, we recommend Lake Maggiore and if you're after a more bustling experience and the hustle and bustle of tourists around you, then opt for Lake Garda.
Whatever lake you choose, if you're in search of the most beautiful towns on Lake Maggiore, Lake Como, Lake Orta or Lake Garda, we think we've chosen the cream of the crop across all four in our top 10 guide.
Orta San Giulio, Lake Orta

Lake Orta is unquestionably one of the lesser known of the Italian Lakes. Relatively undiscovered by tourists, the lake itself has earned the nickname La Cenerentola (Cinderella) among locals, viewed by them as secretly superior to its larger neighbours, Lake Como and Lake Maggiore. We're not sure we agree with them that it's superior but we can agree on one thing – Orta San Giulio is a real gem. Orta San Giulio alone is extremely picturesque with beautiful Renaissance and Baroque art and architecture to discover (including the magnificent Villa Crespi and Villa Perone) as well as stunning lanes and alleyways to explore, but its beauty is made even more prominent by its position opposite the Isola San Giulio, an island set just 400 metres away in the lake and reachable by boat.
The island itself is dominated by its Romanesque basilica which is its main attraction as well as the 19th century bishop's palace and Benedictine Abbey, home to a convent of nuns who live permanently on the island.
Cannobio, Lake Maggiore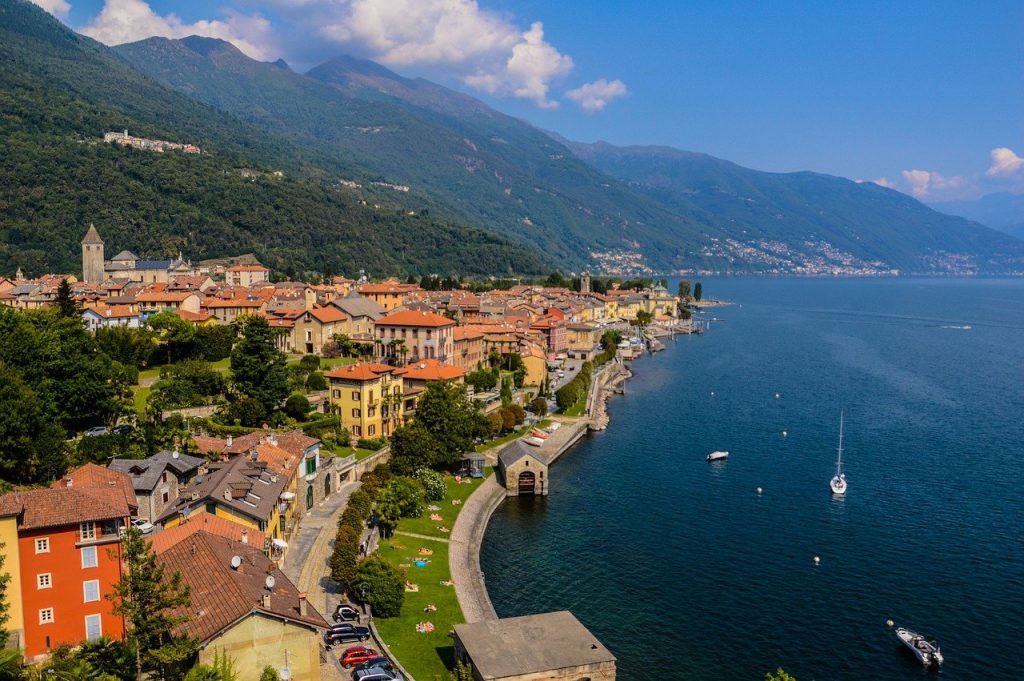 Cannobio is an extremely pretty town on the Western shores of Lake Maggiore. Arrive by boat and you will be greeted with tall, picturesque, pastel-coloured facades lined up along a charming lakeside promenade. Head in one direction uphill and you'll be exploring sloped streets lined with old houses, shops, restaurants and cafes whilst head in the other and you will find yourself at the lido which sits at the far end of the town.
It's worth heading to the rear of the town to enjoy a stunning walk to the gorge and waterfalls of Orrido di Sant' Anna, which lead onwards again to the Cannobina Valley and the Val Grande National Park boasting spectacular scenery.
Stay at this 3 bedroom Lake Maggiore apartment and you're just a short walk from the boat stop which will take you straight across the lake to Cannobio.
Bellagio, Lake Como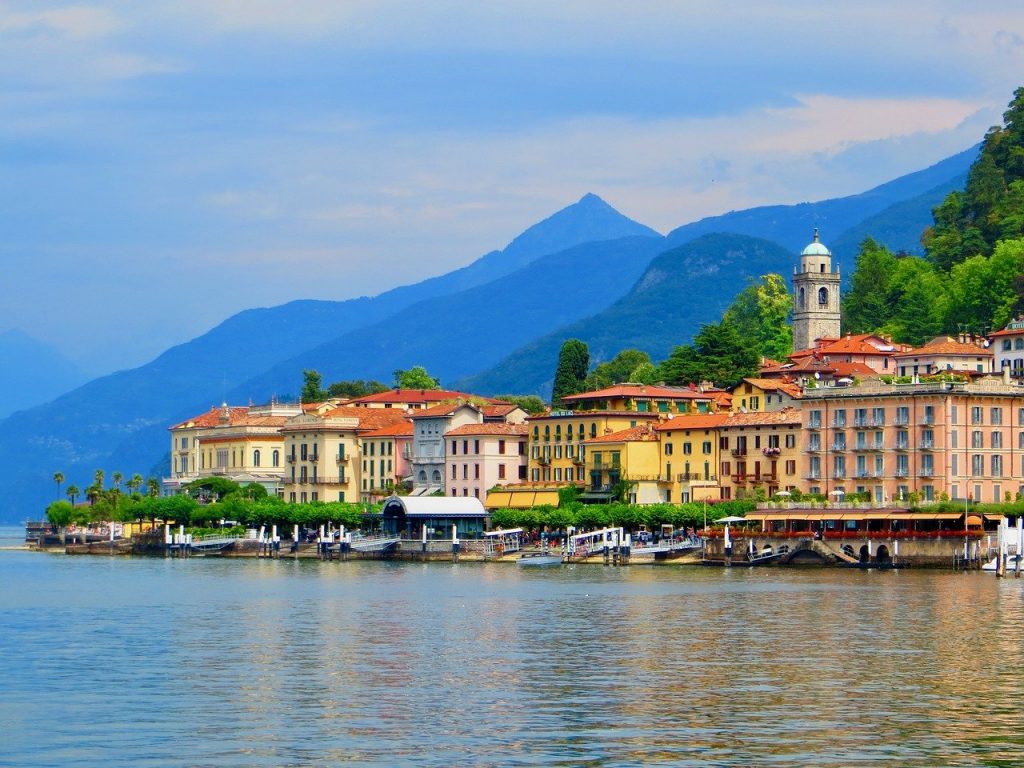 Probably Como's most famous lakeside town, Bellagio is undeniably picturesque. Known affectionately as 'the pearl of Lake Como', the town is nestled on the tip of the promontory that divides the lake into two branches below. The oldest part of the town – the borgo – is characterised by cobbled stairways and alleyways interspersed by small piazzas, lined with shops, restaurants and cafes and always filled with colourful boxes of flowers. Head along its main street – Via Giuseppe Garibaldi – from the ferry terminal (traghetto) and in just over 10 minutes you can be at the very tip of the village (Punta Spartivento), where you can take in the breathtaking views over the lake from a picturesque grassed area. Should you be feeling peckish, there is also a lovely restaurant here.
Bellagio is also a place where you can experience an old world charm. It has been attracting the wealthy for years so it's also home to some pretty spectacular villas and gardens including Villa Serbelloni and Villa Melzi.
Varenna, Lake Como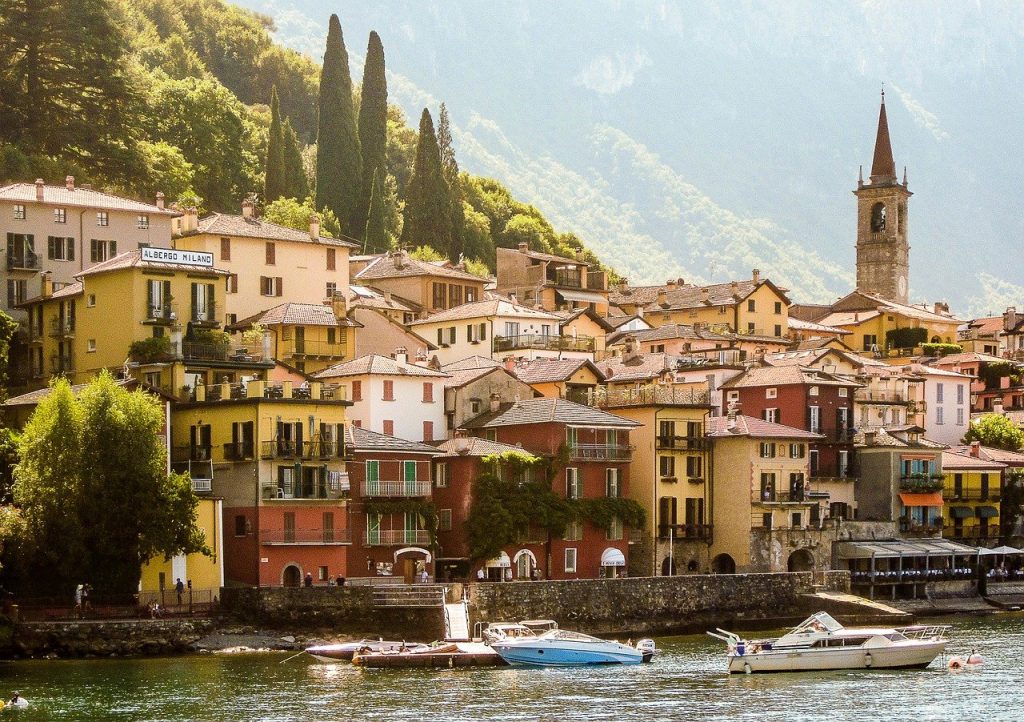 Sitting across from Bellagio is Varenna. The only thing that detracts from Bellagio's beauty for us can be its popularity. It's one of the busiest places on the lake. And its for this reason that we often prefer to spend time in its nearest neighbour, Varenna, a town that we feel has an air of authenticity that Bellagio can sometimes lack in the peak Summer season. Varenna may not boast the high end villas and gardens of Bellagio but we find its more low key fishermen's houses just as charming. And it's not totally devoid of smart villas. There is Villa Cipressi (now a hotel but whose gardens are accessible to the public for a small fee) and Villa Monastero (which is now used for conferences but which is sometimes open to the public and is well worth a visit both inside and out in its narrow garden, home to ornate terraces, sculptures and more.)
When arriving by boat, follow the footpath along the shore to the village waterfront, along the arcaded footpath to a small stone beach. Stroll along its narrow streets, which are home to a surprising number of shops and restaurants and head uphill to Varenna's main piazza – Piazza San Giorgio.
If you want to discover Varenna for yourself, then why not consider this Lake Como apartment as a base for your stay? Situated in Bellano, Varenna's neighbour to the North, the apartment sleeps up to 6 people in two bedrooms.
Malcesine, Lake Garda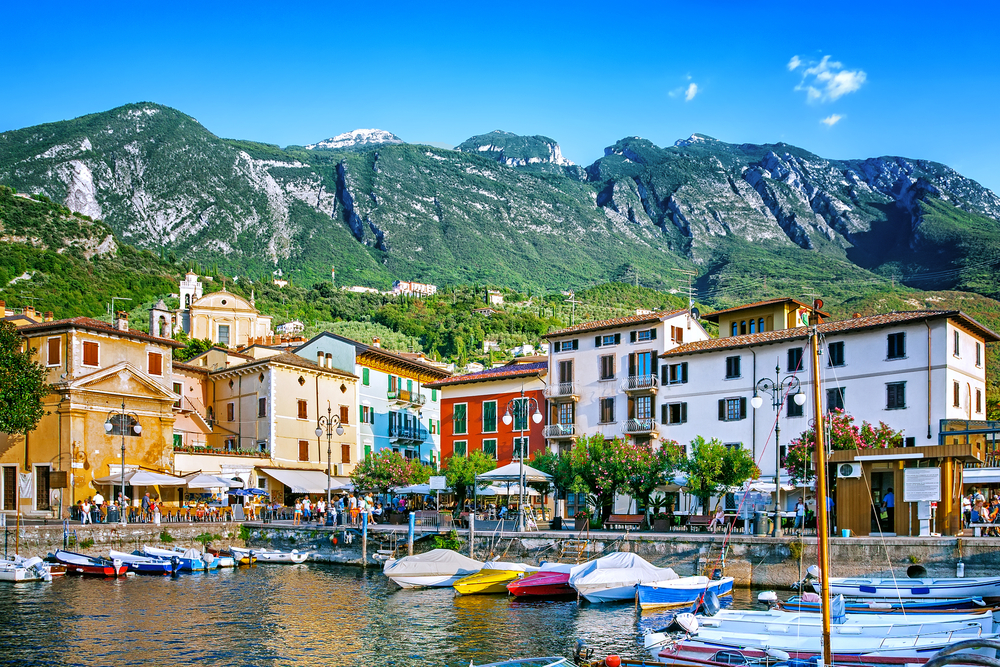 A beautiful Medieval village on the North Eastern shores of Lake Garda, Malcesine is an extremely popular spot with tourists who flock to explore its narrow streets and to take the cable car from the village centre up to Monte Baldo. One cable car will take you half way up the mountain side whilst a second, rotating cable car will take you the rest of the way, allowing all the passengers to enjoy their fair share of the incredible views. Once at the summit, there are restaurants and cafes to enjoy, or why not just enjoy a relaxing walk along the crest, amongst the other hikers and para-gliders. You'll be rewarded with wonderful views from one end of Lake Garda to the other. Just be warned – it can get busy so we recommend you set off early to beat the crowds!
Limone sul Garda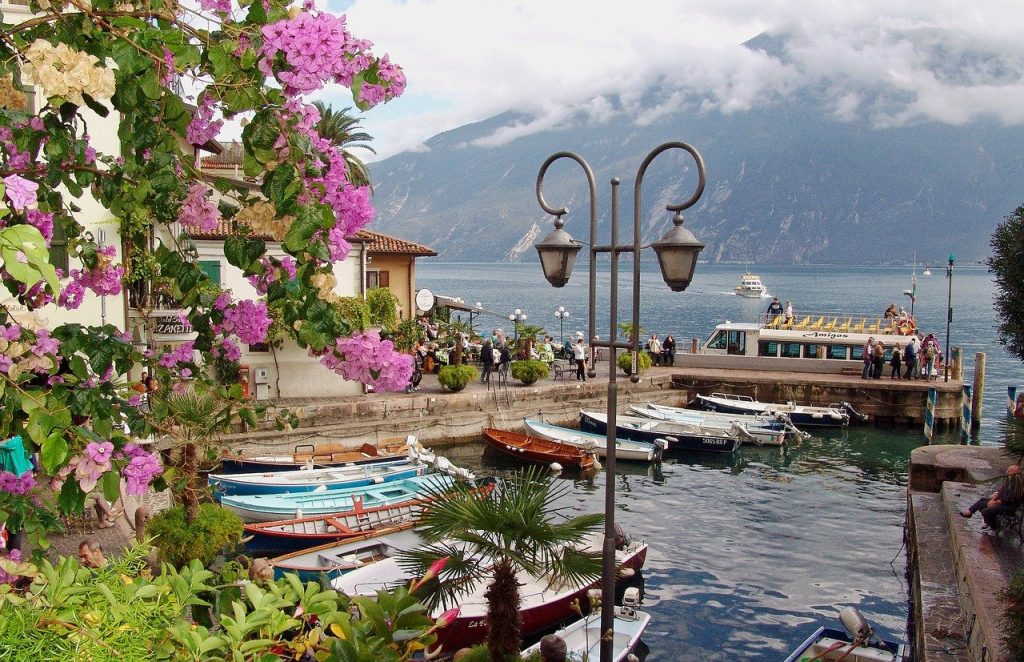 On the other side of Lake Garda is picturesque Limone sul Garda, rather aptly named considering the history of lemon and citrus fruit cultivation in the area but actually named due to its location near a border. (Limone actually derives from a Latin word meaning 'boundary' and reflects the fact that Lake Garda falls into three different Italian regions. Limone is situated in Brescia but there is another Limone in Piemonte hence it is known as Limone sul Garda to allow people to easily distinguish between the two).
Head to the Porto Vecchio, the heart of the old town from where you can start your meander through the narrow streets and alleyways up the hillside behind or stop at one of the many waterside cafes and restaurants. Head North along the pathways to escape the throng of tourists and discover lemon groves, cafes and small pebbly beaches where you can enjoy a chance to cool off in the lake waters. Head South and you'll find a more modern, less authentic side of Limone with a larger open stretch of beach but also plenty of modern hotel resorts.
Cannero, Lake Maggiore
Cannero, known affectionately as the 'Riviera of the Lakes' is a charming lakeside village with a surprisingly Mediterranean climate that allows lemon and orange trees to thrive, along with stunning camellias, olives and palms that you would usually expect to just see further South in Italy.
When disembarking from the boat, walk along the lovely promenade that takes you past the shops and restaurants to a pebbled beach area where visitors can hire pedaloes and take a swim in the lake waters. It's a village that always has a tranquil, peaceful air, with echoes of a simpler time long past.
Sirmione, Lake Garda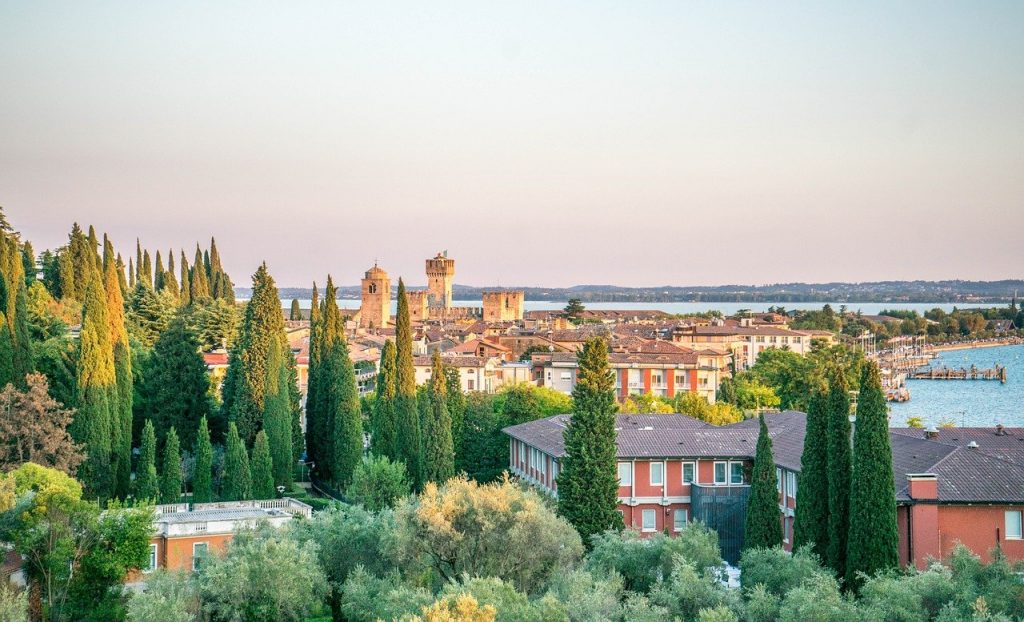 Sirmione is a small but beautiful historic town, dating back to Roman times. Its pedestrianised centre is a warren of charming narrow streets and alleyways lined with souvenir shops and cafes, but it is probably most well known for its almost fairytale looking castle – the Rocca Scaligera – surrounded by a moat which is home to a host of swans and ducks. It's worth exploring the ramparts and climbing the tower to make the most of the wonderful views over Lake Garda. More fantastic views of the lake can be enjoyed on the signposted walk from the historic centre of Sirmione around the promontory.
However, the town is also home to some excellent Roman ruins. To find out more about the Roman history of the area, head to Villa Romana to wander around the ruined walls and learn about the wealth of archaeological finds discovered here over the years.
Like the other towns on Lake Garda, it can get extremely busy in peak season, so we recommend you choose to visit at a quieter time of year to enjoy it to the full.
Menaggio, Lake Como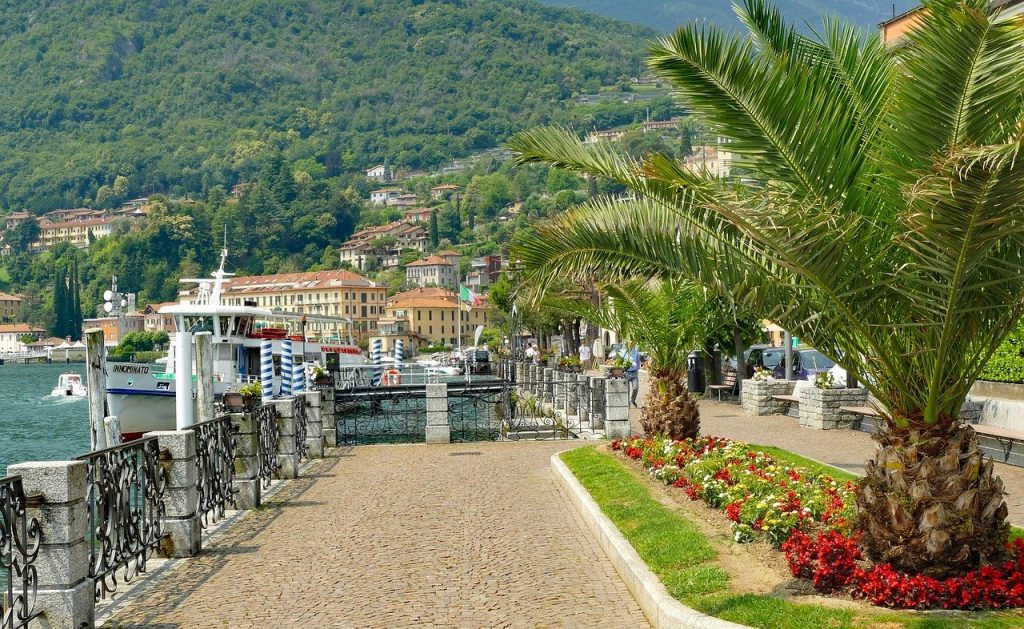 On the shores of Lake Como sits Menaggio, a charming lakeside town. Enjoy a walk along the lakeside promenade lined with palm trees and filled with an array of colour thanks to the abundance of flowers that have been planted and the painted houses behind. Or take a rest at one of the cafes in the central Piazza Garibaldi and watch life pass by. Or perhaps you might prefer to wander along the Via Calvi and enjoy the wares for sale in the many boutiques and shops that line the street. Or if you want to discover more, head further up the hill to the upper part of town characterised by narrow alleyways and steep staircases to the Via Strecium where you will find the picturesque bridge over the Senagra river and discover the sound of the waterfall below.
Arona, Lake Maggiore
Arona is a thoroughly charming lakeside town with a cobbled lakeside promenade off which lead narrow streets and alleyways lined with boutiques, shops, cafes and restaurants. It's the perfect place to enjoy a passeggiata followed by an aperitivo one evening.
The town has a long history but it really came to prominence in the 16th century under the rule of the Borromeo family. The family figurehead, Carlo Borromeo, still dominates the town in the form of a giant 35 metre statue that sits atop the Sacro Monte di San Carlo. To reach it, take the path that leads from the central Piazza del Popolo in the heart of Arona. It's worth climbing up inside the statue to enjoy the view over the lake that can be spied through his eyes and ears.
Fancy using Arona as a base for your Italian Lakes holiday? Then check out this 2 bedroom apartment near Arona.
If we've whetted your appetite and you're keen to find out more about what to see and do in Arona, then take a look at our top 10 guide to Arona.
And, of course, if you fancy exploring any of our most beautiful towns in the Italian Lakes and need somewhere to stay, then check out the villas in the Italian Lakes available to rent from Bookings For You.