If playing amid olive groves and vineyard-covered hills is your ideal destination for the perfect round of golf, then look no further than Tuscany! Certainly, Tuscany can easily claim to be the best place in Italy to practice that golfing swing. In 1889, the English colony of Florence founded the first Italian golfing establishment, the Florence Golf Club, just a short drive from the heart of Florence in Tuscany. And, whilst golf has arguably never captured the Italian imagination like it has the British or American's (perhaps it's just not a fast enough game to compete with the national sport of football), don't let this put you off playing here yourself.
There are over 30 golf courses in Tuscany for you to choose from. We have selected just a few of our favourite courses which you may like to visit during your golf holiday in Tuscany.
Just 20 minutes south of central Florence, the Ugolino golf course in Grassina can arguably lay claim to being the oldest golf club in Tuscany, since it was the new name given to the Florence Golf Club in 1933. The course was designed by Englishman Cecil Blandford and Irishman Peter Gannon. Set in the heart of the Chianti region and only a few miles from the centre of the city, the spectacular 18 hole hillside course can boast wonderful views over the Tuscan countryside as it weaves its way through vineyards, olive groves, and pine tree woods. It's also home to plenty of other facilities including 15 open bays and seven covered bays within its driving range, a large putting green, a practice bunker and an area to practise your chipping technique as well. At the club house you'll find an excellent restaurant and gym as well as an outdoor swimming pool to cool off in.
Villa Oliveta, a luxury villa in Tuscany, is situated just 10 minutes drive from the Ugolino golf course. Sleeping up to 12 people (but with the option of adding further accommodation within the grounds should it be needed), the villa is the perfect base from which to enjoy a golfing holiday in Tuscany.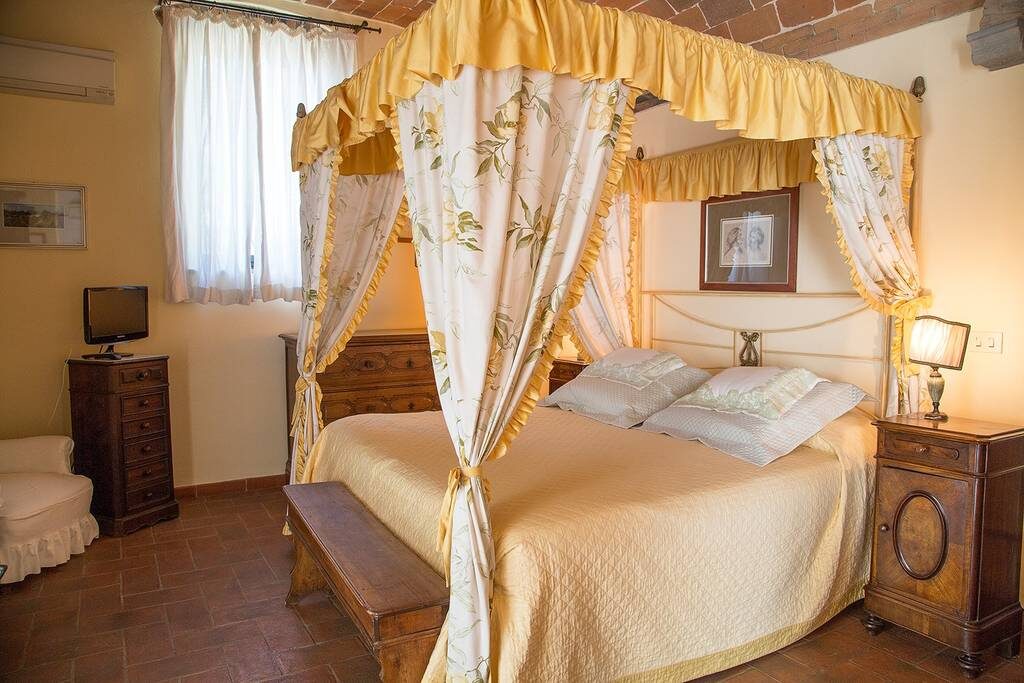 Those enjoying a golfing holiday in Tuscany can also enjoy a round of golf at the Poggio dei Medici golf club, situated just 20 minutes north of Florence. Named after the Medici family who dominated Italian political and religious life between the 14th and 17th centuries, this is an 18 hole, par 72 course set in the rolling hills of Tuscany. You'll find lush, green fairways here with the stunning picture-postcard Tuscan landscape as a backdrop, a fantastic clubhouse and enough challenges out on the course to test the skills of even experienced players. Watch out for the water hazards on the 2nd, 5th and 15th holes.
Less than an hour from the Poggio dei Medici Golf Club is Villa le Terme, a contemporary villa in Tuscany which is also suitable for wheelchair users. Boasting not just a private outdoor pool but also an indoor spa area, this is a Tuscany villa you'll want to come home to after a day on the golf course!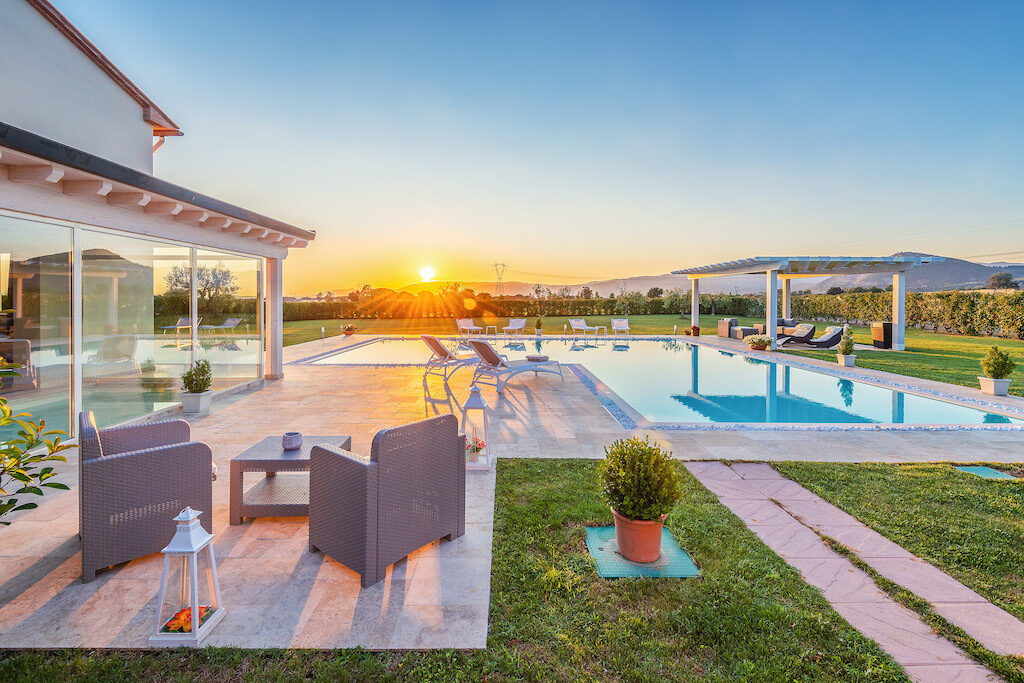 This 18 hole, par 71 golf course and hotel resort has a relaxed and friendly atmosphere. The attractive course was designed by British golfer Keith Preston and is set amid olive groves and towering cypress trees in the Maremma region of Tuscany. It offers enough challenges for the experienced player as well as being suitable for beginners.
Il Pavoniere is another inviting layout, located approximately 40 minutes drive North West from Florence and just 3 km from Prato. Situated in an ancient park in the spectacular setting of the 19th-century restored Leopoldo de Medici Villa, the 18 hole, par 72 course was designed by Arnold Palmer. As a result, this is much more of an American style course, dotted as it is with numerous lakes and water obstacles which are crossed by several bridges but the Tuscan landscape that surrounds it is as stunning as you'd expect. Other facilities within the estate include tennis and football courts, outdoor pool and gym, a driving range, putting and pitching green and practice bunker. There is also a fantastic restaurant here overlooking the course which serves traditional Tuscan cuisine along with two bars.
Just half an hour away from Il Pavoniere is Villa Ann, a stunning Tuscany villa that can comfortably sleep up to 10 guests. Any non-golfers amongst the group will be able to relax by the pool, enjoy a work out in the private fitness suite or head out on the mountain bikes provided whilst the golfers are practising their swing!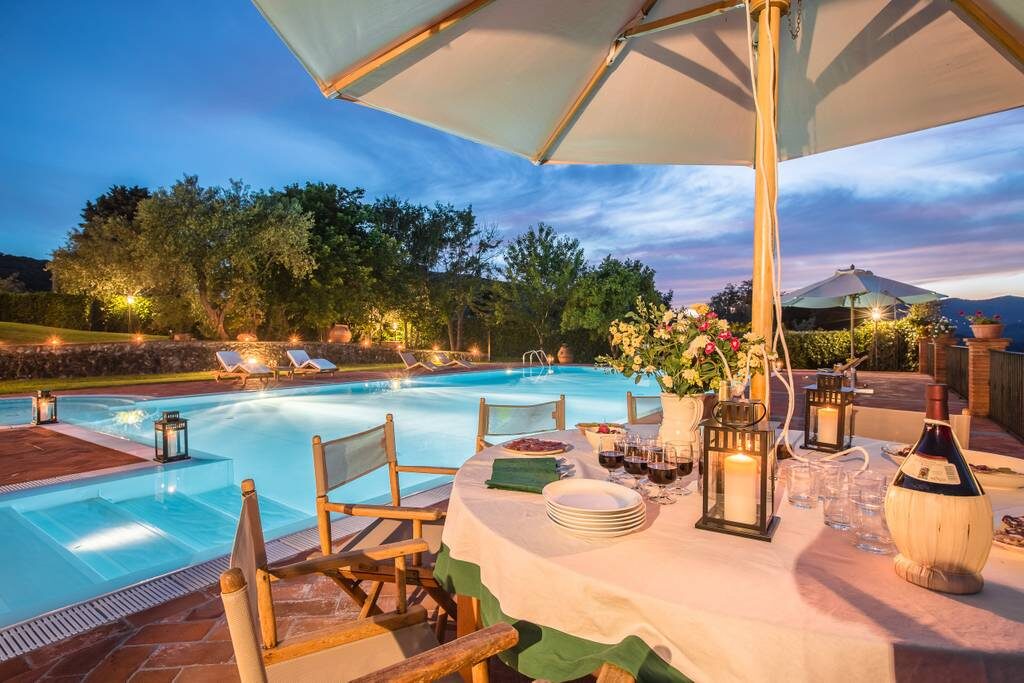 Montecatini is a complex and challenging 18 hole, par 72 golf course with the most difficult holes being 3, 4, 5 and 10. A word of advice! Don't get caught out by the natural water obstacles at five of the 18 holes! Situated near Montecatini Terme, northwest of Florence, this rather hilly course is set among idyllic olive groves and was designed by Marco Croze. The area is near to where Leonardo da Vinci was born so that perhaps gives you an idea of how idyllic the setting is, given the inspiration it provided for his work. The clubhouse dates back to the 11th century and the views from the terrace here are incredible!
Less than 20 minutes drive from the Montecatini Golf Club is Villa San Bastioni. Whilst the views from the Montecatini clubhouse are terrific, they arguably can't rival those from this 5 bedroom villa in Tuscany, the perfect place to stay for your golfing holiday in Tuscany.
This is a 9 hole private golf club near Pisa designed by an English architect, Ken Cotton. It has a relaxed ambiance and is rarely overcrowded.
Located in the heart of the Tuscan countryside between Pisa and Florence, the Castelfalfi Golf Club is Tuscany's largest golf course and offers both an 18 hole mountain course and 9 hole course lake course. The par 72 championship mountain course enjoys stunning views over the Castle of Castelfalfi and is arguably the hardest of any golf course in Italy. Don' worry though. For the less experienced golfers amongst you, the par 37 lake course is somewhat easier to tackle! The clubhouse at the Castelfalfi Golf Club was completely renovated in 2020 and now offers an incredible space to unwind after a few hours on the green. An outdoor terrace provides spectacular views over the course as does much of the interior thanks to large floor-to-ceiling windows.
Villa le Capanne is an absolutely stunning luxury Tuscany villa suitable for larger groups. Just 40 minutes drive from the Castelfalfi Golf Club, it's a luxurious setting for your golfing holiday in Tuscany. Even better, the owners are expert chefs and can take care of all your catering for you, allowing you to spend more time out on the course!
Argentario Golf resort and spa
An 18 hole, par 71 PGA national golf course, the Argentio Golf Resort is frequently the host of important golf tournaments in Italy. Situated in a stunning protected area, on the Monte Argentario promontory, it's just 5 minutes from the Duna Feniglia Nature Reserve and half an hour from the Parco dell'Uccellina Reserve. The course was actually built on waste ground and is unrecognisable from the site it once was thanks to the planting of tens of thousands of indigenous trees, plants and shrubs. Thanks to its position, as well as enjoying incredible inland scenery, you're also treated to stunning coastal panoramas to admire as well. As well as the 18 hole course, you'll also find a driving range here and the golf academy also offers state of the art technology through its swing analysis platform.
Less than a half hour drive away from the club is Villa Sassi, an attractive 4 bedroom villa in Tuscany which offers the perfect setting to relax and enjoy the company of friends and family after a day on the golf course.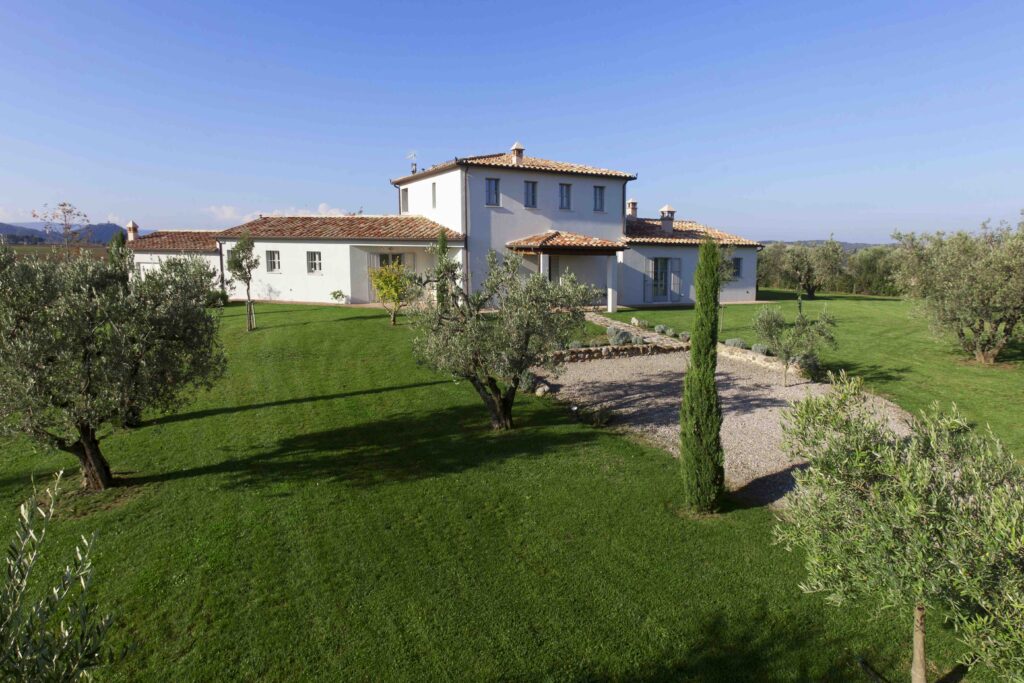 As the name would suggest, the Punta Ala Golf Club is situated in the upmarket resort of the same name. A challenging 18 hole, par 72 course that was founded in the 1960s, it attracts a lot of wealthy clients who have second homes in the area. The course itself is arguably one of the most attractive in Italy. It is simply stunning, boasting beautiful views over the island of Elba from its fairways but set within the natural vegetation of the Maremma region of Tuscany, complete with evergreen pines and oak trees. Its location near the coast means its also perfect for the rest of the family if not everyone is into their golf and they want to spend a day on the beach instead.
Designed by Robert Trent Jones Junior, this 18 hole, par 71 golf course in Tuscany sits in over 320 acres of beautiful Tuscan countryside just south of Siena. It's one of three courses that he has designed in Italy and, as with pretty much all of the golf courses in Tuscany, occupies a beautiful setting laid out over gently rolling hills. With water hazards to contend with in no less than 13 of the 18 holes thanks to the presence of five lakes, this is a course that will offer plenty of challenges! After your round of golf, enjoy a meal at the clubhouse restaurant which enjoys views over the entire 18 holes.
Villa Colombaio is a luxury Tuscany villa near Royal Golf La Bagnaia. Beautifully furnished and offering complete privacy whilst just being a short drive to the nearby village, this 6 bedroom villa ticks all the boxes!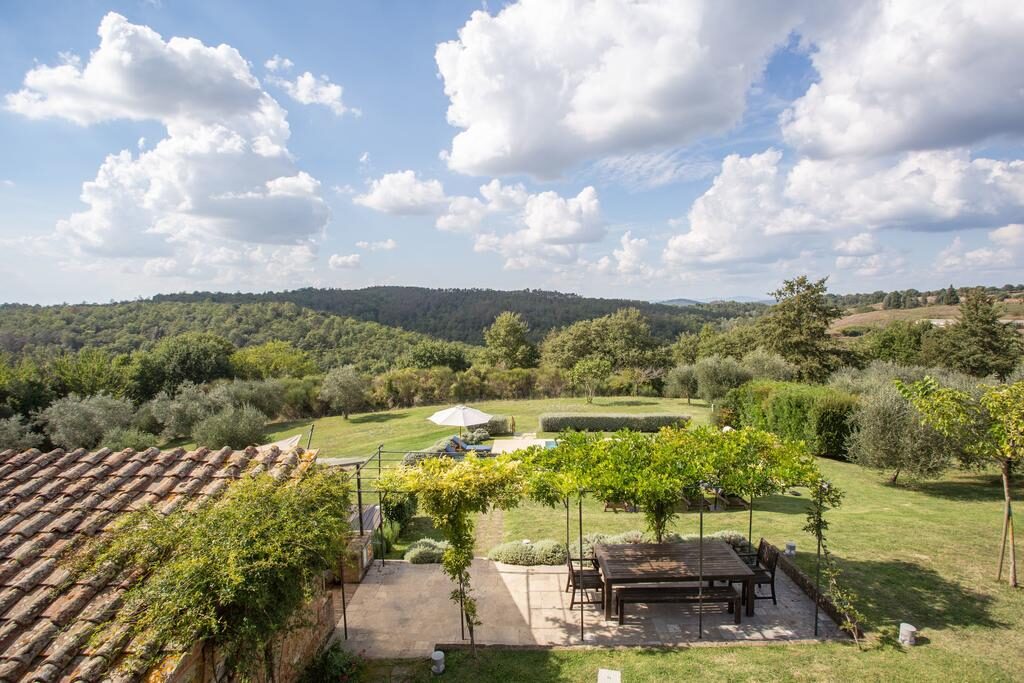 A golf club set up by a group of golfing friends in the mid 1980s, at the time of writing the club currently has 13 playable holes but have ambitious plans to extend the course to have 18 holes in total.
Italian villas near to Casentino Golf course include Antica Dimora, a spacious traditional villa in Tuscany sleeping up to 20 guests across a number of properties within an exclusive estate near Anghiari. For smaller groups, it is possible to rent just the main house which accommodates up to 12 people.
We hope that this glimpse into the golf courses in Tuscany has whetted your appetite to practice that swing! If you're looking for a golfing holiday in Tuscany and would like some help finding the perfect Tuscany villa for your group or family or friends, then please do get in touch with the Bookings For You team who will be happy to provide more information about golfing in Tuscany and the properties that may be suitable for your golfing holiday.