Puglia is a truly unspoilt region of Italy, renowned for its amazing cuisine, magnificent coastline and exuberant architecture. It's perhaps not the first place that springs to mind for a family holiday but a quick look at its credentials readily proves that it ticks many of the boxes for a successful family holiday in Italy.
Bookings For You are a family run company passionate about delivering on customer service and passionate about all things Italian. We have over 250 holiday villas and apartments across Italy, including a portfolio of villas in Puglia. We firmly believe that the key to any successful family holiday is to keep the children happy and entertained at all times. Happy children inevitably means happy parents just as easily as grumpy children will unfortunately lead to grumpy parents!
Many children will be more than happy to spend hours by the swimming pool or in the sea so we've ensured that all our Puglia villas either have a swimming pool or are within walking distance of the sea. And believe me, in the heat of the Puglia Summer sun, you'll definitely need this access to water! However, it's important to have plenty of other activities up your sleeves to keep them entertained and Puglia has an abundance of family friendly attractions to enjoy. Whether it's a day at one of the waterparks, a day on dry land at an adventure park filled with treetop adventures galore, or maybe an afternoon's adrenalin rush of some fairground rides at the region's safari and amusement park there is certainly plenty to keep them amused for hours and hours. Check out our guide to the best family activities in Puglia for more inspiration.
And, for those on a budget, don't worry, there's plenty to do that doesn't involve digging into your pockets and paying entrance fees. The 800km of coastline that Puglia boasts is absolutely stunning and there are plenty of wonderful white sandy beaches to make the most of. One in the South of Puglia is even affectionately nicknamed the 'Maldives of Italy' because of its incredible white sand. We've also found that children seem to naturally love the landscape of Puglia. There are several stunning nature reserves both onshore and offshore offering a chance to spot some impressive wildlife including flamingoes and dolphins. And even the towns and villages of Puglia seem to spark their imaginations, not least Alberobello with its 'hobbit' style white, cone-shaped trulli.
And of course, as you'd expect from anywhere in Italy, the food in Puglia is absolutely superb. The menus are always based around the abundance of excellent local produce including fava beans, courgette, rocket, artichokes and durum wheat. The latter is used to make their orecchiette, little ear-shaped shells often served with sauces including broccoli, ragu or mushroom. Kids love it! Fish and shellfish are also much in abundance and the quality of the meat second to none.
For those whose appetite has been whetted, Bookings For You have a stunning selection of holiday rentals across the region, from traditional trulli to contemporary Puglia villas. With many options for larger family groups and extended family groups, they're definitely a great starting point for anyone searching for holiday rental Puglia.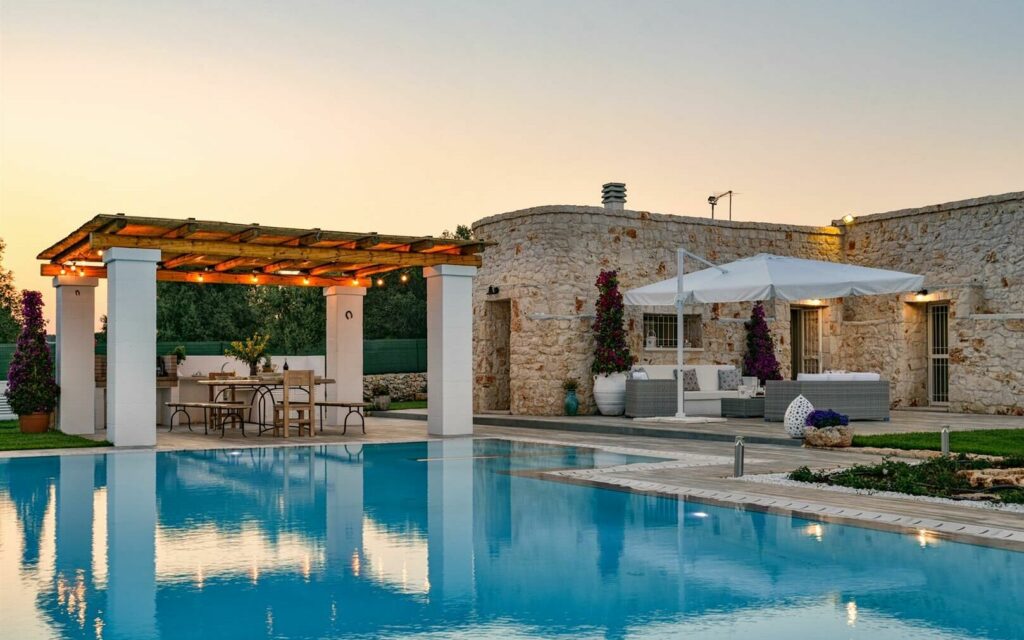 Trulli Nicola is a great Puglia villa option for a family. With 3 bedrooms (2 doubles and 1 twin), it can comfortably accommodate up to 6 guests. The decor is simple, contemporary but stylish but for us, the biggest selling point of this villa is the outside space. A variety of seating areas are arranged around the private swimming pool, allowing the grown-ups to relax in style whilst the younger ones splash around to their hearts content.
Alternatively, for a really luxurious Puglia villa, take a look at The Residence, an absolutely stunning 8 bedroom property which doesn't just boast its own private swimming pool but even has a separate rooftop plunge pool and its own private children's playground complete with swing set and slide!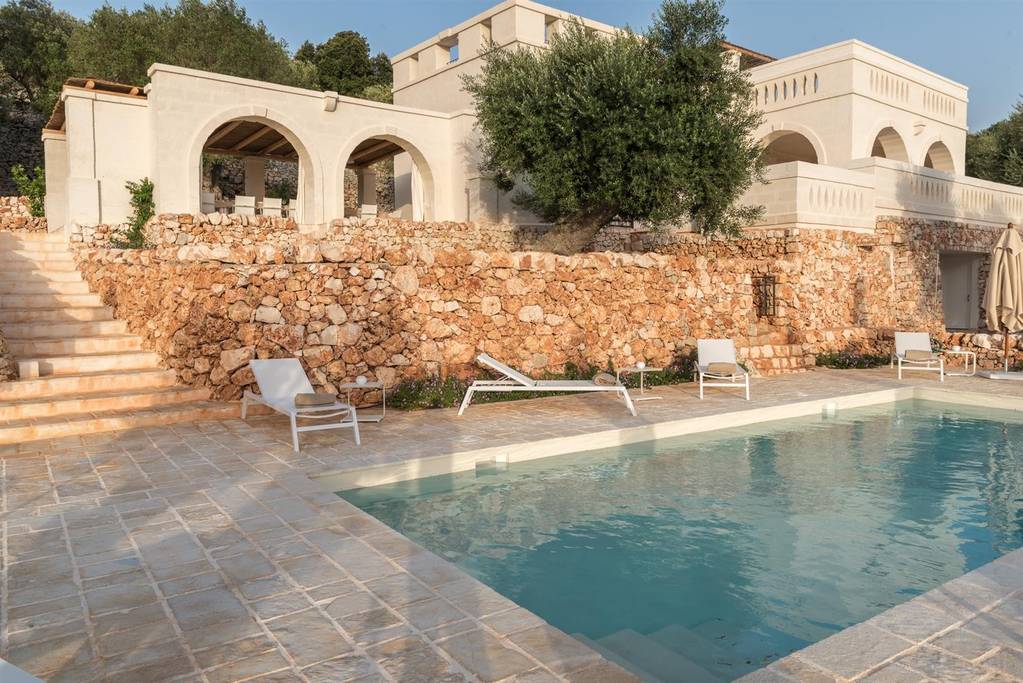 Or, if you have older children, then it's worth taking a look at another of our favourites – Trullo Piccoli – a much more traditional looking property but with a contemporary twist. It's a Puglia villa much more suited to families with older children but for those for whom it can work, you can't fail to fall in love with the stunning interior, the private gardens, outdoor bar and pool.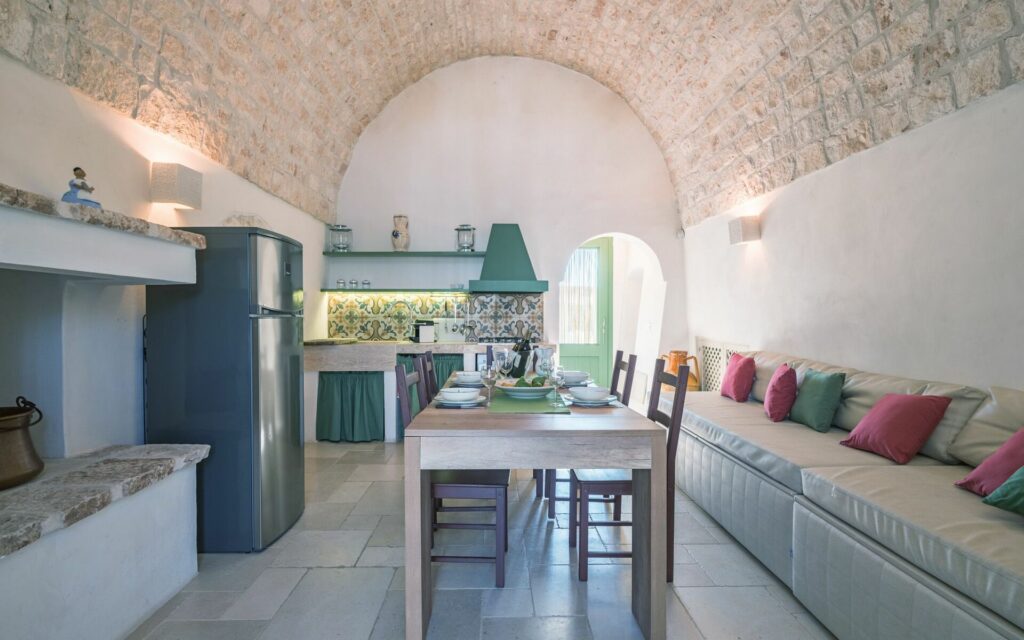 Tempted? Then do get in touch with Bookings For You if you'd like any suggestions for your next Puglia villa holiday or if you'd like any ideas on other suitable places to visit in Italy with your loved ones.