There are so many reasons to visit Italy in the Spring. Not least, it's a chance to visit Italy whilst avoiding the crowds that you'll more typically see in the Summer. As avid foodies, we can also vouch for it also being one of the best times to enjoy the best Italian seasonal produce and, weather-wise, in much of Italy, you can already expect to see rather pleasant temperatures without the humidity of the forthcoming peak season. Not only that, but Italy also plays host to some fantastic festivals in the Spring, museums often have temporary exhibitions in place and you'll find that the whole country is literally blooming. Everywhere from the pavements to the fields are filled with an array of floral colours.
But, for those keen to visit Italy in the Spring, where are the best places to try?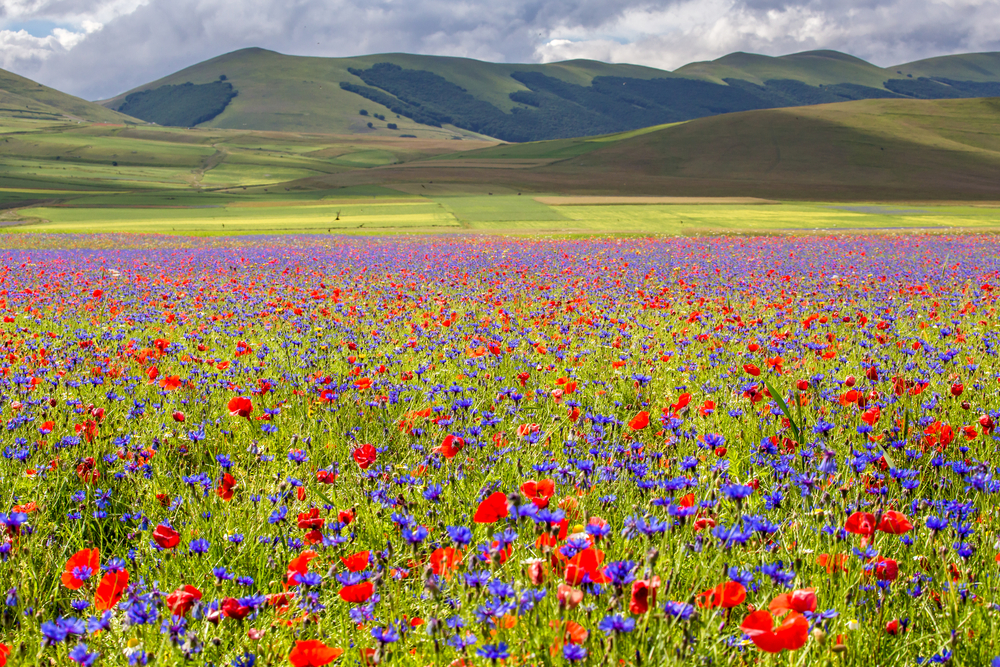 Well, if you're wanting to see Italy in bloom, then there can be no better place than Umbria in the Spring. Umbria is affectionately referred to as the 'green heart of Italy' and it's easy to see why. Castelluccio is a village in Umbria situated just a few kilometres from Norcia. Starting in May and lasting approximately two months, the green plains seem to almost change colour overnight as a mass of flowers bursts into colour. Known locally as the 'Fiorita' (the flowering) of Castelluccio di Norcia, literally thousands of flowers cover the plateau. Poppies, violets, clovers, wood sorrels, narcissuses and wild orchids open their petals creating a sea of colour with reds, purples, yellows and white forming a multi-coloured blanket across the normally green fields.
One of our other favourite events in Italy also takes place in May – the Infiorata in Spello. At this time, the streets of the town are literally covered with a tapestry of flowers to be judged and a winner awarded. But unlike the 'Fiorata' of Castelluccio, this event lasts just 24 hours before the incredible creations are destroyed.
There are plenty of other reasons to visit Umbria in the Spring. For one thing, the weather is typically warm and sunny but not too hot. Umbria is great walking country, with a host of wonderful paths to explore. But it will certainly be much more comfortable to hike these in the Spring than in the heat of the peak Summer sunshine. And Spring is a great time to enjoy an Umbria villa holiday if you're a keen foodie too. March 2022 will see one of the world's most important chocolate festivals – Eurochocolate – take place in Perugia, whilst May sees the start of the black truffle season. Or, if you're looking for a glimpse into authentic Italian life, then there are some great Italian festivals in Umbria in the Spring too. One of our favourites is the Ceri Racing in Gubbio which takes place each May.
Tempted to visit Umbria in the Spring? Then view our Umbria villas for your next holiday in Umbria.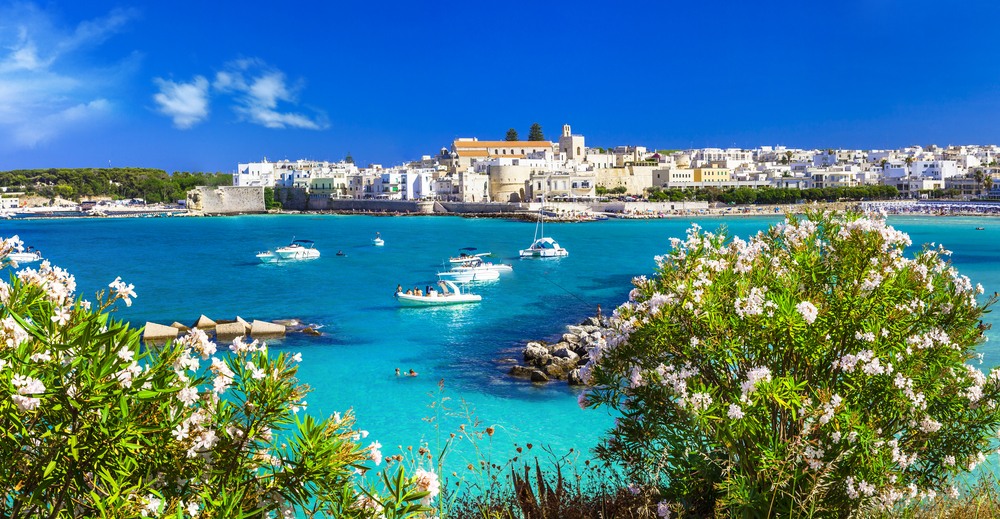 In the very South of Italy, Puglia is well known for its high, soaring temperatures in the peak Summer months which makes visiting in July and August just too hot to handle for some. But, in the preceding months during the Spring, you'll find temperatures already in the 20s but much more pleasant and sunshine pretty much guaranteed. Not only that. There is also plenty going on in Puglia to keep you entertained too.
Throughout Italy at Easter, you will find a number of re-enactments of the life of Jesus Christ but the one in Alberobello in Puglia is particularly impressive. Or, a few weeks later in May, one of Puglia's biggest festivals – La Festa di San Nicola – takes place in Bari. This attracts thousands of pilgrims each year who come from all over the world. And there are plenty of other Springtime festivals in Puglia to get involved in as well including the Festa di San Cataldo in Taranto, the Matonna ta Cutura celebrations in Parabita in Southern Puglia and the Truffle Food Festival in Corigliano d'Otranto.
Tempted to visit Puglia in the Spring? Then view our Puglia villas for your holiday in Puglia.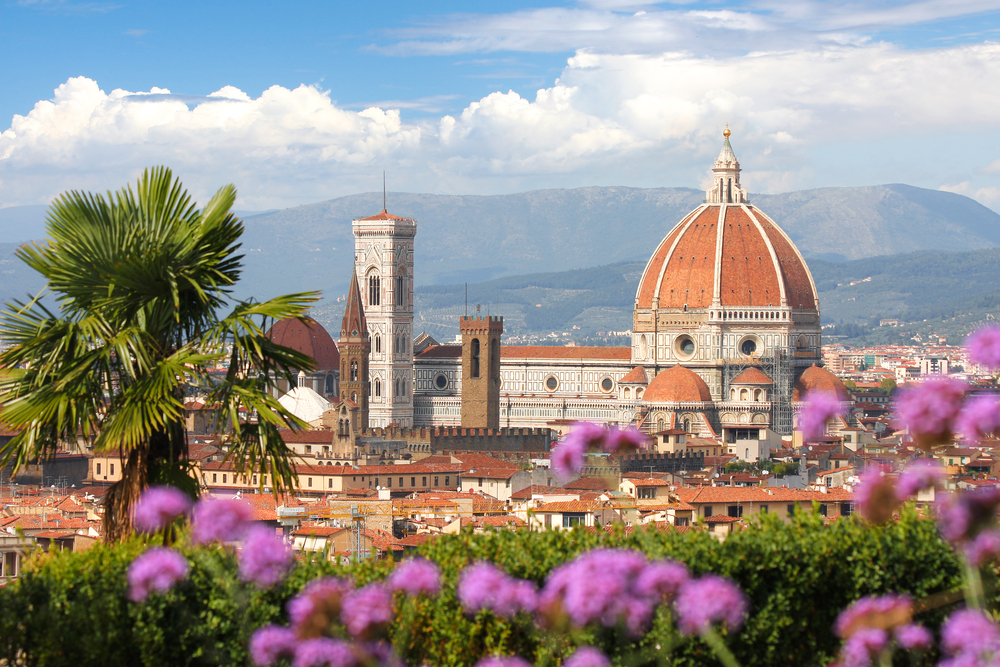 Tuscany is also the perfect place to visit in Italy in the Spring. Like Umbria in the Spring, here you'll find days getting longer and the temperatures very pleasant, sitting comfortably between 17 and 23 degrees. And like in Umbria, Spring is a great time to go walking in Tuscany. Some of the best hikes can be found in the Florentine Hills, Gardagnana, Lunigiana and Casentino. Or, opt for a walk along the Via Francigena, an old pilgrimage route. The path actually covers a distance of nearly 19,000 km in total but 380 km of these fall within Tuscany.
May is also the start of the sagre season. A sagra is a local village festival, celebrating the place's local heritage. They usually involve food somewhere within them but they can also often include historical pageants and sport. A few of our favourites include the Palio dei Micci (donkey palio) in Querceta, the Sagra della Cipolla in Bagnone and the Notte dei Pirati in Porto Ercole.
And, Spring is also the perfect time to explore Tuscany's cities too when temperatures are ideal for sightseeing and exploring sights such as Florence's Uffizi Gallery, Pisa's Leaning Tower or Siena's Duomo. Not only that, Spring is also the perfect time to visit Florence's beautiful gardens. The roses will be in full bloom in Florence's Boboli Gardens whilst the wisteria-covered pergola in the gardens of the Villa Bardini is also at its best at this time of year. And Spring is the only time you will be able to visit Florence's Iris Garden (Giardino dell'Iris), opening its doors for just 20 days each year between late April and mid May. If you're in Florence over Easter, then you can also experience one of Italy's most spectacular festivals – the Explosion of the Cart – which takes place on Easter Sunday. Or, if you're visiting Florence in May, then make sure to look out for the events and concerts that make up the Maggio Musicale Fiorentino, Florence's annual May music festival.
Tempted to visit Tuscany in the Spring? Then view our Tuscany villas for your next holiday in Tuscany.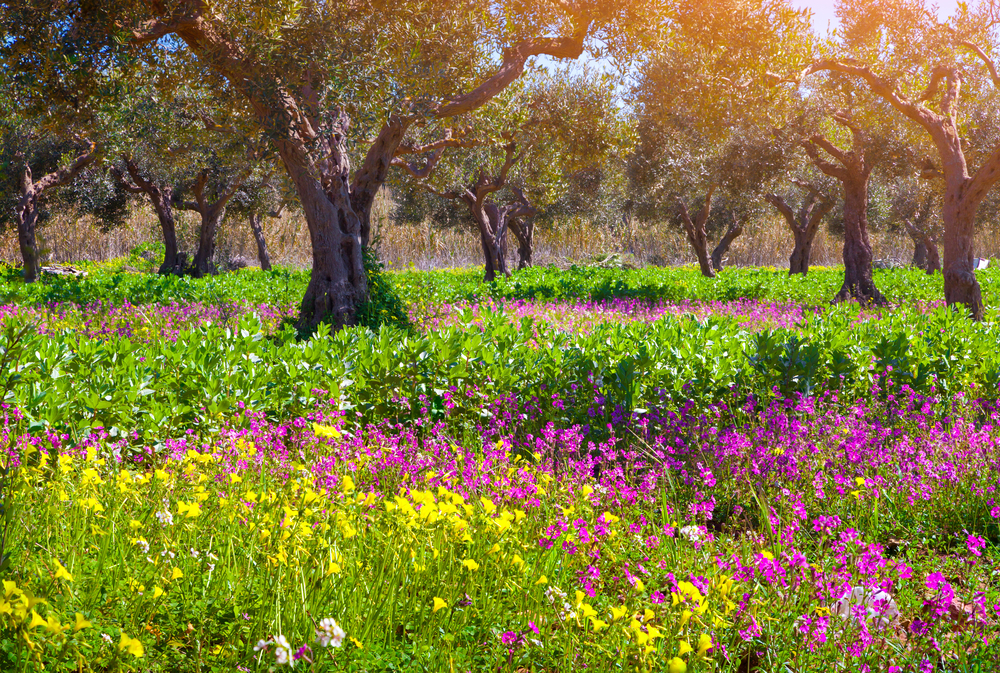 Just as with Puglia, temperatures are pleasantly warm in Sicily in the Spring time without being stiflingly hot making it an ideal time to visit. You will certainly appreciate being able to comfortably hike, cycle or explore on foot without sweltering in the Summer heat! And it should even be warm enough to start enjoying some of Sicily's wonderful beaches. And, as with Italy's other regions, you'll find a visit to Sicily in the Spring also means you'll be holidaying without the crowds you would expect to see in the peak Summer months.
As in Umbria, you'll find rural Sicily literally blooming with wild flowers across the Spring months. Whilst Sicily can claim to have some of Italy's most beautiful beaches, it also boasts some just as impressive countryside and you'll find Sicily's fields and country lanes bordered with an array of wildflowers from poppies to peonies and from anemones to snapdragons. For some of the most impressive wildflower displays, head to the slopes of the Madonie National Pak or the Zingaro National Park. And let's not forget Sicily's own Infiorata Flower Festival held in Noto each May which certainly more than rivals the one held in Spello. Visit Noto during this annual event and you'll find the street of Corrado Nicolaci is literally blanketed with a carpet of flower petals.
There is plenty more to see and do in Sicily in the Spring too. For example, Syracuse plays host to a superb Greek drama festival from mid-May onwards. And there are a number of other festivals to enjoy in Sicily at this time, including the Mondello beach and water sports festival, the kite-flying festival in San Vito Lo Capo and the celebrations in Marsala to mark the historic arrival of Garibaldi.
Tempted to visit Sicily in the Spring? Then view our Sicily villas for your next holiday in Sicily.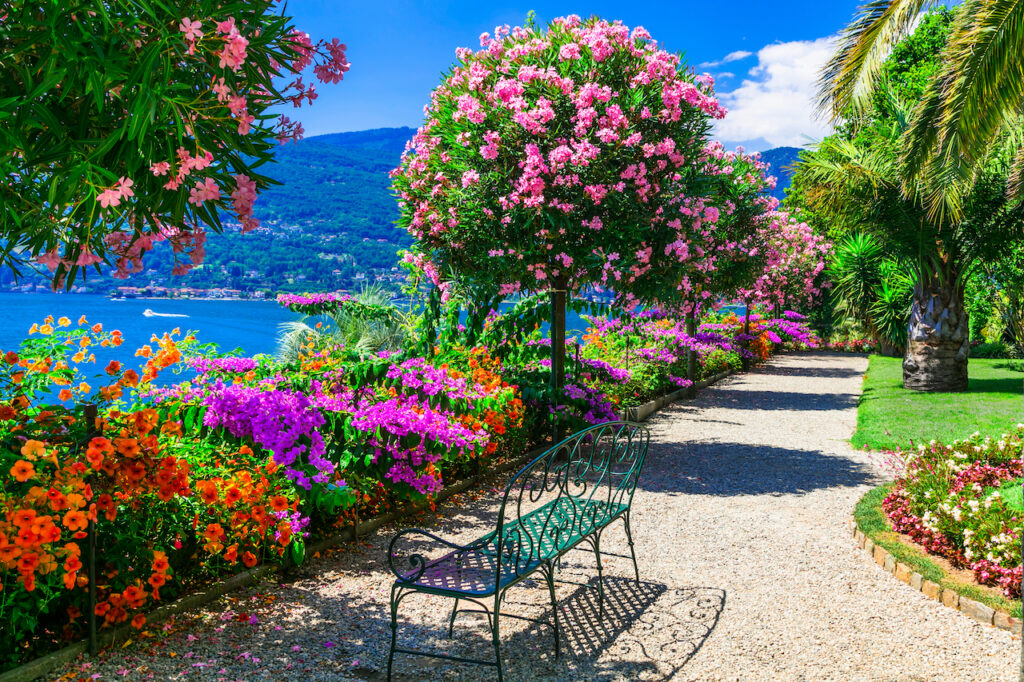 You're not as guaranteed to get the warm dry days you'd see in Sicily in the Spring time in the Italian Lakes, but even if you do have to dodge some April showers, you'll still be glad you visited the Italian Lakes at this time of year.
The Italian Lakes are renowned for their impressive lakeside gardens and there is arguably no better time to discover these than in the Spring. These gardens are home to an array of plants, many of which you won't expect to find so far North in Italy including palm and citrus trees. The Borromean Islands on Lake Maggiore are particularly spectacular in the Spring when the manicured flower beds of the gardens of Isola Madre and Isola Bella are filled with an abundance of colour. Or on the shores of Lake Maggiore are the gardens of Villa Taranto. The best time of year to visit these gardens is certainly in the Spring to coincide with 'The Feast of the Tulip' when the gardens burst with colour thanks to around 80,000 of these pretty flowers.
Lake Como's gardens are equally beautiful. Head to Villa del Balbianello, Villa Erba, Villa Carlotta, Villa Melzi d'Eril or Villa Monastero and you won't be disappointed. If you want to enjoy the camellias and wisteria in bloom, then visit in April, or if you're more a fan of hydrangeas and roses, opt for May.
Tempted to visit the Italian Lakes in the Spring? Then view our Italian Lakes villas for your next holiday in Sicily.
Holiday on the Amalfi Coast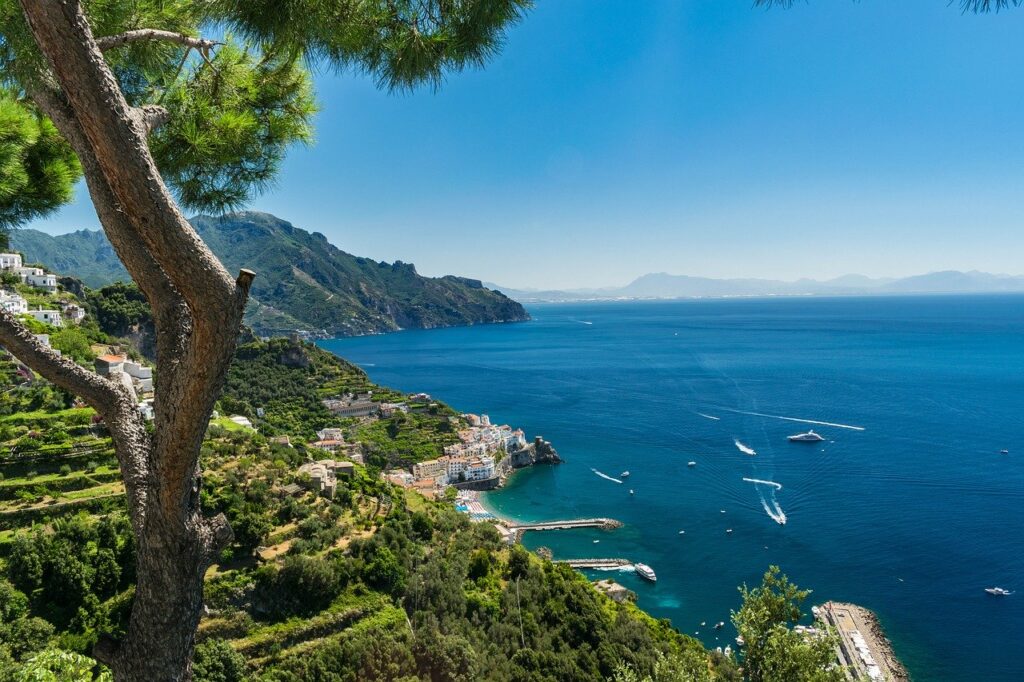 The Amalfi Coast is, without doubt, one of Italy's most popular tourist spots and its dramatic clifftop roads can get extremely busy in July and August. In the peak Summer months, tourist buses and cars snarl up the roads and it can be painful travelling between towns. However, visit the Amalfi Coast in the Spring and you'll already find plenty of warm sunshine but far less crowds to contend with. There are already highs of 23°C to be enjoyed in Naples by May, so it's even an early opportunity to enjoy some lazy days on the beach. OK, the water may still be a little on the cold side, but you'll be able to get the beach (almost!) to yourself.
This stretch of coast looks so pretty in the Spring too. Spring time is when the yellow ginestra starts to bloom on the cliffs, making quite a dramatic contrast against the azure seas below. And the mountain paths are awash with wildflowers. Head to the Path of the Gods for some wonderful walks. Alternatively, head to Positano or Ravello for some of the best wisteria you will ever see! The latter is home to Villa Cimbrone which has pergolas full of wisteria whilst Positano's main street is festooned with the beautiful blossom.
Tempted to visit the Amalfi Coast in the Spring? Then view our Amalfi Coast villas for your next holiday on the Amalfi Coast.
Convinced that you want to holiday in Italy in the Spring, then check out the full range of villa rentals Italy available from award-winning villa rental specialists, Bookings For You.