We've never made a secret of the fact that Spello is one of our favourite places in Italy. A charming hilltop town in Umbria, the town has a long and rich history. A Roman colony from the 1st century BC after it was believed to have been founded by the Emperor Augustus, it was originally known as Hispellum. These days, the town is encased in its Medieval walls but it's still possible to see plenty of evidence of its Roman ancestors. A survey showed that 80% of the buildings lie on Roman foundations and, as you wander around the town, many Roman remains still exist including the three Roman gates – Porta Consolare, Porta di Venere and the Arch of Augustus – along with the old Roman aqueduct.
The list of things to see and do in and around Spello is long and plentiful. It will take a few hours to do justice to Spello's beautifully quaint and historic centre but, equally, if you are spending a week here, there is more than enough to fill your time, both in Spello and further afield in the surrounding area.
Things to do in Spello
Discover Spello's churches: Spello is home to a number of churches. Possibly the most famous of these is the Church of Santa Maria Maggiore. Likely to have been built over an ancient temple dedicated to the Roman Gods Juno and Vesta, this church has a Romanesque portal and a 13th century bell tower. It is also home to the spectacular Baglioni Chapel, where you will find frescoes by Pinturicchio dating back to around 1500. The second church in Spello worth visiting is the Franciscan Church of Sant' Andrea. Once again, you'll discover some incredible artworks here including a beautiful crucifix by Giotto, a brightly painted ceiling and the remains of Medieval frescoes which adorn the walls. However, the church is also home to rather a different piece of history – the mummified body of Andrea Caccioli who was one of St Francis's disciples. A short walk away is the Church of San Lorenzo. Its plain exterior gives no hint of what you will find inside which is rather unique. Its altar sits atop an old Roman column that protrudes through the floor whilst its large central 17th century wooden canopy is incredibly striking. The 15th century fresco of the Mystic Marriage of Santa Caterina and the 16th century fresco of two angels are also worth seeking out here. Other churches in Spello include the Church of San Severino. Situated on the edge of town, this admittedly has less to attract visitors but the views from over the valley that it enjoys are worth seeing. And finally, there is the Romanesque Church of San Claudio.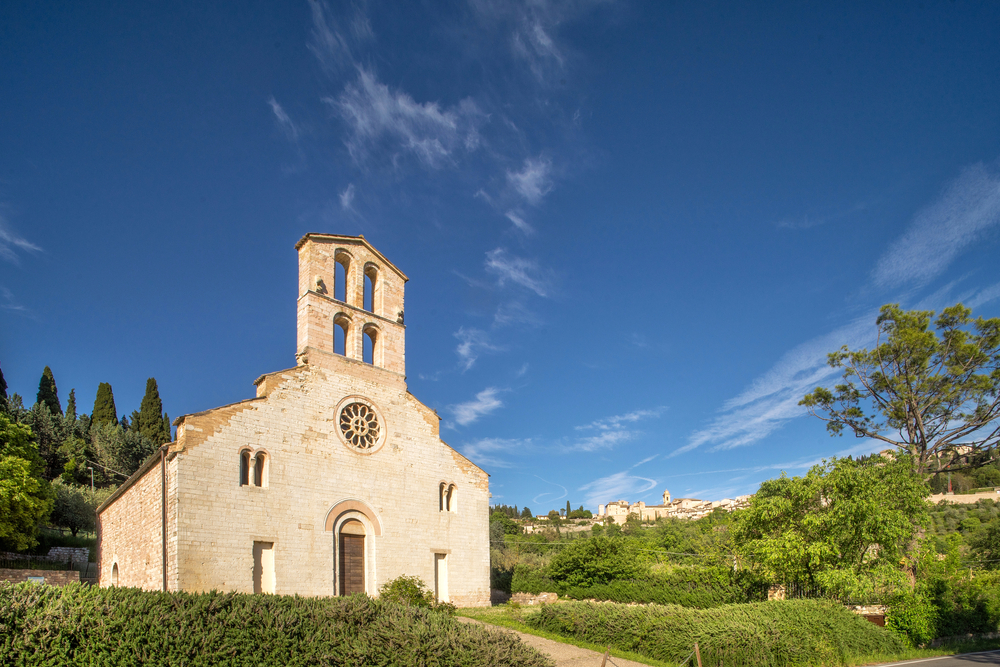 This actually sits outside the town, on the road between Spello and Villa Fidelia. Standing on the site of the old Roman baths, the church was originally built in the 12th century but saw significant changes in the 16th century and later in the 19th century following earthquake damage.
Discover Spello's town hall: Spello's Town Hall – the Palazzo Comunale Vecchio – is situated in the town's main square – the Piazza della Repubblica. It was built in 1270 and was subsequently extended in the mid 16th century. These days, the building is home to some beautiful frescoed halls, one of which is widely attributed to the Zuccari brothers.
Learn about Spello's Roman history: In the past few years, Spello opened a fantastic glass-fronted museum – Villa dei Mosaici – where visitors can enjoy learning about the Roman history of the town and view the incredible mosaics and Roman remains that have been unearthed here. For those travelling with children, there are often hands on activities on offer at the museum. If you want to discover more Roman history, then take a walk along the Sentiero 352 from Spello to Collepino which is the best way to view the Roman aqueduct here. The route is approximately 5 km long and leads to Collepino, a tiny hilltop village, boasting some terrific views of the Umbrian countryside back down to Spello en route. If you fancy walking the whole route, do take water and put on plenty of suntan lotion if travelling in the Summer months.
Visit Villa Fidelia: Also known as Villa Costanzi, Villa Fidelia is a 16th century villa built by the Urbani family on the remains of a 4th century Roman sanctuary. It passed to Donna Teresa Pamphili Grillo in the 18th century who completely transformed it. Then, in 1930, it was used for the reception venue fo the wedding of Vittorio Emanuele III's daughter with King Boris III of Bulgaria.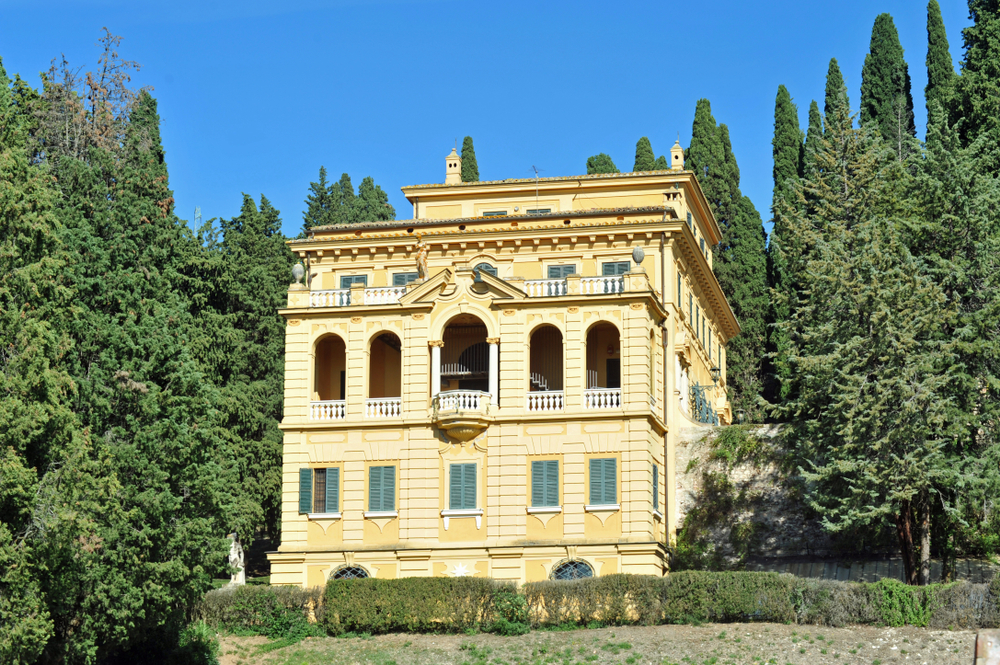 The house is set within a large park and Italian garden which is wonderful to explore.
Rent an e-bike: It's possible to rent e-bikes in the centre of Spello. At Umbria Electric Bike in the centre of town, bikes can be rented by the hour or for half or full days. Staff will be able to help suggest cycle routes. However, I can definitely recommend taking a cycle along the 'Route of Olives' which is a beautiful track through olive groves all the way to Assisi. Even if you're not that active normally, e-bikes are a fantastic way to explore the area without the effort required on a 'standard' pedal bike. Steep hills are no barrier to cycling with an e-bike! However, for those that do want to burn off some calories, then you can choose a harder setting on which to pedal. It's a wonderful way to explore the amazing scenery that the area offers.
Enjoy a wine tasting experience: There are a couple of great places in the centre of Spello where you can enjoy a wine tasting experience. The first is at Enoteca Properzio. Run by the Angelini family and spearheaded by the charming Roberto who is absolutely full of character, it's a fantastic and fun experience for wine lovers. Wine tastings can be enjoyed over dinner. The family makes the most delicious fresh pasta which is worth a try, particularly their pasta with fresh truffles when in season! Alternatively, try VinoSofia a bit further down the hillside.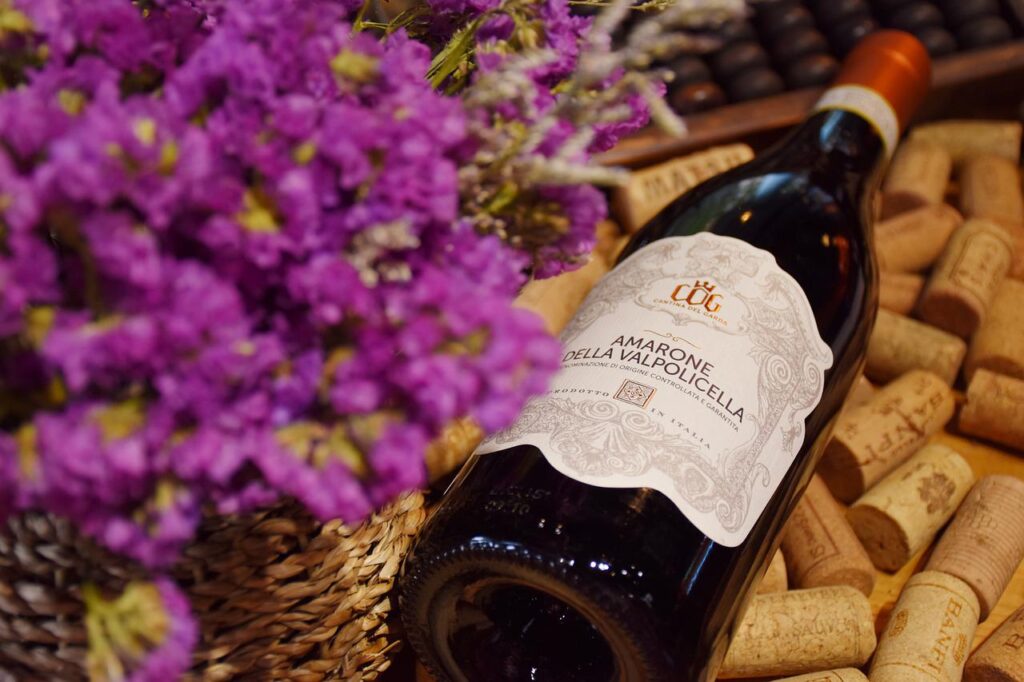 Or, you could head along the ancient Olive ""`Way to the Tili Wine Estate where you can enjoy a guided tour of the vineyard and and cellars along with a wine tasting paired with traditional Umbrian foods.
Enjoy an olive oil tasting experience: If olive oil is more your thing, then head to Oleoteca on Spello's central street – Via Giuseppe Garibaldi – to enjoy an olive oil tasting. Describing itself as a shop, restaurant and even library, Oleoteca also serves up absolutely delicious Italian cuisine, often made with the help of the best Umbrian, Italian and international extra virgin olive oils.
Enjoy a cookery class: The Angelini family (from Enoteca Properzio) also run cookery classes from a purpose built cookery school to the rear of the enoteca. They offer half day classes in English run by trained Michelin chefs and accompanied by a wine tasting. More details can be found at www.enotecaproperzio.com/cooking-class. You can book online or we can book it on your behalf. Just let us know if you need our assistance. Other cookery schools and classes are available at other locations within Umbria, some of which are run by a typical Italian 'nonna' who always loves to share her knowledge built up over the years and passed from generation to generation. Please get in touch if you would like the details of other options locally.
Marvel at the artwork in the Pinacoteca Civica di Spello: Spello's small Pinacoteca is home to a fine collection of early Renaissance and Christian art including a number of frescoes (that have been saved from churches over the years), panel paintings and more.
Enjoy a spa experience: Yet again, the Angelini family pop up, this time offering spa treatments within the heart of Spello. They offer 3 main types of treatment using either oil, saffron or flowers. For more details take a look at their website.
Things to do around Spello
As well as things to do in Spello itself, there are plenty of other activities to be enjoyed using Spello as a base.
Go white water rafting: For a change of pace, why not try white water rafting. This is a beautiful area to try your hand at this fun sport. The rapids aren't perhaps for really experienced white water rafters but they are ideal for children and beginners. Contact Rafting Umbria for more details. This company also offer other experiences such as canoeing, mountain biking and canyoning so it's a great starting point for those looking for more adventurous outdoor activities to enjoy during their stay.
Enjoy a day on the beach: Umbria may be landlocked, but this doesn't mean you have to miss out on the opportunity to spend a day on the beach. Lake Trasimeno in Umbria is actually Italy's fourth largest lake and home to a number of lakeside beaches. You can even try your hand at a number of water sports here including windsurfing, kitesurfing, wakeboarding and sailing. Sailing lessons are available at the sailing schools in Castiglione del Lago, Passignano and Tuoro sul Trasimeno. The lake is also home to three small islands, two of which – Isola Polvese and Isola Maggiore – can be visited by boat.
Go wakeboarding: Again, perhaps not an activity you'd have expected to enjoy in Umbria, but Umbria boasts a superb wakeboarding park which is just a 30 minute drive from Spello. Here you will find a purpose built towing system as well as ramps for those more experienced wake-boarders looking to test their technical skills.
Visit the Marmore Falls: The Cascata delle Marmore are the biggest man-made waterfalls in Europe, originally created by the Romans and are well worth a visit. Make sure you wear sensible footwear as access is via a series of narrow paths and steps. Because of this, it's not potentially suitable for the elderly, infirm or very young children.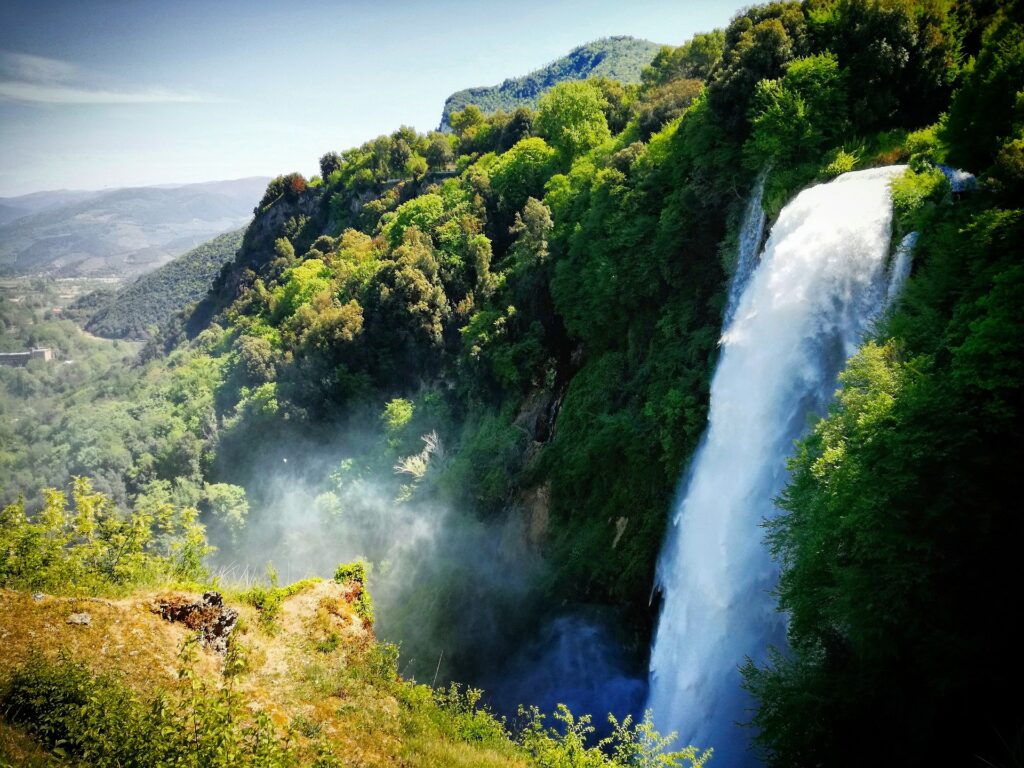 Make sure you visit at the right time of day to see the falls in action as the falls are only in operation at certain times of the day. It's going to be a very disappointing experience if you visit when the water isn't flowing! It's also worth bringing a waterproof jacket as one of the routes takes you to a balcony viewpoint where you will get soaked! Alternatively, you can purchase waterproof ponchos at the falls, or, of course, you can choose to take a different route and stay dry! Check out the website for more details.
Discover Assisi: Spello's nearest neighbour is Assisi. The birthplace of St Francis, even today Assisi remains an important pilgrimage site amongst Christians who head to the Basilica of St Francesco to pay their respects. As well as the basilica, the town has plenty of other sites to explore. The city is one of Italy's UNESCO World Heritage sites precisely because of the wealth of historical buildings and art collections it can boast. Start at the top of the city and you can walk down to the basilica via the Roman Temple of Minerva, the excavated Roman forum and the Medieval palazzi. Just one word of advice: Assisi can get busy so we recommend heading there first thing in the morning or last thing in the day to avoid the crowds. And remember – if you want to head into the basilica itself, then make sure that your shoulders are covered and any clothing reaches below the knee. To make the most of your visit, we highly recommend that you opt for a private guided tour of Assisi on foot or a group walking tour of Assisi. For a more restful trip, try a private tour of Assisi aboard a vintage Ape. Or, for an incredibly special view over the city, opt for a hot air balloon ride over Assisi.
Explore Umbria's other hilltop towns and villages: There are numerous wonderful towns and villages to explore in the area around Spello. Some of our favourites include Montefalco and Trevi (both 20 minutes away) as well as Orvieto. A 90 minute drive away, this is a bit further from Spello but it's home to what we think is one of the most spectacular Duomo's in Italy. Also of note are Foligno (10 minutes by car) and Todi (40 minutes away) as well as Spoleto and Perugia which are both about a 30 minute drive from Spello. Spoleto is home to the impressive 14th century Ponte delle Torri (Bridge of Towers). Perugia is much larger but definitely worth a visit and we'd highly recommend enjoying a guided tour of Perugia to make the most of your trip there. Foligno is more modern as much of the old town was destroyed during WW2 but I still think it's worth a trip. Finally, we'd highly recommend an excursion to Norcia. It is hard to forget the tragic events of the 2016 earthquake which destroyed a number of buildings in this town but please don't let this put you off. The town remains a wonderful place and it's a real paradise for foodies, particularly the meat-eating ones! Pop in to the town's norcinerie, which are shops selling local meat, cheese and other products. They are easy to spot since most have boar's heads hanging proudly on the walls outside. Incidentally, if you do head to Norcia in the Spring, take a detour via Castelluccio, to witness a unique floral spectacle as the wild flowers open their brightly coloured petals on the Piano Grande. If you would like more information on what to see and do in each of these towns, please do get in touch. Or you may want to take a look at our guide to the top 10 towns in Umbria.
Visit the Eremo delle Carceri: This hermitage is located about 4 km above Assisi on Mount Subasio. In the 13th century it was a place that St Francis would frequently visit to pray and to contemplate. When he first went, thee was just one tiny oratory here, but as other men followed his example, they found their own caves in which to pray and the site expanded.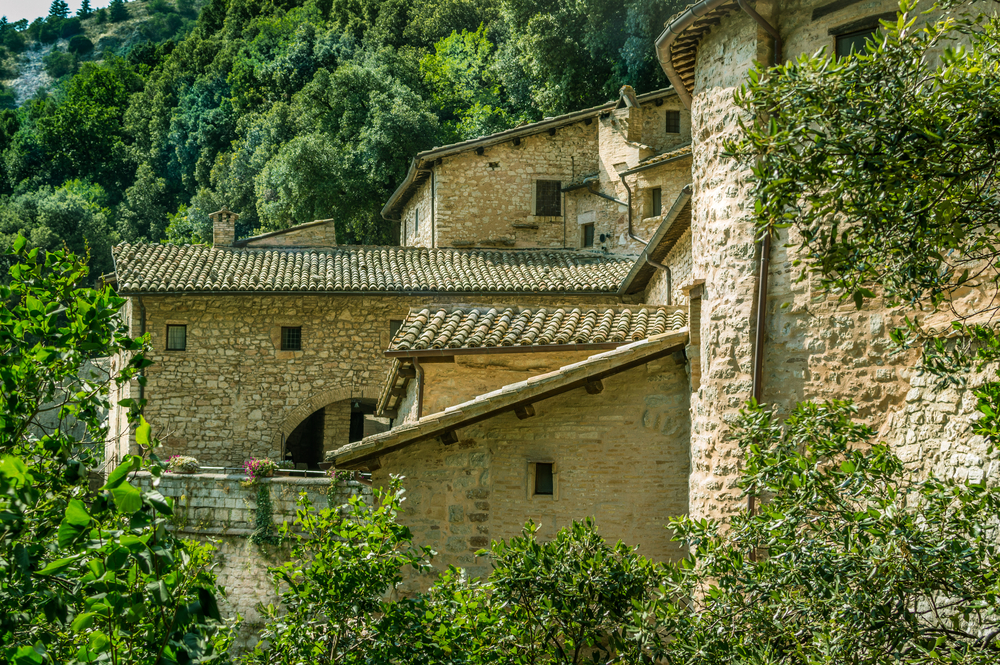 In the early 15th century, Saint Bernadino of Siena extended the original chapel by building a small church which was named Santa Maria delle Carceri. He also built a small friary which included a choir and refectory. Astonishingly, the original wooden stalls and refectory tables can still be seen today. Buildings were added in each of the centuries that followed to create the complex that visitors are welcome to discover today. Please note that some Franciscan friars still also live here.
Visit Umbria's Borghi piu Belli: There are a plethora of smaller villages in Umbria that are among the list of borghi piu belli d'Italia (which literally translates as the most beautiful villages in Italy). These include Bevagna, Castiglione del Lago, Bettona, Arrone, Corciano, Deruta, Massa Martana, Montefalco, Paciano, Passignano sul Trasimeno and San Gemini and but this is by no means an exhaustive list. You can discover all of the villages in Umbria that have earned this special title at the official website.
Enjoy a truffle hunting experience: This area is famous for its truffles. A great experience is to actually head out with an experienced truffle hunter and his dogs and see for yourself how they find this amazing delicacy. An experience can often be followed by lunch enjoying the fruits of your labours! We recommend you wear long trousers (to avoid getting bitten or scratched by the undergrowth) as well as sensible shoes as you will be walking through woods. If you would like more details on where you can book this experience, please don't hesitate to get in touch.
I really hope that these ideas have given you some food for thought. Other ideas for what to see in do in Umbria can be found on the Bookings For You blog. Particular inspiration may be found in our guide to the top 60 things to do in Umbria. 
Events in Spello
Spello's most famous annual event is the Infiorata. The event dates as far back as 1831 and is is held on the ninth Sunday after Easter and commemorates the Corpus Domini feast. Whilst Spello seems to be filled with flowers all year round, during the Infiorata, the town's streets are literally paved with over sixty large flower murals. All constructed using flower petals, these carpet Spello's narrow pavements and roads.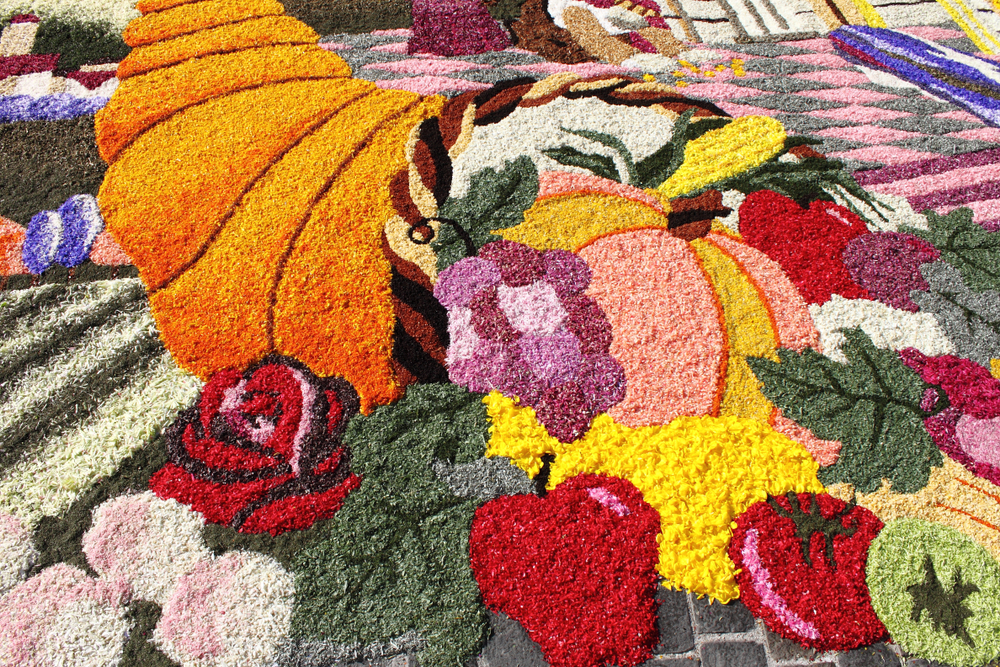 All this artwork does not last long though and is destroyed in a procession led by the bishop later on the Sunday morning.
Shopping in Spello
Spello is a charming town with plenty of charming independent boutiques and shops that line its streets. You'll find details of our favourite shops in Spello along with retail recommendations in other towns and villages in Umbria in our Umbria shopping guide.
Restaurants in Spello
When we last tried to count up the number of restaurants in Spello, we managed to get to well over 30 but I'm sure there are still ones we missed! Suffice it to say that the town is blessed with a wealth of fantastic eating establishments. You'll find details of our favourite restaurants in Spello along with restaurant recommendations in other towns and villages in Umbria on our Umbria restaurant guide.
Where to stay in Spello
La Casetta – A stunning 2 bedroom villa in Spello with a private garden, in the heart of the town and enjoying stunning views over Umbria's rolling hills in the other direction.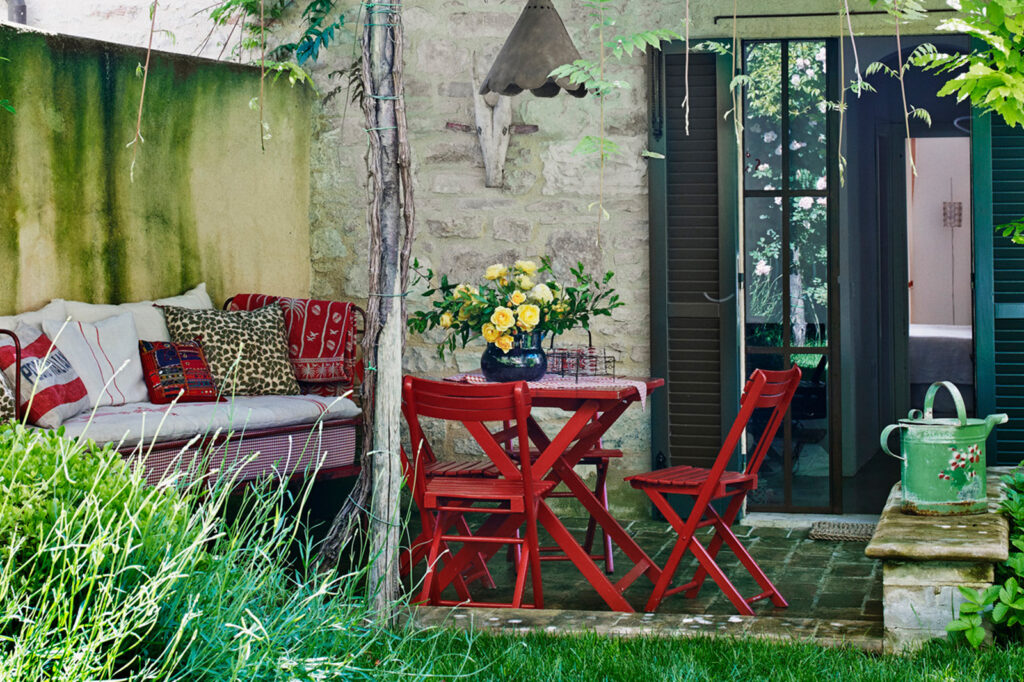 Spello House Altana – A charming 2 bedroom apartment in Spello situated in the cobbled streets of the historic town and with a stunning roof terrace.
Spello Apartment Patio – A 2 bedroom apartment in Spello furnished in a 'shabby chic' style and with a small private terrace overlooking the streets below.
Casa Giardino – A beautifully furnished and presented 3 bedroom villa in Spello with private plunge pool.
Apartment Giallo – A beautiful and spacious 1 bedroom apartment in Spello with a large terrace overlooking the stunning countryside that surrounds the town.
The Courtyard Spello – This is an incredible villa in Spello comfortably sleeping up to 3 guests. Immaculately presented and super stylish it ins design, this is the perfect place to stay in Spello.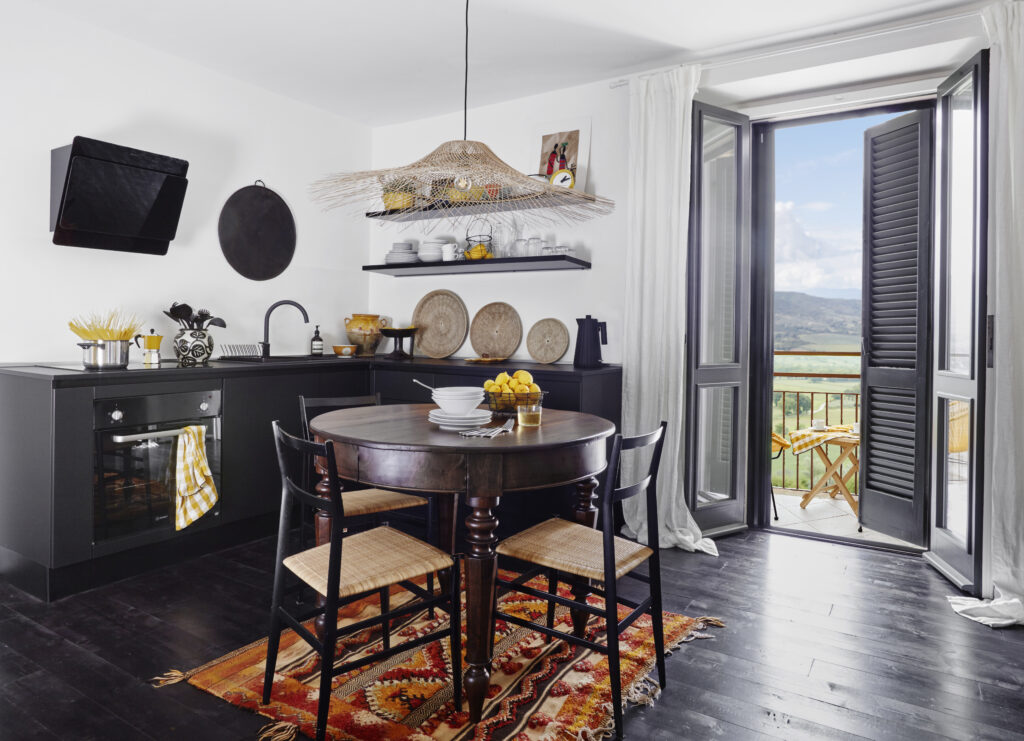 Buonanotte Barbanera – A large 3 bedroom villa in Spello set in private gardens and with a swimming pool. The building is incredibly historic and the setting simply idyllic.
How to get to Spello
By car: Spello is easy to get to by car and is located just off the Strada Statale 75. There is a parking area at the bottom of town – Park Ex Campo Sportivo – located near the Villa dei Mosaici. Alternatively, there is another car park on the Via della Liberazione.
By train: Spello has a train station at the bottom of the hill. It is about a 10 minute walk from here to the gates that provide access to the historic town of Spello. Since Spello is located on a hillside, the walk from the train station through the town will be uphill.
By bus: It is possible to get the bus to Spello. The buses stop at Via Roma and Cavalcavia.
By plane: The nearest airport to Spello is San Francesco d'Assisi Airport in Perugia. Many holidaymakers opt to fly into larger airports such as Rome to the south or Florence to to the north. Both are approximately a 2 hour 15 minute drive away. Alternatively, if you don't mind a longer transfer time, then Bologna and Pisa are both 3 hours away by car.
By taxi: We can highly recommend the services of Diego Tordoni if you need any private transfers during your time in Spello.