Italy is a country with such great contrasts that any time is a good time to visit Italy! But, there are some times of the year when we think it's best to visit some regions more than others. Here's our guide to the top places to visit in Italy month by month.
January
Italy is blessed with hundreds of ski resorts and thousands of kilometres of slopes. It's also a country offering very family friendly skiing opportunities. In January, we recommend you head to the Dolomites for skiing, an area where you can ski surrounded by incredible natural beauty. Covering Italy's north eastern regions – Veneto, Trentino Alto-Adige / South Tyrol – some of the top ski resorts here include Cortina, Alta Badia, Kronplatz and Val Gardena.
The highlight for skiers coming to the Dolomites though has to be the Dolomiti Superski carousel, the world's biggest network of ski slopes and lifts. Here, a single ski pass will give you access to 12 ski resorts, over 1200 kilometres of ski slopes and around 450 ski lifts. You'll find a great après-ski scene too, which can be enjoyed on large sunny terraces and in charming rustic chalets.
(Incidentally, the Dolomite Mountains are a great place to visit in the Spring too to enjoy hiking in the stunning UNESCO world heritage setting.)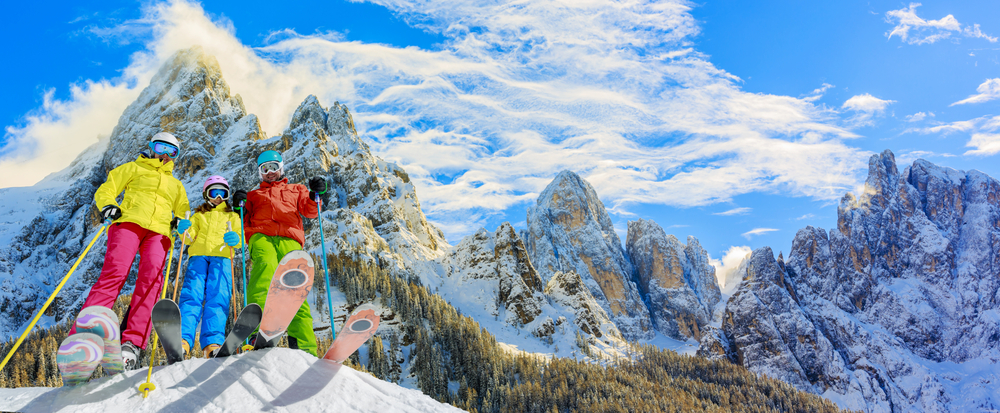 And if you want to combine a Winter city break with some skiing, then remember that major Italian cities such as Milan, Turin, Venice and Verona are all within a couple of hours drive of the mountains.
February
The ski season in Italy continues into February. For a change of mountain scenery, head to the Italian Alps which cover the regions of Friuli Venezia Giulia, the Valle d'Aosta, Piedmont, Trentino Alto-Adige, Lombardy and the Veneto. Some of the most famous locations here are the Matterhorn and Monte Bianco (more commonly referred to as Mont Blanc in French). Some of the most famous ski resorts here include Sestriere, Madonna di Campiglio and Breuil-Cervinia. The ski scene in the Italian Alps is not as developed as in the Italian Dolomites and, compared to skiing in the French Alps, it probably feels like you've stepped back in time 10-20 years. But we think that this is all in its favour.
But if you want to enjoy a chance to ski or snowboard 'off the beaten track', then don't forget that Italy has a third mountain range – the Apennines – running down the spine of the country. Whilst you will find ski resorts and leisure facilities much fewer here, there are ski resorts to be found in Abruzzo, Lazio and Molise and even across in Sicily where visitors have the opportunity to ski down the slopes of Mount Etna in the Winter months.
March
Calabria and Basilicata are both regions that remain relatively off the beaten track when it comes to tourists. Matera in Basilicata is now much commonly known amongst holidaymakers thanks to being the European Capital of Culture in 2019 and, more recently, to being the setting for the opening scenes of the latest James Bond film. However few people, if any, could easily name any other towns and cities in the region. Calabria is not dissimilar from this and yet both offer an opportunity to enjoy a really authentic taste of Italy.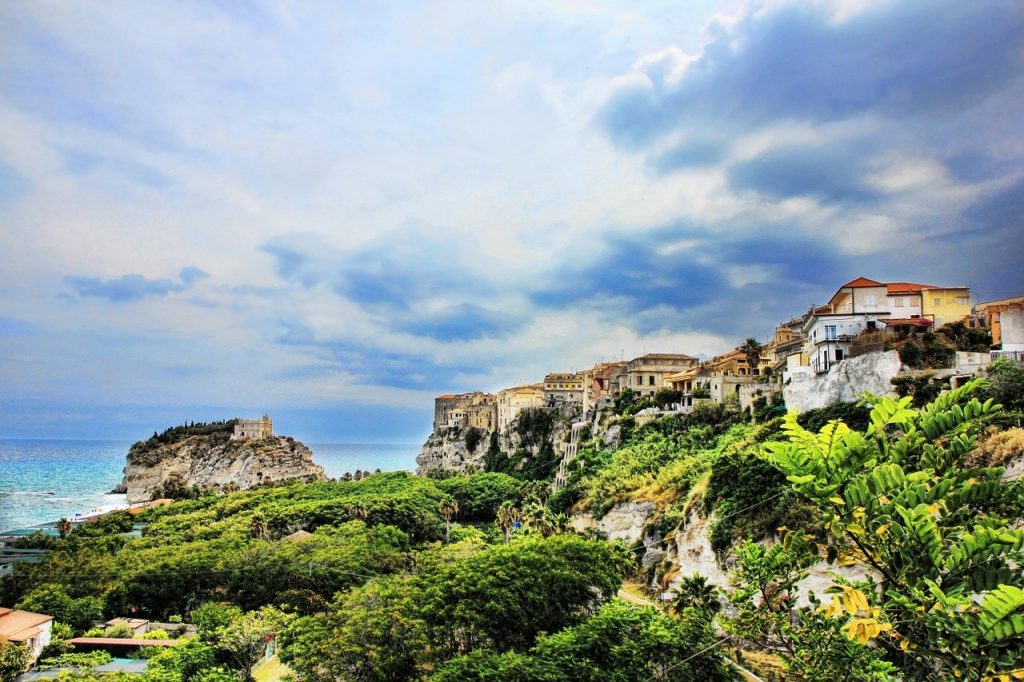 Both regions have Mediterranean climates with long, hot, dry Summers. If you're a real sun seeker and lover of heat, then come in July or August when you'll find it's not unusual to find temperatures in the high 30s and even above 40 degrees centigrade. However, if you're looking for a bit of mild weather after a cold Winter, then March is a great time to come. The average daily maximum temperature is in the high teens. Just be aware that it can get cold at night so make sure to pack a few woolly jumpers for when the sun goes down.
April
There is no better city to visit in Italy in the Springtime than Venice. Rome is by far Italy's most visited city but Venice comes in second place in terms of visitor numbers. To see at its best it's worth going very early in the season before the tourist throngs commence. You'll find average daily temperatures in April conducive to sightseeing and there are none of the bugs you'll find in the city once temperatures hot up. Even if you're visiting early in the season, we still recommend you head to some of the city's biggest sights such as St Mark's Square first thing in the morning. The light in the square is magical at that time. Plus, you'll be able to beat the queues to the Basilica and Campanile.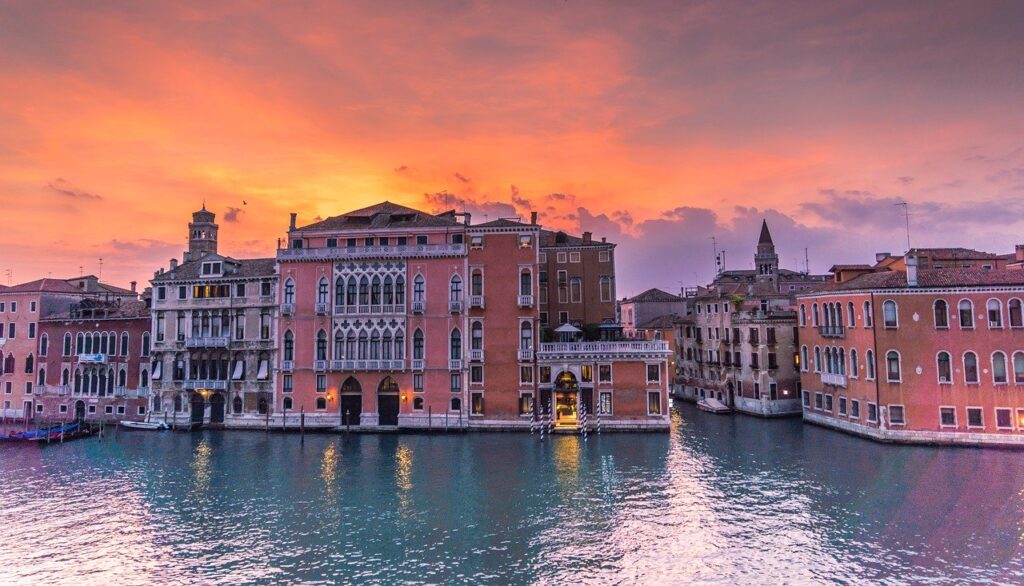 May
May is the perfect time to enjoy a Sicily villa holiday. Sicily is Italy's largest island but its position at the very bottom of Italy's boot means that average temperatures here in May will be a number of degrees higher than in the north of the country, ranging from between 15 C and 23 C. Temperatures in Sicily in May will also be a far cry from the sweltering peak that they will reach in the height of the Summer when it can be pretty oppressive if you're exploring its many historic towns and villages and archaeological sites. Sea temperatures can still be on the cool side in May though so it's worth renting a Sicily villa with a pool to ensure you can enjoy access to the water. Check out the Sicily villas available from Italy villa rental specialists, Bookings For You.
We also love Emilia Romagna in May. Home to the idyllic stretch of Italian coastline – the Cinque Terre – which must be walked to explore it properly, May temperatures are pleasant enough to allow you to do this enjoyably. We recommend you leave 2-3 days to do the area justice. It's an incredibly popular area for tourists though so even when visiting outside peak season, it's worth getting up early to enjoy the walking paths from village to village. Otherwise, Emilia Romagna is home to some fascinating cities – Bologna, Ravenna, Parma and Modena to name a few. It's a real foodie destination so well worth visiting in May if you fancy enjoying some of the best Italian food around.
June
June is the perfect month to enjoy a holiday in a Puglia villa. Like Sicily to the south, Puglia temperatures can get pretty stifling in the peak Summer months so heading to the region in late Spring and early Summer allows you to enjoy plenty of sunshine without it being too hot to also enjoy some sightseeing.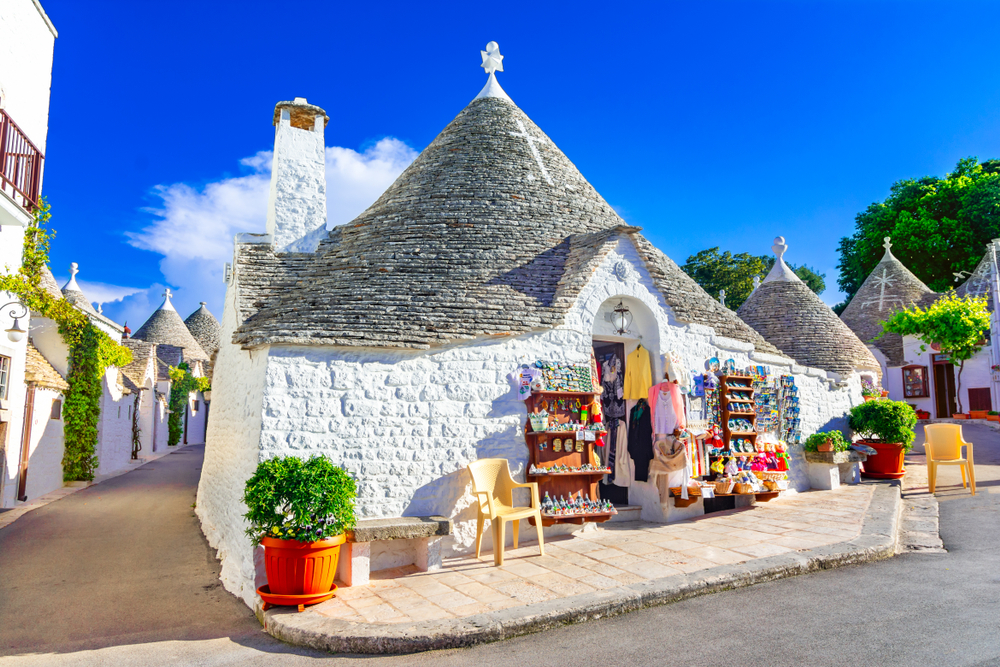 Our favourite region in Puglia is the Valle d'Itria. Here you'll find a number of picturesque towns and villages such as Alberobello, Locorotondo, Martina Franca and Ostuni, along with beautiful beaches and idyllic rural scenery. Charming trulli are dotted throughout its rural landscape. Further south in Puglia, the landscape changes quite dramatically but if you'e after huge swathes of sandy beaches, head to its southernmost shores to a stretch of coastline affectionately known as the Maldives of Italy! Check out the Puglia villas available from Italy villa rental specialists, Bookings For You.
We also think that June is a lovely month to enjoy an Amalfi Coast villa holiday. The Amalfi Coast is a stunning stretch of Italian coastline that runs from Punta Campanella to Vietri sul Mare. Its geography means that it enjoys mild winters and hot, dry summers. Certainly, if you're a sunseeker, the best time to visit is between June and August, but you'll find that by visiting just before peak season then the crowds will be a little less.
As well as enjoying the sunshine, there are plenty of activities to make the most of. These include a trip to the incredible historic remains at Pompeii and Herculaneum, walks either along through the lemon and olive groves or up Italy's most famous volcano (Mount Vesuvius), trips to its beautiful coastal towns and villages (Amalfi, Praiano, Atrani and Positano for example) and days spent in the turquoise sea water below.
Check out the Amalfi Coast villas available from Italy villa rental specialists, Bookings For You.
July
We love opting for an Umbria villa holiday in July. Unlike its nearest neighbour Tuscany, Umbria sees far less holidaymakers in the peak Summer season so it's a good option even during the UK school Summer holidays. Whilst Assisi can get pretty crowded, most of Umbria's other hilltop towns and villages will be relatively quiet, certainly compared with Tuscany's larger towns and cities such as Siena, San Gimignano, Pisa and Florence. For the best in food and wine, head to Montefalco home to some superb restaurants. Or, for the most authentic experience, head to Spello.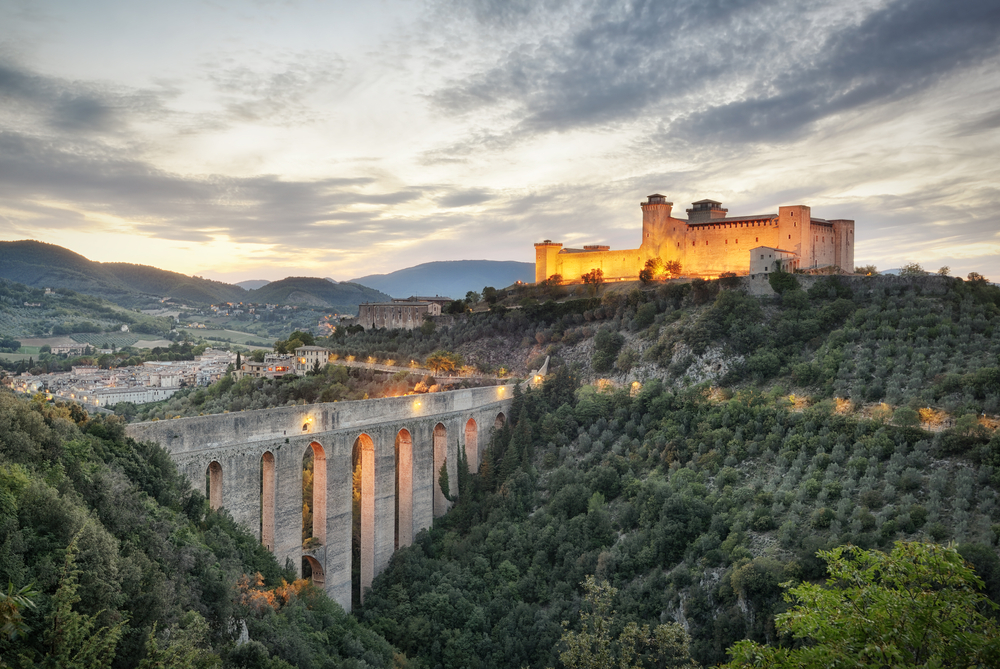 As well as having plenty of stunning towns to explore – Spello, Assisi, Bevagna, Spoleto and Gubbio are our favourites – there is plenty more to attract you to Umbria. It may be landlocked but can still boast its own lake – Lake – where you can enjoy lazy days on the beach or an afternoon enjoying water sports. Or for the most spectacular water activity, pay a visit to the Marmore Falls.
Find out more about what to see and do in Umbria in our Guide to the top 60 things to do in Umbria. And, if we have tempted you to discover this part of Italy for yourself, then check out the Umbria villas available from Italy villa rental specialists, Bookings For You.
July is also the perfect month to enjoy a stay in a villa in Le Marche, particularly if you're looking for a more authentic holiday in Italy. Le Marche sits to the west of Umbria. Its inland scenery is just as dramatic but here you'll also discover a plethora of stunning beaches. Check out the Le Marche villas available from Italy villa rental specialists, Bookings For You.
August
August is the perfect time to enjoy an Italian Lakes villa holiday. Whilst average temperature will be in the high twenties, this region in the north of Italy doesn't tend to see the humidity you would see further south making a stay in the peak month of August much more pleasurable. Even if temperatures are hot, you can easily cool down in the crystal-clear lake waters.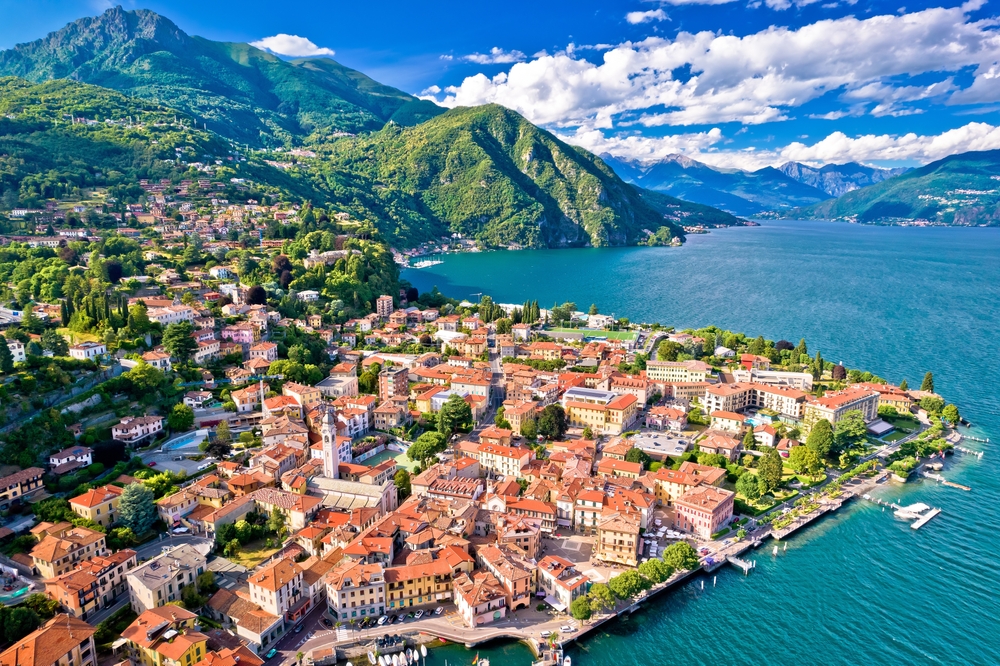 For those seeking glitz and glamour, Lake Como is probably your best bet whilst those who prefer the hustle and bustle of other tourists should head to Lake Garda. If you're looking for peace and quiet away from other holidaymakers, you're probably best opting for Lake Orta or Lake Iseo, which both have a much sleepier feel. And if you're looking for the perfect balance in between the two, then choose Lake Maggiore. Our favourite of the lakes, Lake Maggiore offers the perfect balance. Here you'll find numerous lakeside towns to discover – Cannobio, Cannero, Arona, Ancona are amongst our favourites – but you also have a number of incredible villas to explore too, not least the palaces of the idyllic Borromean Islands. And for those visiting with children, they'll love the many lakeside beaches, lidos and waterparks. If you do opt for Lake Como or Lake Garda, then it's worth being a bit more organised on holiday. Here, experiences, tours and attractions will get booked up so plan ahead to avoid being disappointed.
Check out the Italian Lakes villas available from Italy villa rental specialists, Bookings For You.
September
We think that September is the perfect month to enjoy a Tuscany villa holiday. Whilst temperatures will still be very pleasant with ample opportunity to lie by the pool at your Tuscany villa or relax on the beach, crucially you'll find the crowds far fewer than in peak Summer time. No visit to Tuscany would be complete without exploring its most famous towns and cities – Florence, Pisa, Siena and San Gimignano – but doing do in September will be much easier than in the preceding couple of months. As well as exploring its most famous cities, September is a great time to discover its rural landscape too. Farms will be gearing up for the wine and olive harvests and the colours will be beginning to turn into the soft golden hues that make this area of Italy all the more spectacular at this time of year.
Check out the Tuscany villas available from Italy villa rental specialists, Bookings For You.
October
Sardinia is an island of real contrasts. You'll find plenty of glamour on offer in the north east of the island, whilst to the south you'll discover a rugged landscape offering the best in 'off the beaten track' tourism. Sardinia is a big island – it's the second largest in the Mediterranean and stretches 170 miles from north to south – so the weather can vary but September temperatures are typically still hot and the sea is the perfect temperature for swimming in. However, the breezes the island enjoys from the sea means it won't be stiflingly hot. This shoulder season is also the best time for those looking to explore the beauty of the island on foot or to make the most of the Autumn festival season which kick off in September.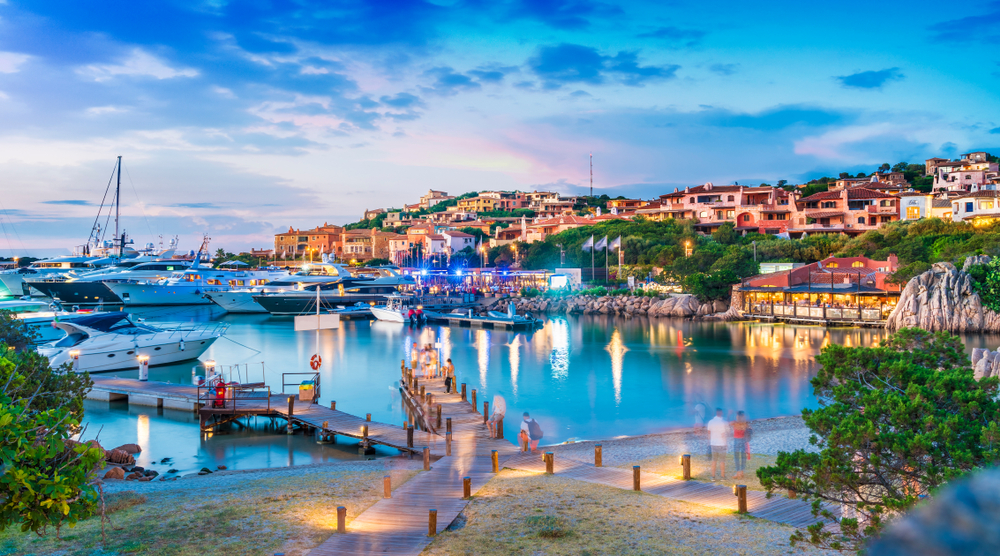 November
For us, Rome is a great city to visit in November. Rome easily tops the leader board when it comes to Italian city tourist numbers so head to the city in the Summer months and you can expect streets to be far too crowded (and temperatures far too stifling to be sightseeing). But head to Rome in the Winter months and you will find accommodation much better priced and the crowds far fewer. Incidentally, high season in Rome is typically from Easter through to September and across Christmas and New Year. As the centre of the Roman Catholic church, you'll also find it busy whenever there is a religious festival.
Rome is a city you'll feel you know even before you have visited, thanks to its iconic buildings such as the Colosseum, Forum and Pantheon. Check out our guide to spending 48 hours in Rome to discover what to see and do in the city.
December
We love a city break in Italy over the Winter months and, for us, there is no better time to visit Florence than in December. Make the most of the opportunity to enjoy the Christmas markets in the city. The best one is Weihnachtsmarkt which you'll find in the Piazza Santa Croce.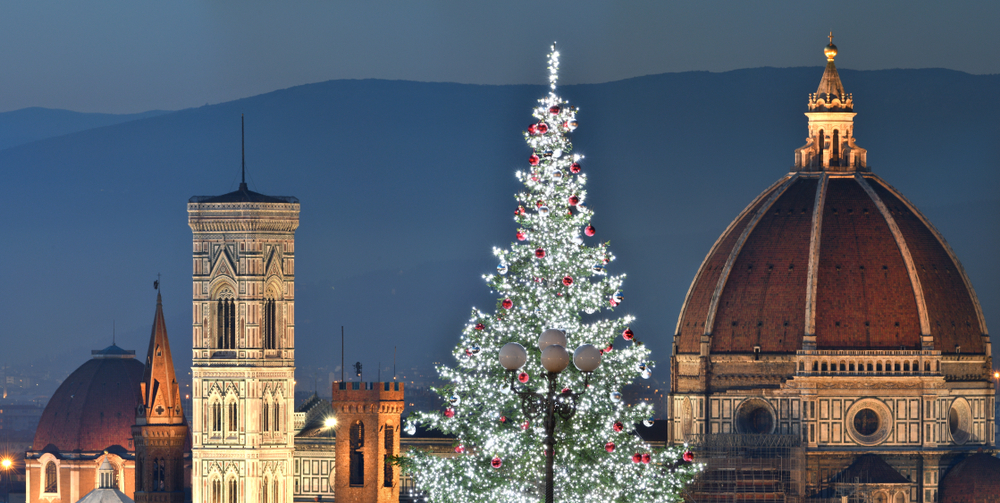 In December the city of Florence is always lit up with lights. Christmas trees covered in green and red decorations are smattered throughout the city along with charming nativity scenes. The city really does looks at its very best. And, as an added plus point, you'll find you won't have to queue for hours outside some of its key tourist attractions such as the Uffizi and Accademia Gallery if you visit off season. Although whatever time of year you visit, we still recommend you book your tickets in advance to avoid the lines. Find out more at Get Your Guide.
Oh… and of course, we have also gone full circle by December, so ski enthusiasts can get back on the slopes this month.
We hope that we've whetted your appetite to discover more of this beautiful country whatever time of year you're travelling. Rest assured that, whatever month of the year you're tempted to visit Italy, you can find your perfect Italy villa rental courtesy of Italy villa rental specialists, Bookings For You.