Italy has been the 5th most visited country in the world for a number of years, attracting approximately 60 million tourists each year. Whilst, of course, visitor numbers will look very different this year due to the COVID-19 pandemic, we fully expect Italy to be back in the top five of most visited countries in the world once travel is possible again. After all, what's not to love about Italy? The country has a wealth of incredible sights to see and is rich in culture, boasting 55 UNESCO world heritage sites. Its history is long and fascinating and the Italian people are warm and welcoming. It can boast long stretches of incredible coastline as well as the most beautiful inland scenery. Not to mention the fantastic cuisine…. In short, the list of reasons to love Italy is endless.
If you're looking to treat yourself when you're ready to travel to Italy again, then take a look at our top 10 luxury villas in Italy so that you can explore Italy in style.
Villa Castellaccio, Lake Maggiore, Italian Lakes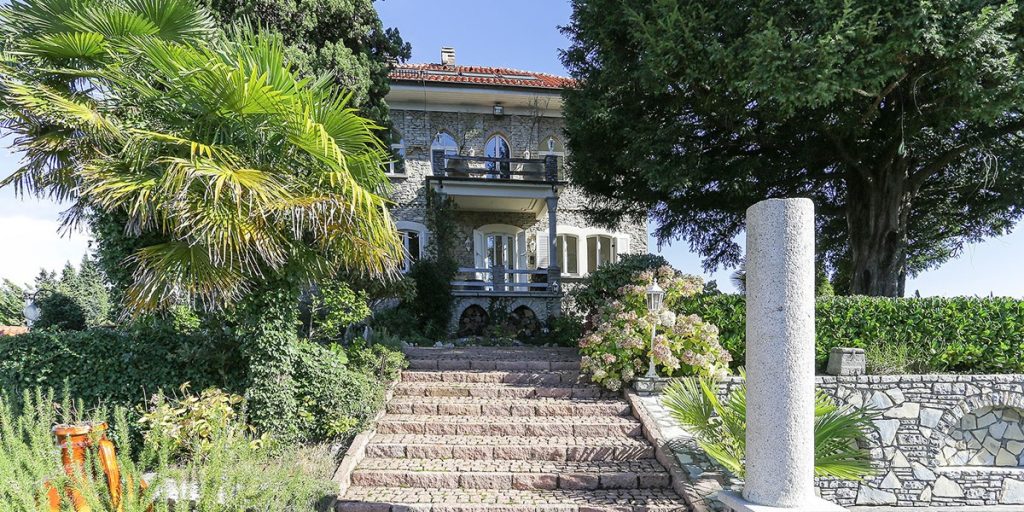 Villa Castellaccio is a stunning villa in the Italian Lakes situated in the attractive village of Brezzo di Bedero on Lake Maggiore. So picture-perfect that it's often compared to a dolls house, the villa enjoys a commanding hilltop position which means guests are treated to 360 degree views, over the lake and mountains beyond in one direction and over the village rooftops in the other. Guests will find it hard to tear themselves away from the private swimming pool and immaculately presented private gardens which stretch across several acres. But if you do wish to use it as a base to explore, then it's just a short drive to the lakeside where you can catch a boat to all the other towns and villages on Lake Maggiore.
Sleeps: Up to 11 guests
Prices from 80 euros per person per night
2. Villa Pinoni, Lucca, Tuscany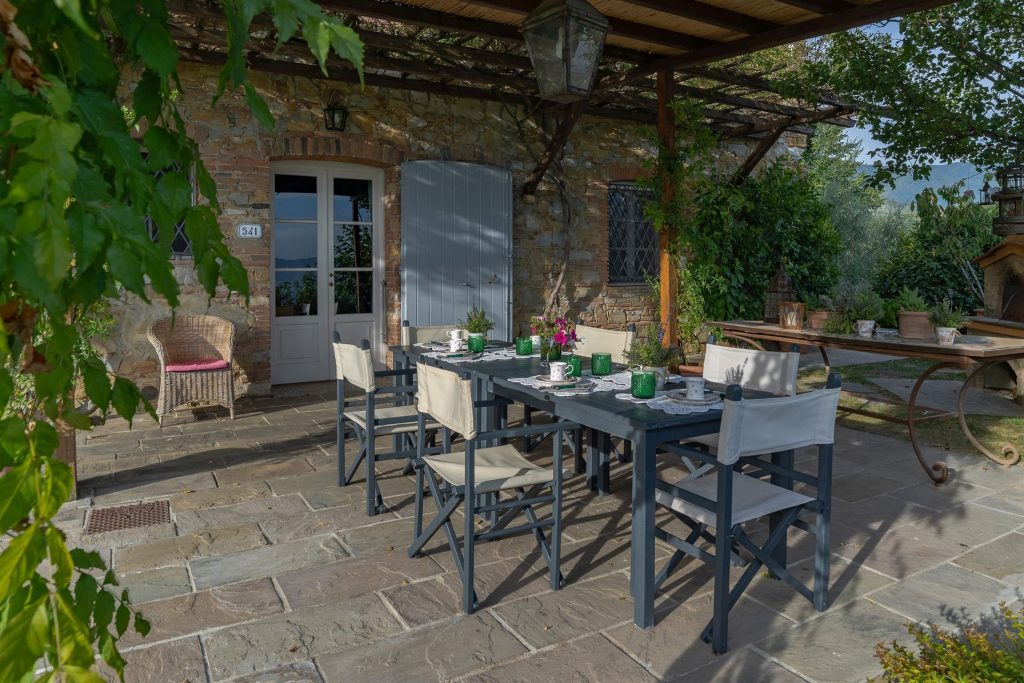 We love this luxury villa in Tuscany. Arguably more reminiscent of a property in Provence rather than Tuscany with its light grey shutters and borders of scented lavender, it oozes style, character and charm from every room. The gardens are laid out on several terraces and are absolutely delightful whilst the garden room is the perfect spot to practice yoga or to paint. We challenge anyone not to fall in love with this incredible home. In short, it's simply stunning.
Sleeps: Up to 14 guests
Prices from 40 euros per person per night
3. Casa Belva, Lake Maggiore, Italian Lakes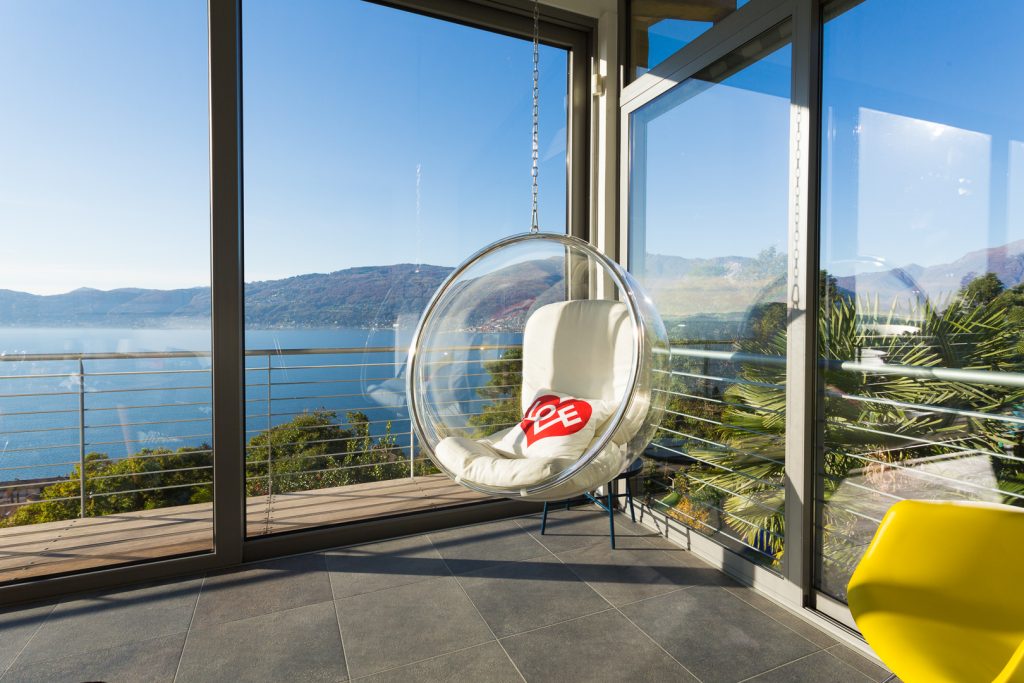 This luxury villa in the Italian Lakes ticks all the boxes. Nothing beats sitting by the pool overlooking the lake and the views from this property are simply spectacular. Whether you're gazing at them from the contemporary interior living space or staring out at them whilst relaxing by the poolside, the property has been designed to make the most of the glorious 180 degree views. As well as your own private pool, you've also got your very own on-site gym to enjoy a work out in.
Sleeps: Up to 6 guests
Prices from £40 per person per night
4. Villa Badia, Puglia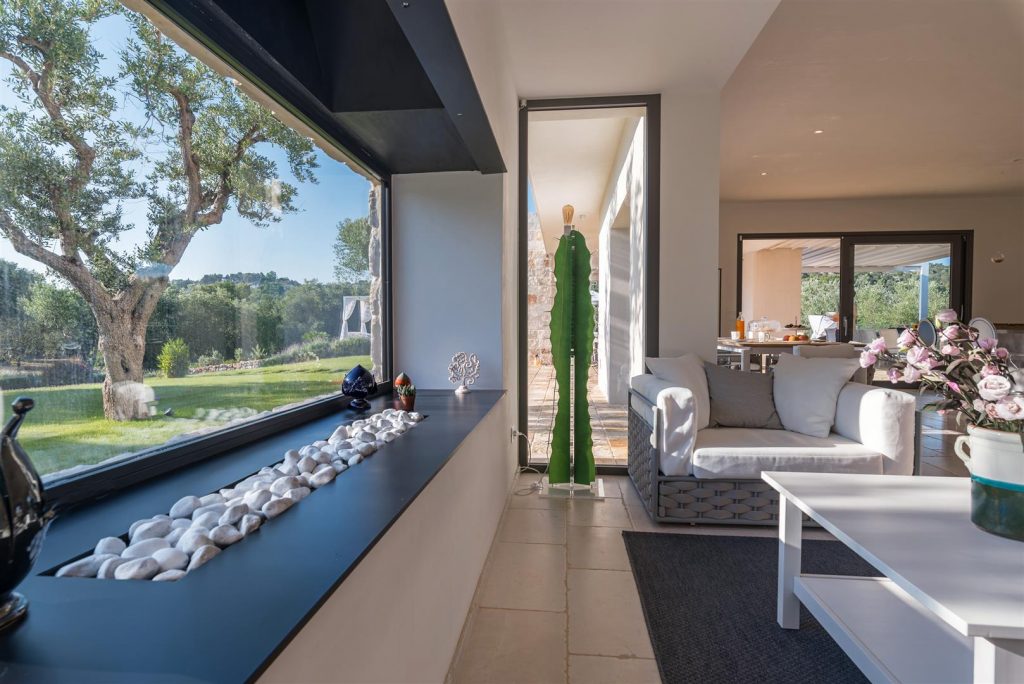 This luxury villa in Puglia has something for everyone, with swimming pool, table tennis and table football on site as well as an area where guests can enjoy a game of tennis, volleyball or even football. With luxurious outdoor seating areas, wonderful BBQ area and sleek contemporary furnishings, this is the perfect base for any stay in Puglia. Guests can choose from a host of additional services including the opportunity to enjoy a private dinner whilst being serenaded by your own private opera singer.
Sleeps: Up to 12 guests
Prices from 45 euros per person per night
5. Buonanotte Barbanera, Spello, Umbria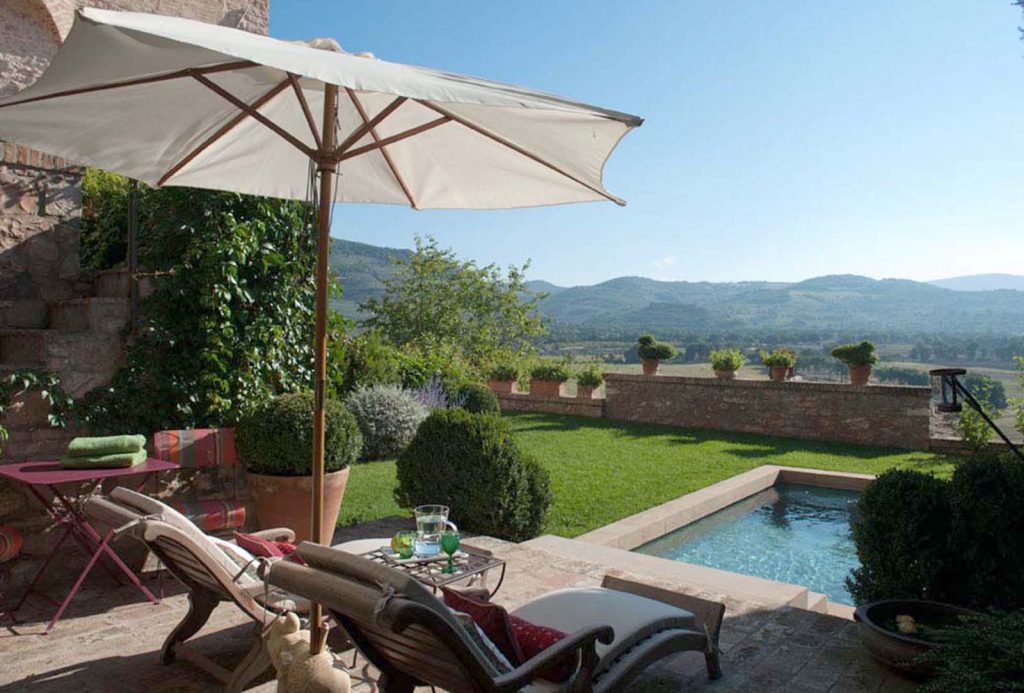 This incredibly stylish luxury villa in Umbria offers the best of both worlds… the peace and quiet of your own private villa complete with private pool and views over the rolling countryside, as well as being in the heart of the wonderful town of Spello, complete with its plethora of fantastic restaurants and warm and welcoming locals. The owner of this property has had the good fortune to travel the world and in the process, she has sourced a multitude of wonderful artefacts which give the property real charm and character. Spello is one of our favourite towns in Italy. Home to the annual Infiorata and with a history that dates back to ancient Roman times, Spello is a wonderful base for any holiday in Umbria.
Sleeps: Up to 6 guests
Prices from 85 euros per person per night
6. Villa Borgo, Tuscany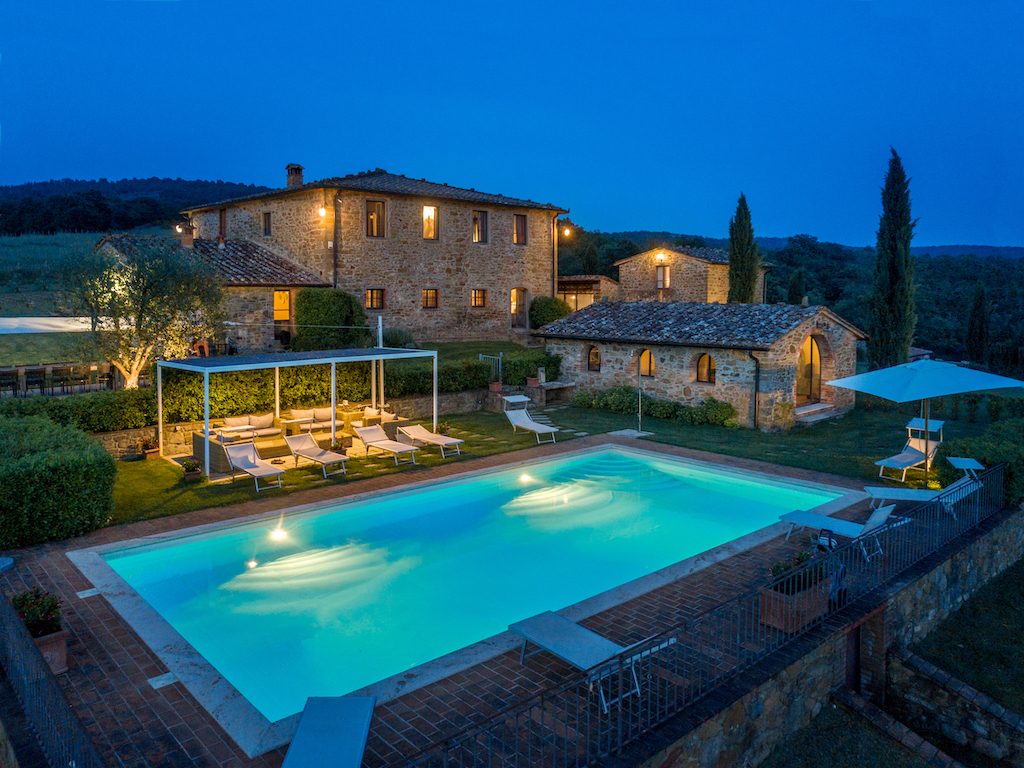 Villa Borgo is an immaculately presented luxury villa in Tuscany. This villa has a real heart and soul to it. You'll feel like you're stepping into the home of a wealthy relative and will immediately feel relaxed and at ease. As well as your own private pool, you'll also be able to enjoy time in the private jacuzzi too. Bedrooms are spacious and stylish, the kitchen modern and contemporary and the living areas elegant and refined. This luxury Tuscany villa also enjoys wonderful views over the valley, surrounding olive groves and hazelnut woods.
Sleeps: Up to 20 guests
Prices from 55 euro per person per night
7. Caidominici, Umbria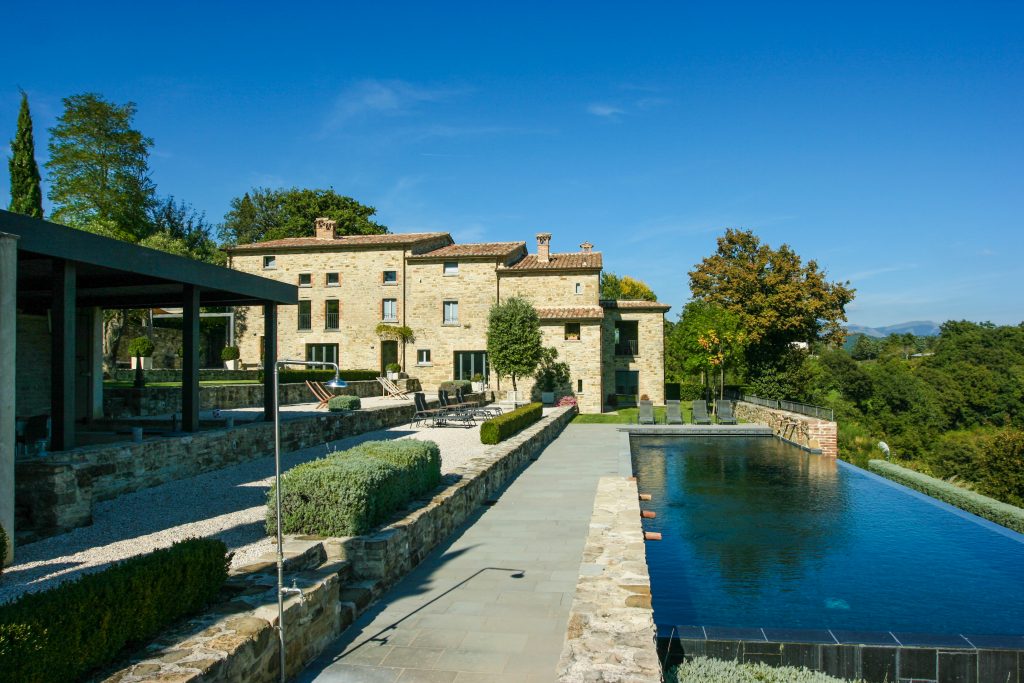 If you're looking for a real break away from it all, then this luxury villa in Umbria is the perfect option for you. Cleverly combining contemporary and luxurious furnishings with the original character of the building, the villa is in the heart of the Umbrian countryside, enjoying terrific views over the valley to the hills beyond. Outside, this villa in Umbria can boast not just a private 20 metre solar heated infinity swimming pool but also a tennis court, bocce pitch and table tennis table to keep everyone entertained. For those travelling as part of a larger group, there is also an option to hire a nearby 3 bedroom villa, similarly furnished.
Sleeps: Up to 12 guests
Prices from 125 euro per person per night
8. Villa Ermelinda, Italian Lakes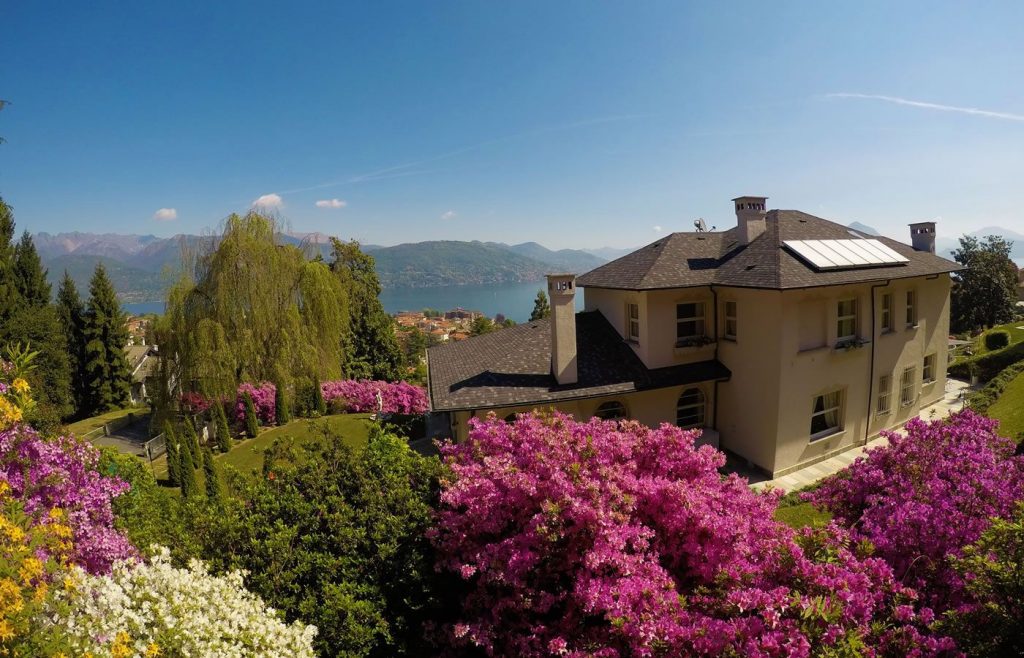 This luxury villa in the Italian Lakes is a real gem. We have fallen head over heels in love with its elegance and charm. A stay here feels authentic and special. Not only do you have your own private pool but the whole of the ground floor of the house is your very own personal spa with massage suite, gym, Turkish bath and jacuzzi as well as herbal tea corner and relaxation rooms. As you'd expect with a luxury villa, a range of additional services are available on request, including a catering, grocery shopping, cleaning and laundry service. Other optional services include a masseuse, hair stylist, beautician and pianist.
Sleeps: Up to 8 guests
Prices from 40 euro per person per night
9. Villa Selve, Lake Garda, Italian Lakes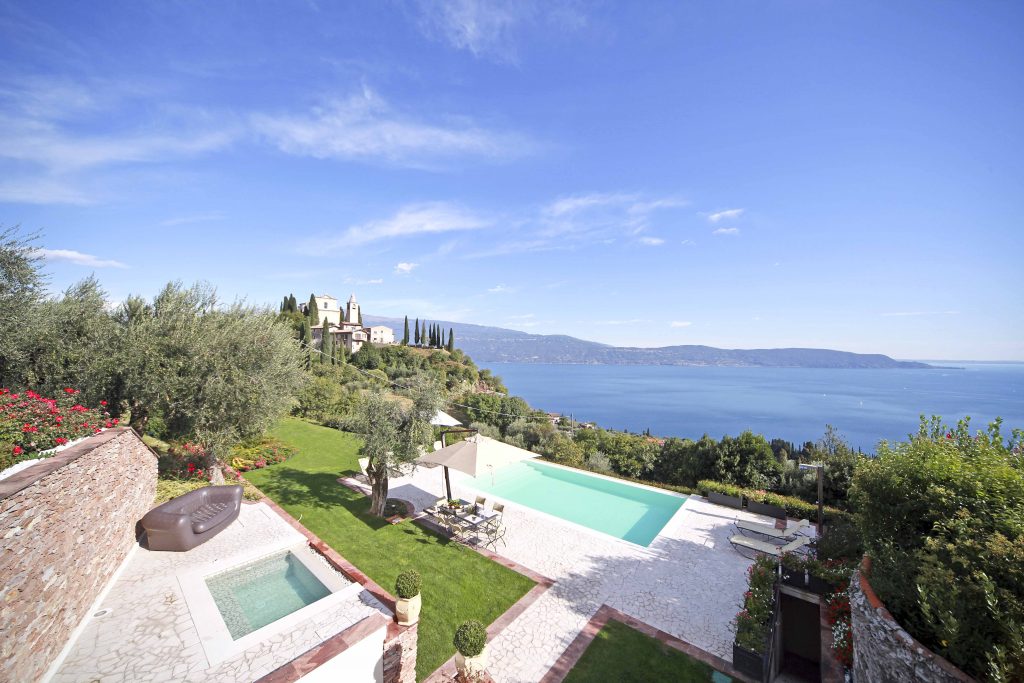 This luxury villa on Lake Garda is stylish, chic and contemporary. Guests will be well-looked after during a stay here, with complimentary deliveries of freshly baked bread and croissants each morning as well as a host of other additional services on request including babysitters, private tour guides, helicopter trips and private chefs. The outdoor pool is heated allowing guests to use it when many other villa pools would be closed, and the villa is perfectly located for exploring the very best that Lake Garda has to offer.
Sleeps: Up to 8 guests
Prices from 85 euro per person per night
10. La Residenza, Ostuni, Puglia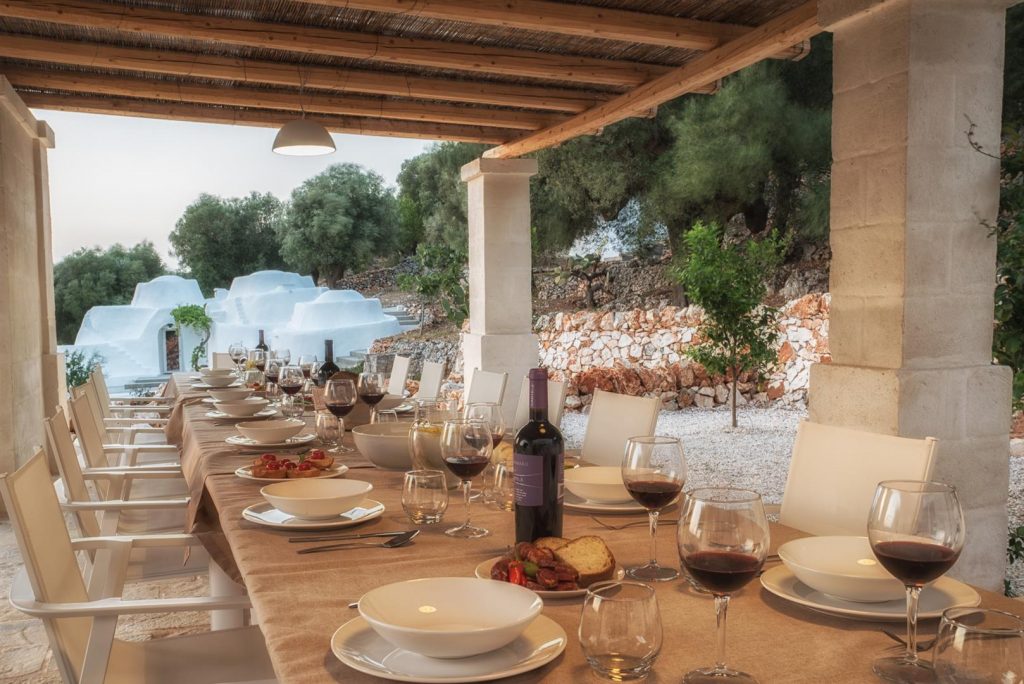 This luxury villa in Puglia is just a stone's throw from Ostuni. Newly constructed, this is the perfect villa for large families and groups. Sleeping up to 16 guests in 8 bedrooms, it boasts not one but two private pools (including a heated plunge pool on the roof). The furnishings have a simple elegance to them, and the owner has invested in using natural local materials to create a calming and relaxing space. But rest assured, there is something for even the youngest family member to enjoy so that everyone feels like they're living in luxury, with an area dedicated for little ones to play on with swings, slides and climbing frame.
Sleeps: Up to 16 guests
Prices from 55 euro per person per night
If we have tempted you to start planning a holiday and would like some help finding the perfect luxury villa in Italy, then please do get in touch with the team at Bookings For You and we would be very happy to help provide some guidance on the best options for you, your family and friends.