Tuscany is famous around the world for its incredible cities – Florence, Pisa and Siena need no introduction – and the region is bursting with attractions that top many people's bucket lists. From the Leaning Tower to the Uffizi Gallery and from the Piazza del Campo to the Cathedral of Santa Maria del Fiore, there are a wealth of incredible sights to see in Tuscany. But, Tuscany is also home to some smaller gems, places where you can escape the crowds and avoid the queues and arguably find a more authentic slice of Italy. Here are what think are the 10 most beautiful towns and villages in Tuscany.
Volterra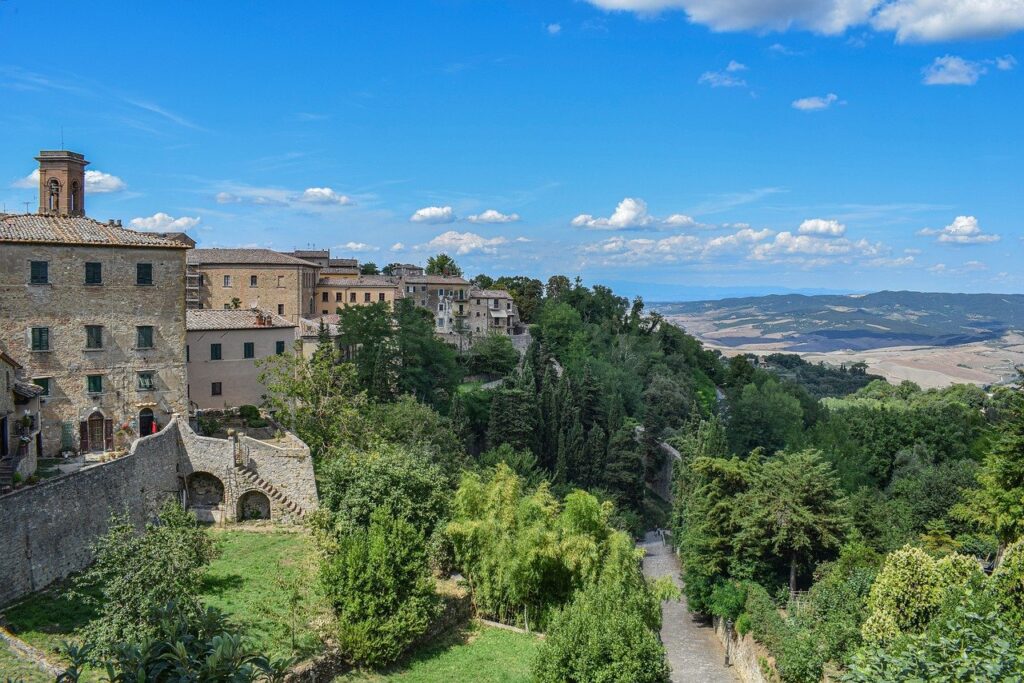 Like so many of Tuscany's towns, Volterra has a long and ancient history. Dating as far back as the Etruscan times, many Etruscan artefacts can be found in the town's museum, whilst the past of its Roman descendants are still visible in the impressive remains of the 1st century Roman amphitheatre as well as its Roman forum and Roman baths. Volterra has long been known as the 'city of alabaster' and a short stroll through Volterra's streets will soon lead to one of the many alabaster workshops still present today. More recently, Volterra has become famous for being the setting for the second book in the popular Twilight vampire series.
This Volterra villa is the perfect place to stay to explore this most stunning of towns. Comfortably sleeping up to 20 guests, it is the perfect luxury Tuscany villa for a large group of friends or family. Plus, the owner's family just happen to run the best cake shop in Volterra – Dolceria del Corso – so you'll get the insider knowledge on the best Tuscan cakes and patisserie!
Pienza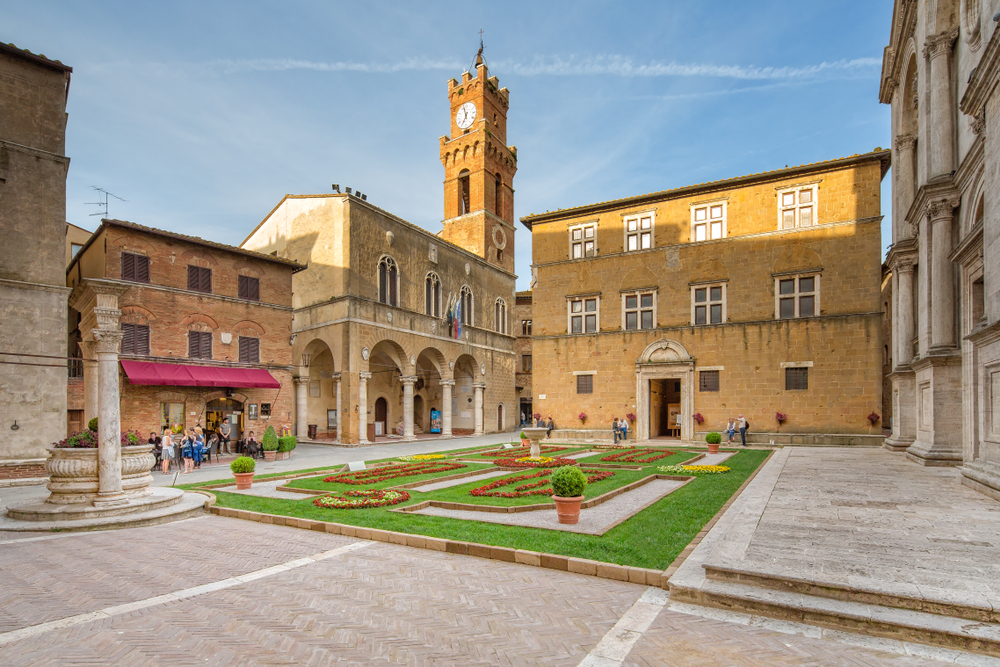 Pienza is one of Italy's 55 UNESCO world heritage sites. It's a small village but we think it's incredibly beautiful, no doubt in large part thanks to its 15th century Renaissance Utopian beginnings, transformed under the watchful eye of Pope Pius II with the help of architect Bernaro Rossellino. He organised all the piazzas and palazzi within Pienza according to humanist principles and certainly the result is very aesthetically pleasing. Buildings of particular note include the Cathedral of Santa Maria Assunta (Duomo), the Palazzo Borgia and the Palazzo Piccolomini which was used as a set location in Franco Zeffirelli's Romeo and Juliet. We have also fallen in love with a couple of Pienza's street names – the Via dell Amore (Street of Love) and the Via dell Bacio (Street of the kiss) are both in Pienza, all of which means Pienza also makes it into our list of the most romantic places to stay in Italy.
With views of Pienza, this stunning villa in Tuscany is perfectly placed if you want to discover more about this beautiful Tuscan village.
Cortona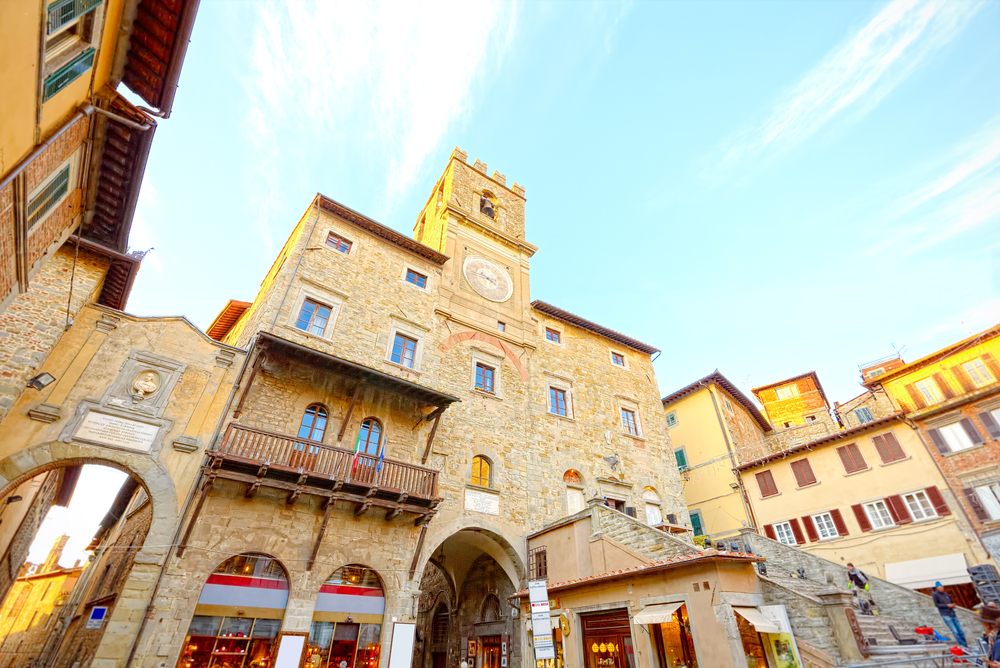 Thanks to Frances Mayes' book 'Under the Tuscan Sun', Cortona became almost as famous as Tuscany's big cities at one point, attracting thousands of visitors each year. Its history dates as far back as the Etruscan period but these days, it's characterised by steep, narrow cobbled streets, lined with buildings dating back to Medieval times that sit 600 metres above sea level. Only Cortona's main street – Via Nazionale – is without a gradient. Cortona's hilltop setting means visitors will arguably fall in love as much with the views from Cortona as with Cortona itself. From the town, you can enjoy a panoramic view of the whole of the Valdichiana (Chiana Valley) below including a glimpse of Lake Trasimeno in neighbouring Umbria. We think the best views in Cortona are to be enjoyed from the Santa Margherita Sanctuary and the Girifalco Fortress.
Villa Manuela is a traditional 3 bedroom villa near Cortona should you decide that Cortona is the perfect base for your next holiday in Tuscany.
Montepulciano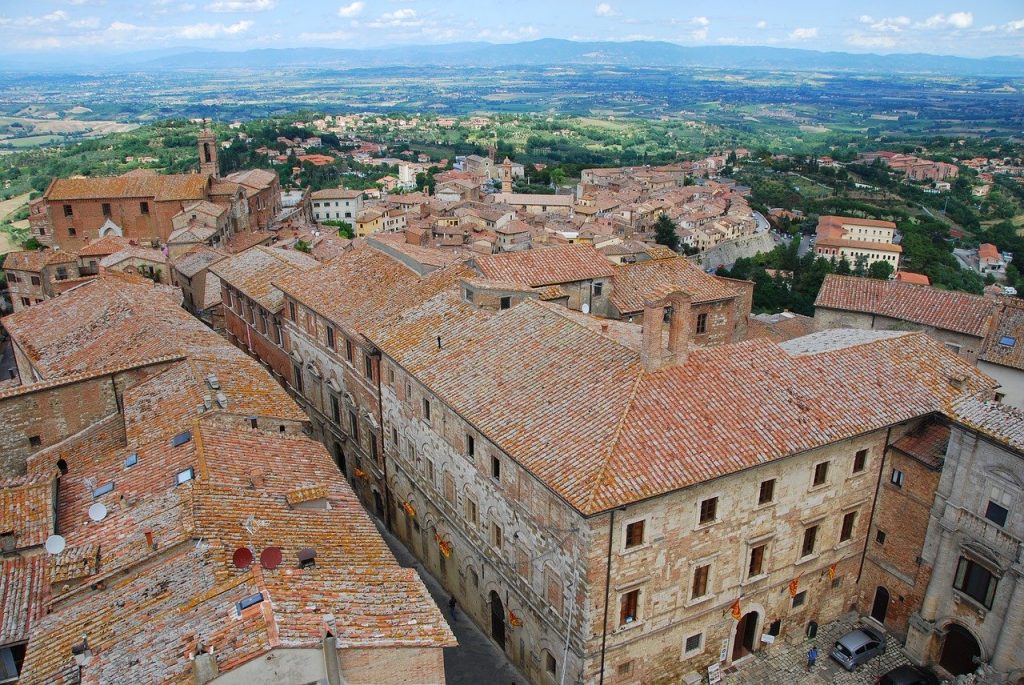 Montepulciano is an extremely pretty town, full of interesting churches, beautiful palaces, idyllic piazzas and picturesque lanes and alleyways, most of which are free from cars. At the heart of Montepulciano is the Piazza Grande, home to the Palazzo Comunale and the Cathedral. But Montepulciano is arguably more famous for the produce that it is home to. Most visitors head to the town to try the famous Vino Nobile, one of the top Tuscan wines and the town is certainly the most important agricultural centre in the area. The town is surrounded by vineyards, and idyllic views over the surrounding countryside below can be found around every corner although our favourite view is that from the Piazza San Francesco. We also love Montepulciano for one of its most popular annual events – the Barvio delle Botti – held every August when barrels are raced through the streets.
In more recent times, like Volterra over 100 km away, Montepulciano has attracted more visitors than ever due to the filming of the filming of the vampire saga sequel to Twilight here.
Just 15 minutes from Montepulciano is this stunning Tuscany villa. Surrounded by the green rolling hills of the Val d'Orcia, it's an incredibly stunning setting for a holiday.
San Gimignano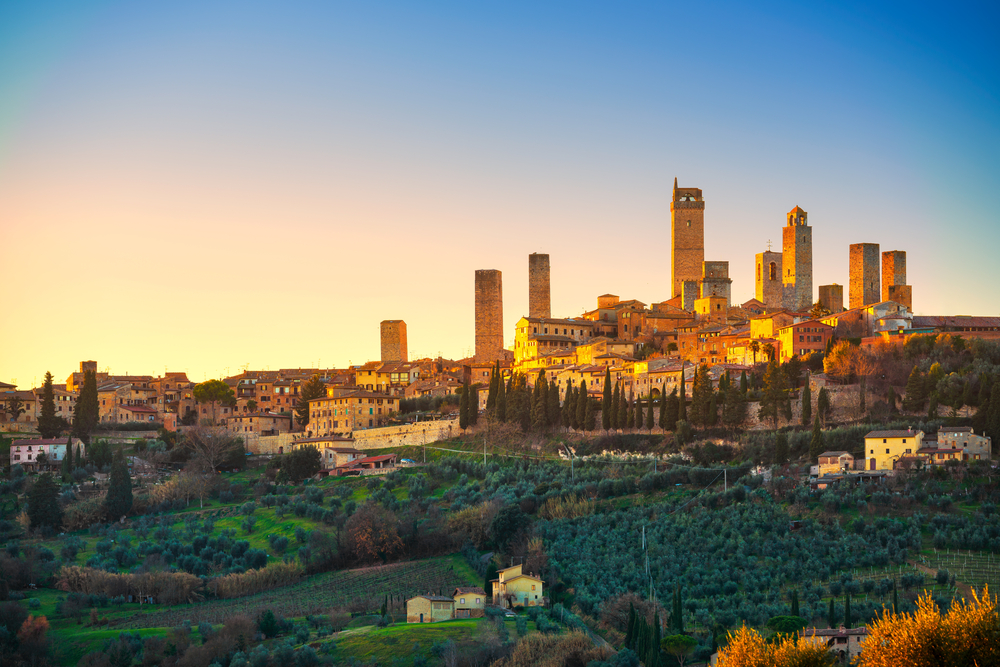 Probably the most famous and well-known of the towns and villages of Tuscany within this list, San Gimignano is known all around the world for its incredible towers. Of the 72 originally built, only 14 now remain but they dominate the skyline around. San Gimignano has been a UNESCO World Heritage Site since 1990 and is a superb example of a Medieval Tuscan town, filled with incredible atmosphere and beauty. The only tower visitors are able to climb up is the Torre Grossa but it's certainly worth doing so to enjoy the incredible vista over the Val d' Elsa from the top.
This 3 bedroom San Gimignano apartment is a great place to stay if you want to explore San Gimignano for yourself. Sleeping up to 9, it can work even for a larger family or group of friends.
Anghiari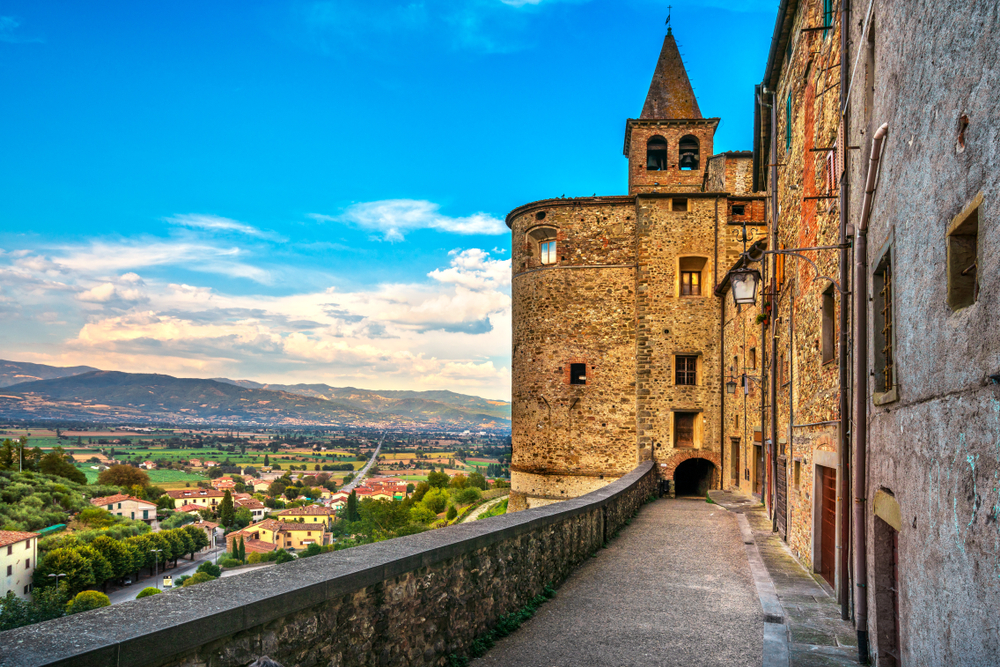 On the list of Tuscany's 'borgi piu belli d'Italia,' Anghiari is a charming Medieval village surrounded by thick 13th century stone walls. Historically, it's most famous for being the site of the famous 15th century Battle of Anghiari, when, on 29 June 1440, the outnumbered forces from Florence defeated their opponents from Milan, an event that is commemorated in a museum within the town. Anghiari's narrow streets are charming, lined with houses, shops and churches, and with shuttered windows adorned with boxes cascading in colourful flowers. Find out more at our Anghiari travel guide.
If you want to stay in Anghiari, then this stunning 7 bedroom Anghiari villa is within walking distance of the village and can comfortably sleep up to 20 guests.
Lucca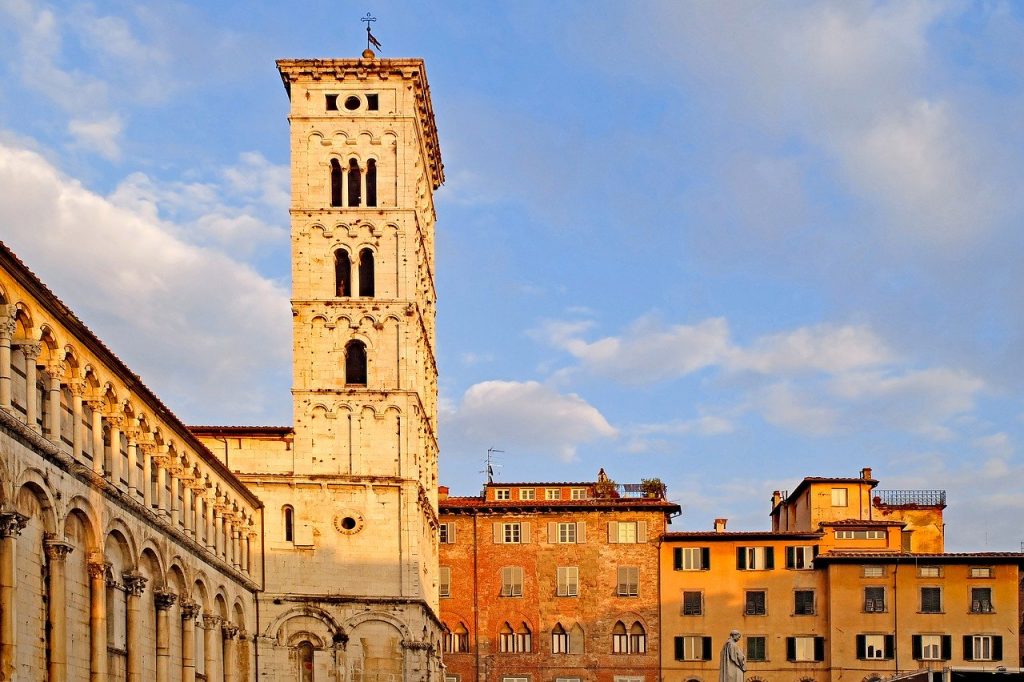 One of our favourite cities in Tuscany, Lucca's main attraction is arguably the old city walls where visitors enjoy a stroll or cycle. However, Lucca is equally famous for its many churches, earning itself the nickname, 'the city of one hundred churches' and for its oval-shaped central Piazza dell' Anfiteatro and Torre Giunigi, a tower with trees growing from its top where is a roof garden, built by the Guinigi family as a symbol of Lucca's rebirth. For more information about what to see and do in Lucca, head to our Lucca travel guide.
Villa Pinoni is a luxury Lucca holiday rental, perfect if you want to discover Lucca for yourself.
Pistoia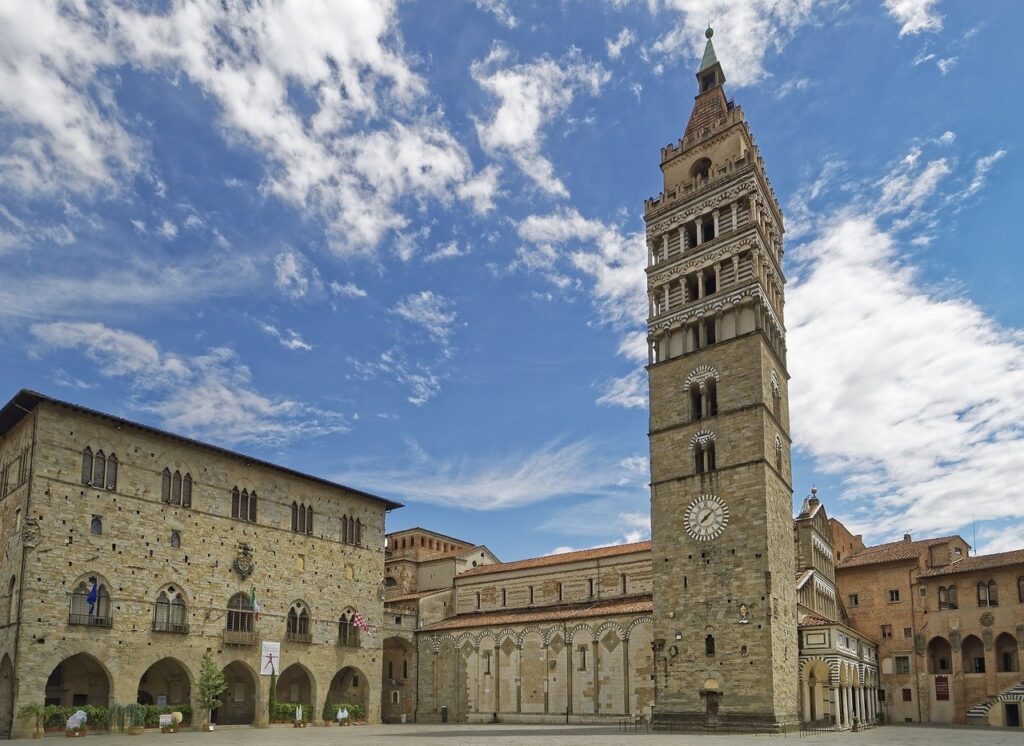 Situated halfway between Florence and Lucca, Pistoia is one of Tuscany's hidden gems. It may not be as grand as its more famous neighbour Florence and it's just half the size of Lucca, but it's home to all the ingredients of a good Tuscan city. Its history stretches back as far as Roman times and there is much to see and do here. The Piazza del Duomo and the smaller Piazza della Sala are home to numerable buildings worthy of a visit including the Cattedrale di San Zeno (Duomo), Medieval Baptistry and bell tower as well as the Church of San Giovanni Fuorcivitas, with its striking dark green and white marble-striped exterior. And another of its churches – the Basilica of the Madonna dell'Umiltà – further outside the town's centre is even reminiscent of the Duomo in Florence. Other buildings of note include the Palazzo Comunale (Town Hall), Magistrates' Palace and the Ospedale del Ceppo.
If you fancy exploring Pistoia for yourself, then this unique 5 bedroom Tuscany villa rental actually enjoys incredible views that stretch as far as Pistoia.
Arezzo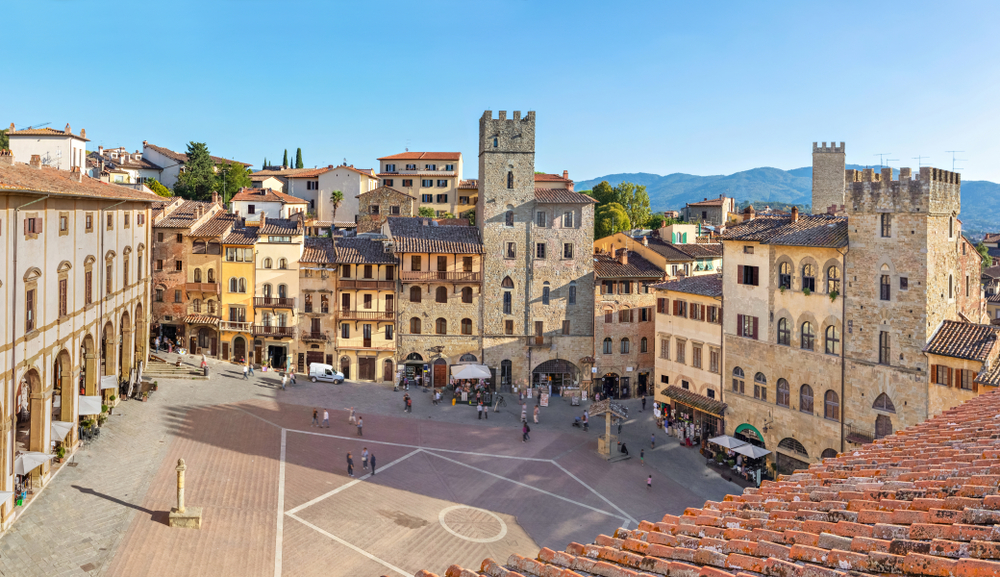 A bustling, vibrant town, Arezzo has had a long and rich history. Dating back to Etruscan times, evidence of Arezzo's ancestors can be found in the remains of a Roman amphitheatre. Don't miss climbing the 16th century Medici Fortress to enjoy some wonderful 360-degree views of Arezzo and beyond, and make sure you also make a bee-line for the Church of San Francesco, home to some early Renaissance frescoes by Piero della Francesca. Other religious buildings of note include the Cathedral, dedicated to San Donato, and the Church of San Domenico where you will find the wooden Crucifix by Cimabue.
These days, Arezzo is bursting with the obligatory art and architecture famed in this region of Italy. Its love of antiques is celebrated on the first Sunday of every month in a giant antiques fair held in the Piazza Grande.
Cetona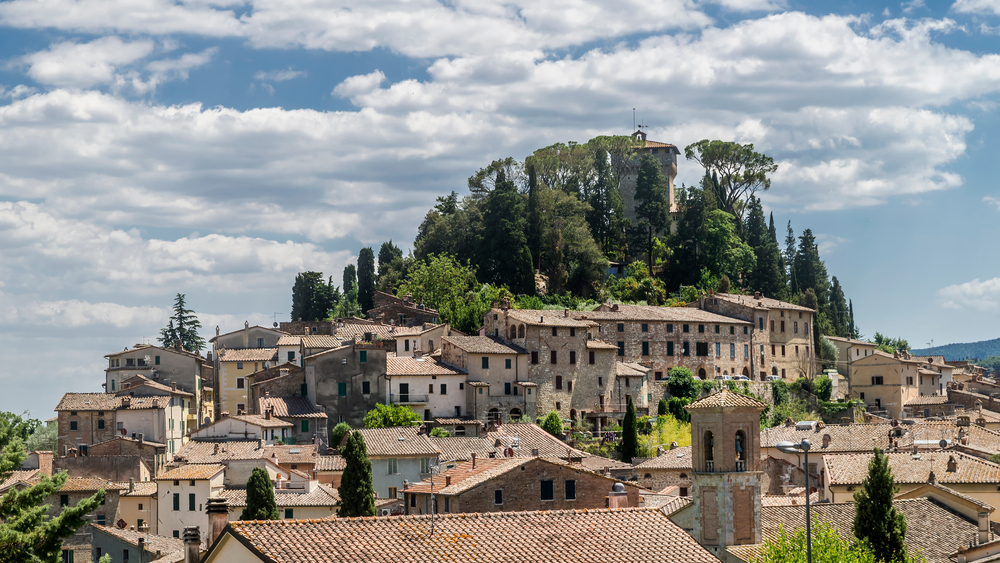 Cetona is a charming Medieval town centred around the Piazza Garibaldi, but dominated by its 10th century fortress (rocca) which sits above it surrounded by pine and cypress trees. Start your tour in the main piazza where you'll discover the 12th century church of San Michele Arcangelo as well as the later 16th century church of Santissima Annunziata. Also of note is the 18th century Palazzo Vitelli and Palazzo Terrosi which opens its gardens to the public during the Summer months.
Find out more about the towns and villages of Tuscany in our A to Z guide to Tuscany. Or check out the Tuscany villa rentals available from Italian villa rentals specialists, Bookings For You.