Many things go into making a great holiday. Good company, wonderful food, fantastic weather, comfortable pillows… the list is probably endless, and also rather relative. But one of the key components is definitely your surroundings. You want to unwind in a relaxing and calming environment — and some of our incredible properties in Tuscany can help you do just that.
Casa Singerna
With amazing views over the Singerna River valley, sunset dinners and morning coffees will have a phenomenal backdrop at this property.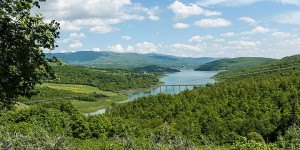 Good to know: We can organise a personal chef and cookery classes for guests staying at this villa — just ask us for more details!
Villa Banditaccia
Overlooking the stunning Val d'Orcia hills, this property doesn't disappoint when it comes to incredible vistas; you can see for miles across the rolling Tuscan hills from the quirky circular swimming pool.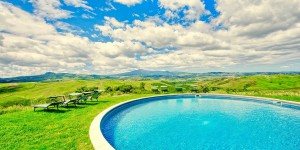 Good to know: This incredible property is surrounded by an 800-hectare estate, including an ancient abbey dating back to 1100AD.
Villa Ann
Close to Florence, this farmhouse has recently been renovated and includes a fantastic private swimming pool — complete with a small stone amphitheatre and amazing views.
Good to know: Many of the rooms have en-suite bathrooms with jacuzzi baths / showers — for that additional luxurious touch.
Villa Cristina
The stunning views over Arezzo are really just the icing on the cake for this property; there's so much for guests to enjoy including a swimming pool, fitness terrace, outdoor play area, and access to a private tennis club.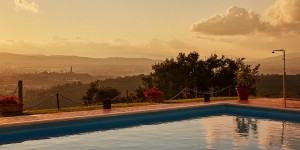 Good to know: The library is also a games room (although maybe not at the same time!) and includes a billiards table and pinball machine.
Villa Soavia
If panoramic Tuscan views sound like your idea of holiday heaven, then this is the property for you. Particularly when you can enjoy them from your own private infinity pool, or when sipping wine on the covered terrace whilst the BBQ fires into life…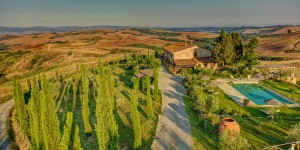 Good to know: The property boasts a small wine cellar, where guests can indulge in some of the finest wines from the local area.
Villa Corsano
Grand yet secluded, this property does not disappoint. Surrounded by carefully cultivated gardens, and introduced by a cypress-lined avenue this villa has been lovingly curated by its owners in order to retain its historic glory.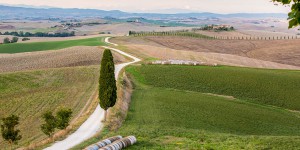 Good to know: This property is a historic masterpiece; it's filled with antiquities and traditional features — perfect for amateur and professional historians alike.
Still not found your perfect villa and vista? Search through all of our properties in Tuscany and you might just find the one for you.