Nothing can beat having a pool to yourself on holiday. The children can splash to their hearts content, the teens can laze on the inflatables and the adults can keep up their exercise regime! Even if you're not a fan of the water, there's something to be said for just being able to sunbathe by the water and dunk those toes in occasionally to keep cool!
Here are our top 5 villas in the Italian Lakes with pools, perfect for all the family. What is more, all these Italian Lakes villas have the added bonus of having private pools so you don't need to worry about keeping the noise down and disturbing other users.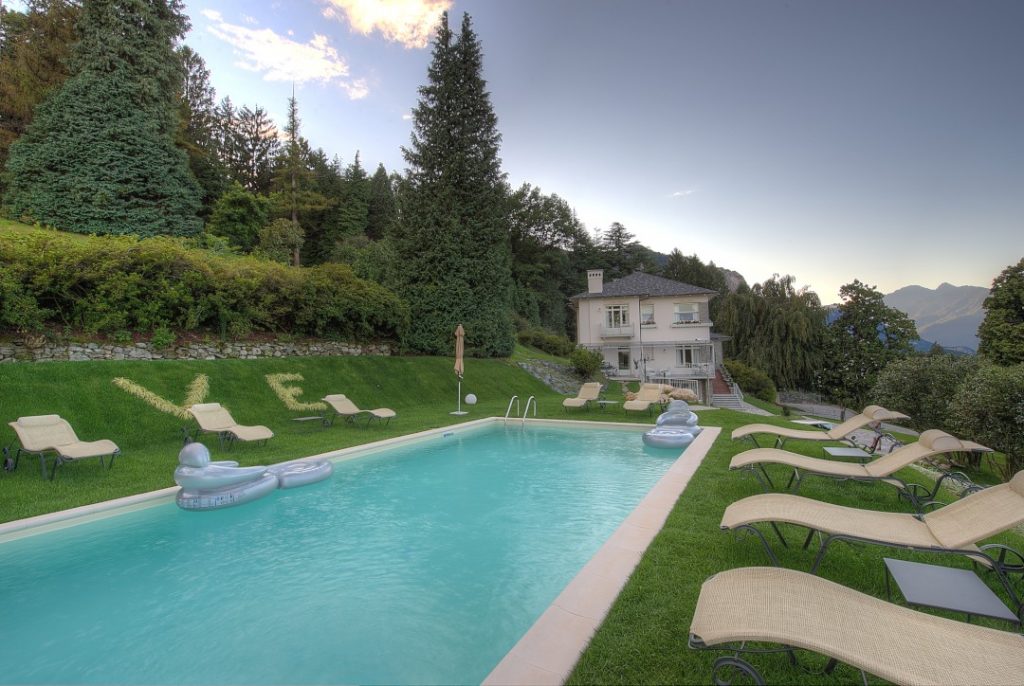 This is an absolutely stunning Italian Lakes villa with pool enjoying glorious views over Lake Maggiore. The large private swimming pool is surrounded by lush lawns. But that's not all it offers… It also boasts a table tennis table, basketball area and table football table, making it the perfect Italian Lakes villa for families with children. Not only that, but you'll also find a whole floor dedicated to your well-being with a private gym for the fitness fanatics and a wellness area complete with Turkish bath, jacuzzi, massage and relaxation suites as well as a herbal tea corner for those who simply want to just 'be'. Whatever each family member is looking for, you can be sure that everyone will soon settle into their holiday at Villa Ermelinda.
Sleeps: Up to 13 guests
Prices from 80 euros per person per night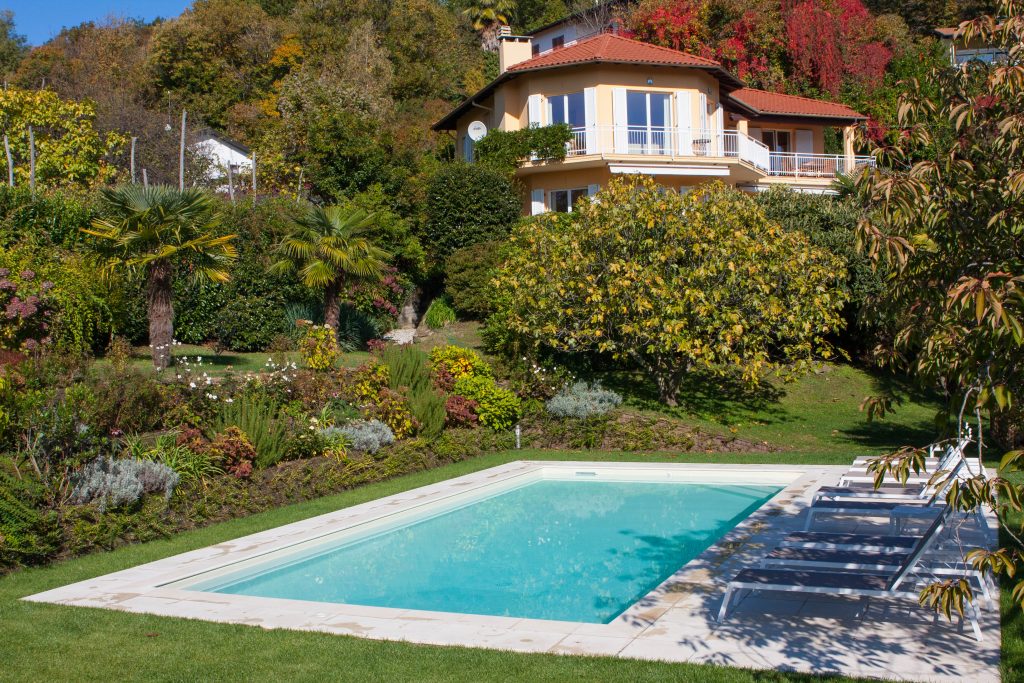 This Lake Maggiore villa with pool is a real gem. Comfortably sleeping up to 10 guests across 4 bedrooms, the contemporary styled house is within walking distance of the lakeside and the pretty village of Colmegna where you will find two restaurants, one of which enjoys an idyllic lakeside terrace. The pool was newly built 3 years ago and comes complete with electric safety cover, providing extra peace of mind for those families travelling with young children. The pool is also heated to ensure that it's a comfortable temperature for all.
Sleeps: Up to 10 guests
Prices from £20 per person per night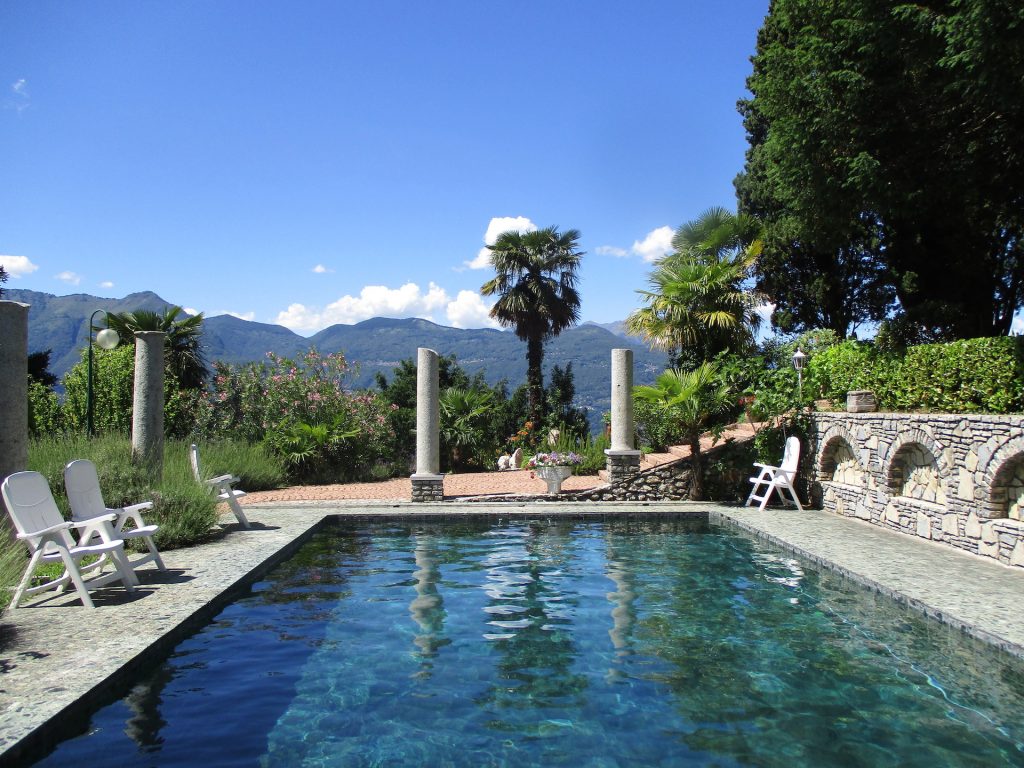 This pretty, picture-postcard luxury Italian Lakes villa with pool is set on a hilltop above Lake Maggiore in the sought after village of Brezzo di Bedero. It can boast dramatic 360 degree views which pan over the lake in one direction and over the village rooftops in the other. With antique style pillars around the pool, this is quite a dramatic pool setting. Loungers and seating are arranged around the pool whilst beyond, there are acres of private parkland to be explored, filled with an explosion of colour in the Spring and Summer months.
Sleeps: Up to 11 guests
Prices from 80 euros per person per night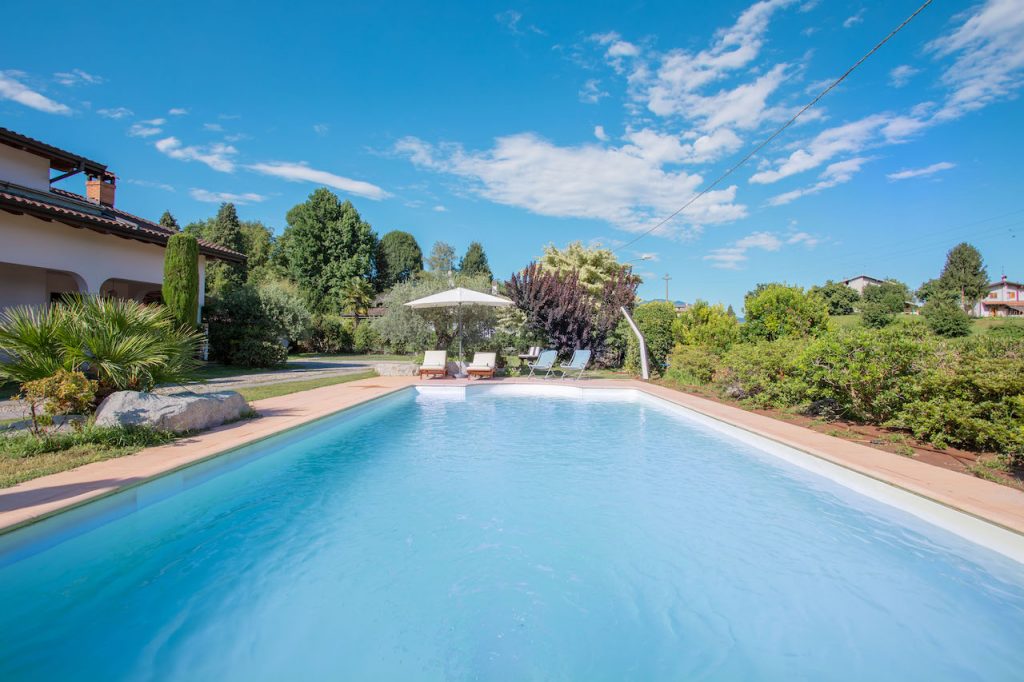 This 3 bedroom villa with pool in the Italian Lakes was renovated in the Spring of 2020 and was rented for the first time that Summer. Traditional in style inside but with all the creature comforts guests are looking for, and with a wonderful garden outside with ample lawns and terraces for relaxation around a large private pool, this Italian Lakes villa is a great option for your next trip. But don't take our word for it. Our guests this Summer gave us a 9 out of 10, describing the villas as 'fantastic' with a 'really great pool'.
Sleeps: Up to 6 guests
Prices from 60 euros per person per night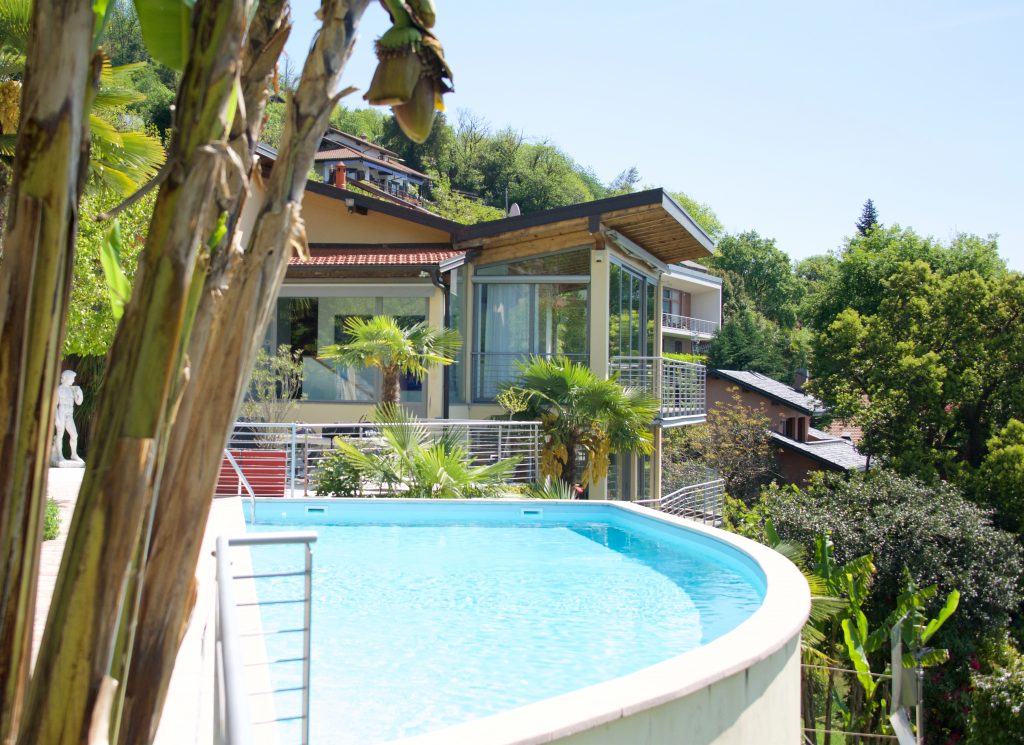 A great luxury villa with pool in the Italian Lakes, Casa Belva enjoys wonderful lake views towards the Borromean Islands. You'll find it hard to drag yourself away from the pool and those incredible views but, for those that prefer a more active holiday, Casa Belva also has the added bonus of being within walking distance of the lakeside, shops and restaurants. Within a 30 minute walk, you can even reach the boat stop where you can catch a boat to all the other towns and villages around Lake Maggiore. Positioned behind the pool is a stylish pool house, complete with additional kitchen, living area and bathroom as well as a private gym so that you can build up a sweat before taking a dip in that pool.
Sleeps: Up to 6 guests
Prices from £40 per person per night
We hope that we've shown that a villa with pool in the Italian Lakes may be more affordable than you thought but, whatever your budget, we're confident that we will have the perfect Italian Lakes villa or apartment for you. Do take a look at our full selection of Italian Lakes villas with pools on Lake Maggiore, Lake Como and Lake Garda on our website or get in touch if you'd like our help in finding that perfect holiday rental for your next trip to Italy.