Following our recent trip to Florence, we were reminded what a great base Florence is from which to explore the Tuscany region as a whole and even to use it as a base to visit other regions of Italy including Emilia Romagna to the North and Lazio to the South. So this week we thought we'd share our top 10 favourite days trips from Florence. With fast rail links from the heart of Florence to a number of cities in Italy, exploring Italy as a whole couldn't be more simple.
We've also intentionally made sure that all the Florence day trip ideas below are within an easy 2 hour journey time, ensuring that you have plenty of time to explore (and even time for a long leisurely lunch)!
And when you are at the stage of planning your journey to these Florence day trip destinations, it's definitely worth taking a look at Omio. We love this website as it brilliantly simplifies the journey planning process and saves you both time and money. Explore options to travel by train or bus. Just enter your dates, departure and arrival destinations and it will allow you to compare the different bus and train routes available as well as booking tickets. These can then be conveniently downloaded into a handy app to keep everything in one place.
So, here are our top 10 day trips from Florence.
Siena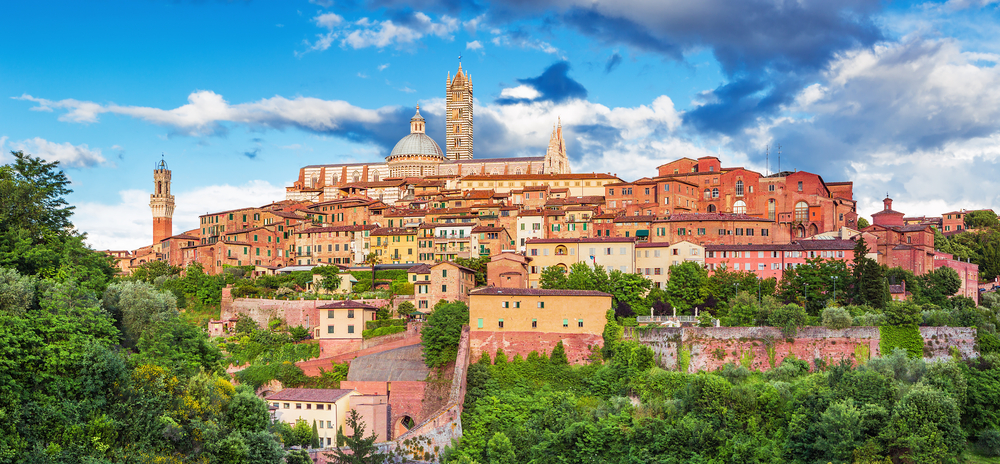 Whilst you'll find us most commonly recommending the train network as a way to enjoy day trips from Florence, Siena is an exception to the rule. Don't get me wrong – it is possible to get a direct train between the two cities with a journey time of around 90 minutes, but more often than not, the route will involve changes. However, the other drawback of taking the train is that Siena's train station is located outside the city walls at the very bottom of the hill. It's a steep 20 minute walk uphill from here to the historic centre of Siena or you can also opt to use the escalator that can be found in the Porta Siena shopping centre just across from the train station. Instead, we recommend you opt for the bus. It will be faster (typically taking about an hour and 15 minutes) but crucially the bus will also drop you off in the centre of Siena so is much more convenient.
Once in Siena, we recommend starting your visit in the iconic Piazza il Campo where you'll not only find the striking black and white striped Gothic Duomo but also the 102 metre tall Torre del Mangia and adjacent Museo Civico in the Palazzo Pubblico. We recommend buying lunch from either Pizzicheria de Miccoli at Via di Citta 95 if you're looking for something informal or, alternatively, grab a table at the more formal Osteria le Logge.
We love the sound of this all-day excursion to Siena, San Gimignano and Chianti that leaves from the heart of Florence. Or if you'd rather not spread yourselves so thinly, how about this guided tour of Siena and San Gimignano, allowing you to explore both UNESCO World Heritage sites in a day. Or for something a bit different, check out this sunset tour of Siena which includes a traditional Tuscan dinner in the heart of the Chianti countryside on your way back.
Find out more about what to see and do in Siena in our guide to Siena.
Pisa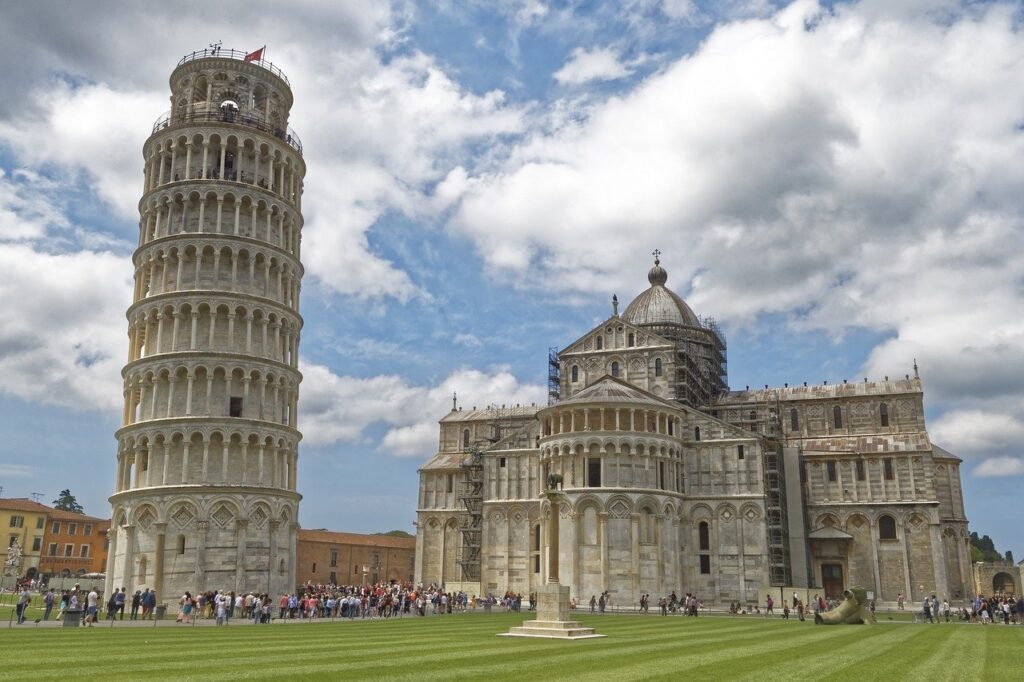 Whilst there may not be any high speed train links from Florence to Pisa, it's still possible to be in Pisa in just 50 minutes using Italy's treno regionale. There aren't really any public buses from Florence to Pisa which are convenient, but you could also hire a car and drive there. The drive along the FI-PI-LI motorway will take about an hour. Just be warned that parking in Pisa isn't always easy and, once there you will also have the ZTL (limited traffic zone) to contend with! If you'd prefer to go on a guided tour of Pisa than make your own way there, then this semi-private tour of Pisa from Florence could be a great option for you. Or check out this half day tour of Pisa which includes an hour long tour in Pisa and admission to the cathedral.
Once in Pisa, head first to the main square – the Piazza dei Miracoli – which is where you will find the Leaning Tower of Pisa along with the Cathedral of Santa Maria Assunta, Baptistery and Campo Santo. Make sure you have booked your entrance tickets to the Leaning Tower and Cathedral in advance to avoid disappointment.
Find out more about what to see and do in Pisa in our guide to Pisa.
Milan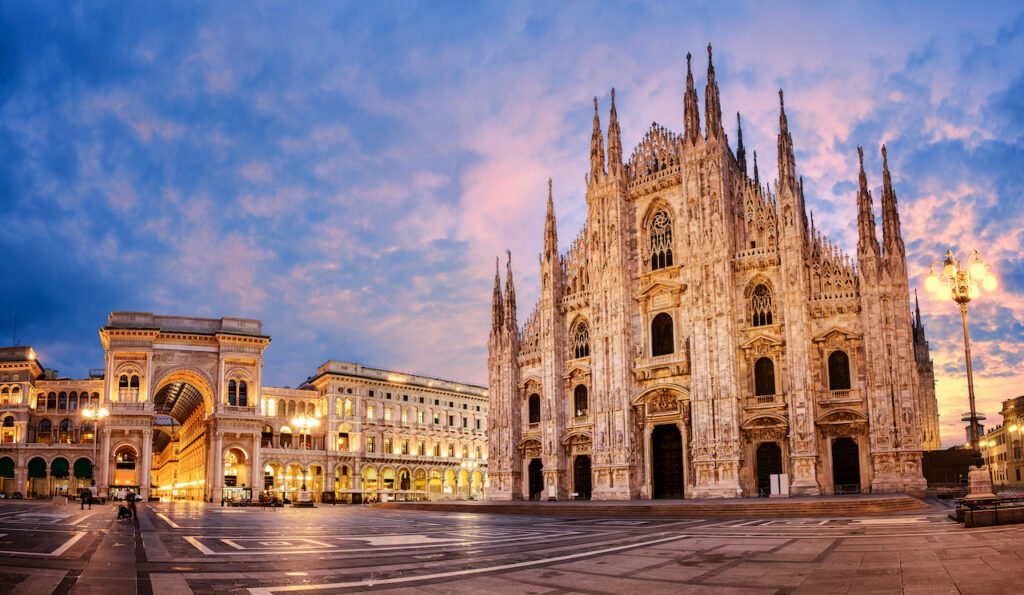 The fastest direct Frecciarossa and Italo trains from Florence can get you to Milan in as little as an hour and 40 minutes.
Once in Milan, head to the main square – the Piazza del Duomo – home to Italy's largest cathedral and to what we think is the world's most beautiful shopping centre – the Galleria Vittorio Emanuele II. Don't waste time queuing for entry to the Duomo by purchasing skip the line tickets to both the interior and roof. Next on our list in Milan would be the Convent of Santa Maria delle Grazie, home to Leonardo da Vinci's The Last Supper. Once again, just remember to book tickets in advance. Limited numbers are admitted each day and tickets can sell out months in advance.
Find out more about what to see and do in Milan in our guide to Milan.
Bologna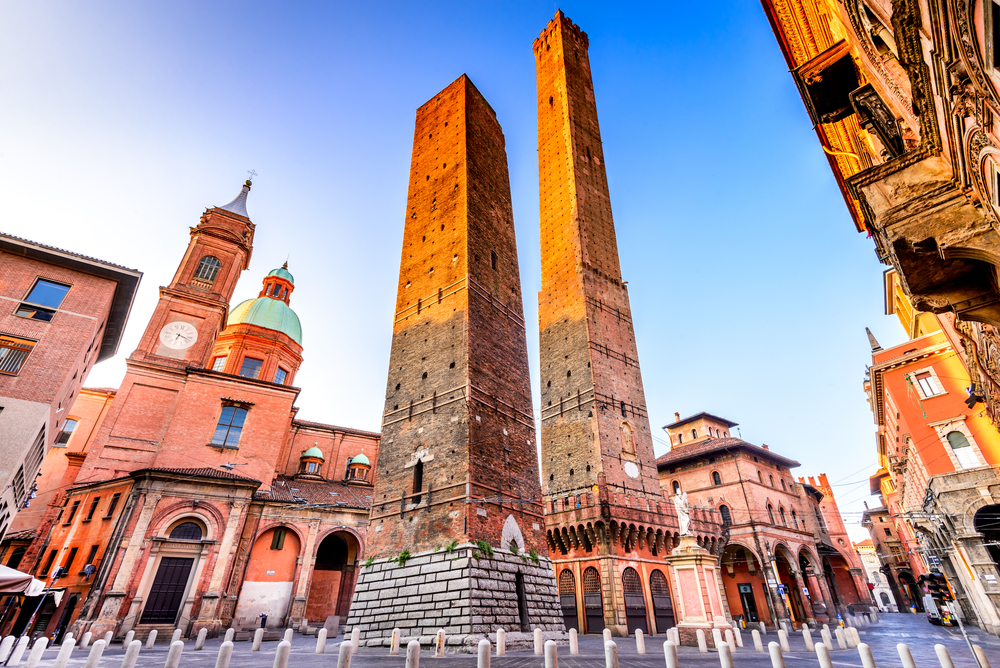 Holidaymakers can be in Bologna in less than 40 minutes from Florence using the high speed Italian train network. And there are plenty of guided tours of Bologna to enjoy once you get there.
Bologna is the capital of the Emilia-Romagna region and home to the Due Torri (two leaning towers). Climb the 498 steps to get to the top of the Torre degli Asinelli, before enjoying a stroll around the Piazza Maggiore or a walk to the San Luca monastery under the hundreds of arches that line the longest portico in the world. Bologna is also the ideal city to visit if you're a keen foodie too, perhaps not surprising given that Emilia Romagna is one of Italy's most fertile regions, home to Parmigiano Reggiano cheese, mortadella, prosciutto and balsamic vinegar. You'll find a wealth of incredible restaurants in Bologna itself along with some fantastic food markets including the Mercato delle Erbe and the Mercato di Mezzo. Or head outside the city centre to explore Eataly World.
Find out more about what to see and do in Bologna in our guide to Bologna.
Lucca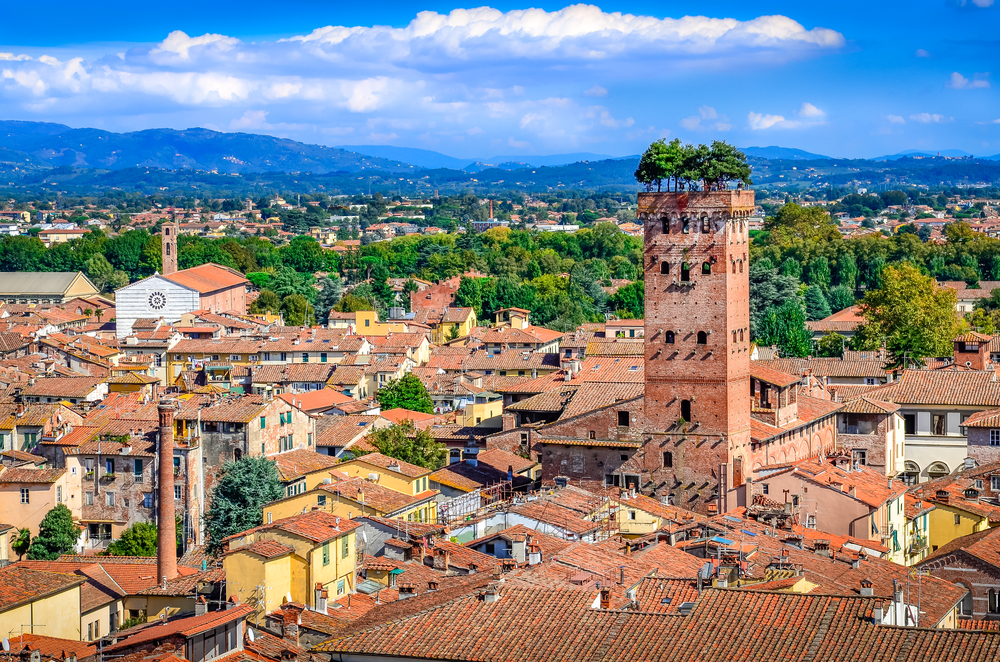 It takes about an hour and 20 minutes to get to Lucca from Florence by train. The bus journey can actually be a bit quicker. And both are extremely convenient. The bus drops you off inside the city walls whilst the train station is only a short 5 minute walk to the historic centre.
Lucca is small enough to easily discover in a day. Start by taking a walk along Lucca's old city walls before exploring Lucca's historic streets lined with churches, homes, shops, cafes and restaurants. Don't miss the Piazza dell' Anfiteatro (the site of an old Roman amphitheatre) and the Torre Giunigi which you can climb to admire the roof gardens and views from the top. Enjoy a guided tour of Lucca whilst you're there.
Find out more about what to see and do in Lucca in our guide to Lucca.
Cinque Terre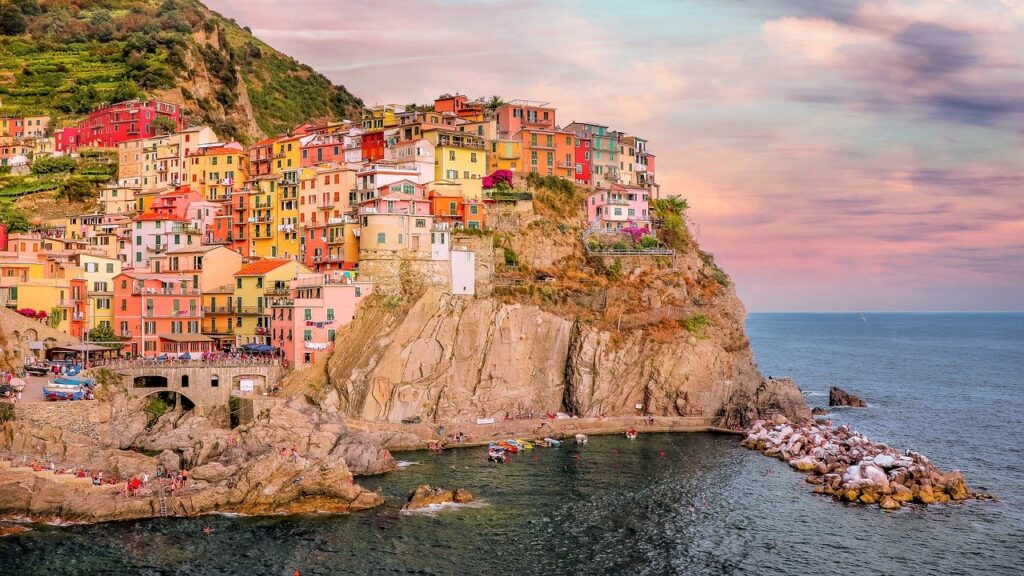 The Cinque Terre is an idyllic stretch of Italian coastline, made up of five picturesque villages – Monterosso, Vernazza, Corniglia, Manarola and Riomaggiore – each characterised by beautiful pastel coloured buildings clinging to the rocks. One of the furthest of the day trips from Florence on our list, the quickest way to get to Cinque Terre is by train. Take the train from Florence Santa Maria Novella station to La Spezia. Once there, you'll need to switch to the 5 Terre Express Train which is a fast regional train. There are four trains per hour connecting all five of the villages. However, if you can, take a walk along at least part of the famous 11 km Sentiero no. 2 or Sentiero Azzurro which connects the five villages.
If you prefer, there are plenty of organised day trips from Florence to Cinque Terre.
Rome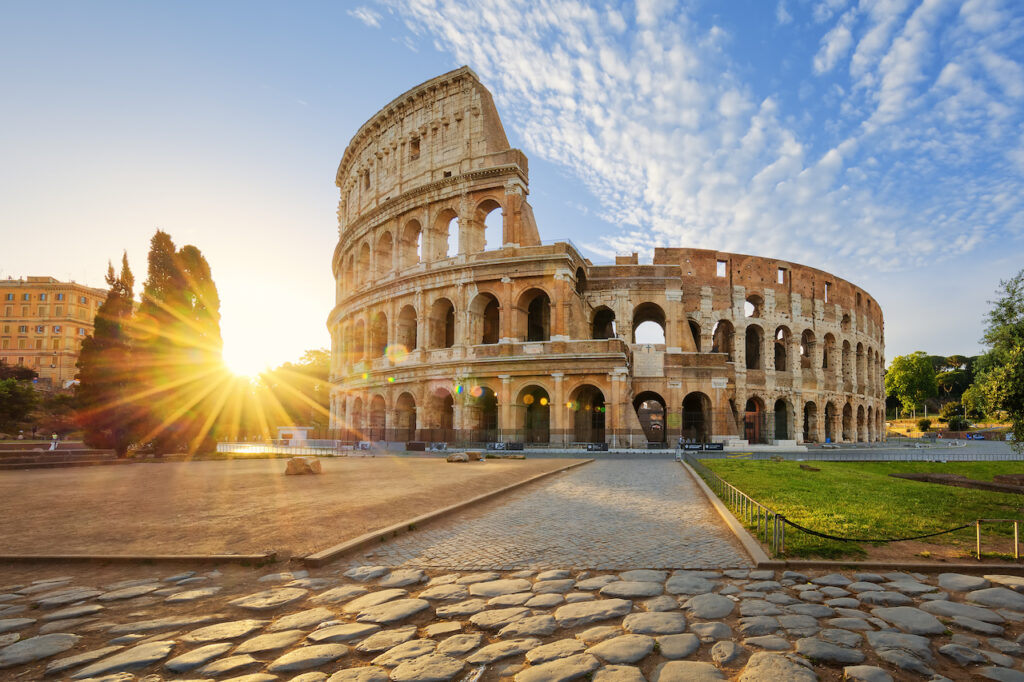 We're always amazed that you can be in Rome from Florence in less than 90 minutes. The only thing to be aware of is that you can never do justice to Rome in just a day. Rome is home to the Pantheon, Colosseum and Vatican (which in turn is home to Michelangelo's Sistene Chapel ceiling) along with the Trevi Fountain, Spanish Steps and Roman forum. There are just so many things to see and do in Rome that to try and do it all would be impossible. As a result, if you do plan a day trip from Florence to Rome, we recommend you have a clear plan of what you want to see and do in advance. Make sure you make the time as efficient as possible by booking any tours of Rome in advance and organising skip the line tickets where possible.
Find out more about what to see and do in Rome in our guide to Rome.
Venice
In 2 hours from Florence you can be on the Venice mainland but visitors will want to ensure that they take the train all the way to Venezia Santa Lucia which takes approximately two hours and 15 minutes. Or, if you'd rather take an escorted day trip from Florence to Venice, then we love the sound of this guided tour of Venice in a day.
As with Rome, you're not going to be able to do justice to Venice's sights in just a day so make sure you decide in advance what you want to prioritise. Some of the city's main sights include St Mark's Basilica and St Mark's Square, the Rialto Bridge, Bridge of Sighs, Grand Canal and Doge's Palace but there is also a hidden Venice away from the main tourist hot spots that is well worth exploring. Book your Venice skip the line tickets and guided tours in advance to get the most out of your trip.
Why not see how many things you can tick off your Venice bucket list in 24 hours.
Forte dei Marmi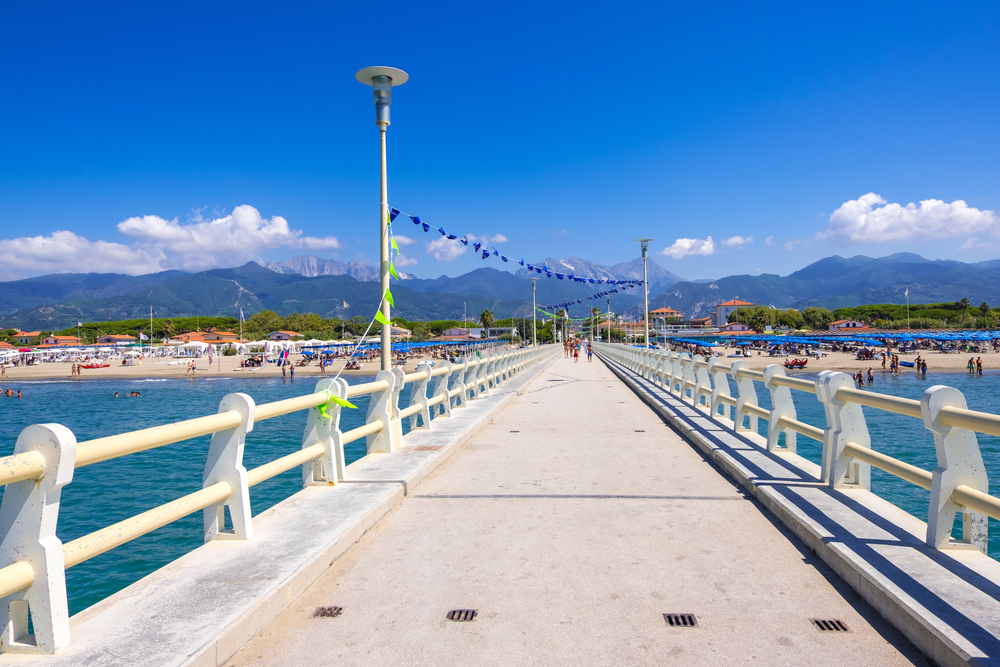 If visiting Florence in the Summer months, you may want to enjoy a day trip from Florence that provides an escape from the heat of the city. There are a number of seaside towns to choose from including one of our favourites, Forte dei Marmi. Forte dei Marmi is an upmarket seaside resort, popular with rich Italians. Elegant villas line the main promenade overlooking the sea and there are plenty of expensive boutiques selling designer goods along with upmarket restaurants serving up delicious sea food. Head to the town on a Wednesday to visit its famous weekly market.
The train from Florence to Forte dei Marmi will take between an hour and 30 minutes and an hour and 40 minutes. The journey often involves one change en route. Or for a more luxurious day trip from Florence to Forte dei Marmi, opt for a private transfer.
San Gimignano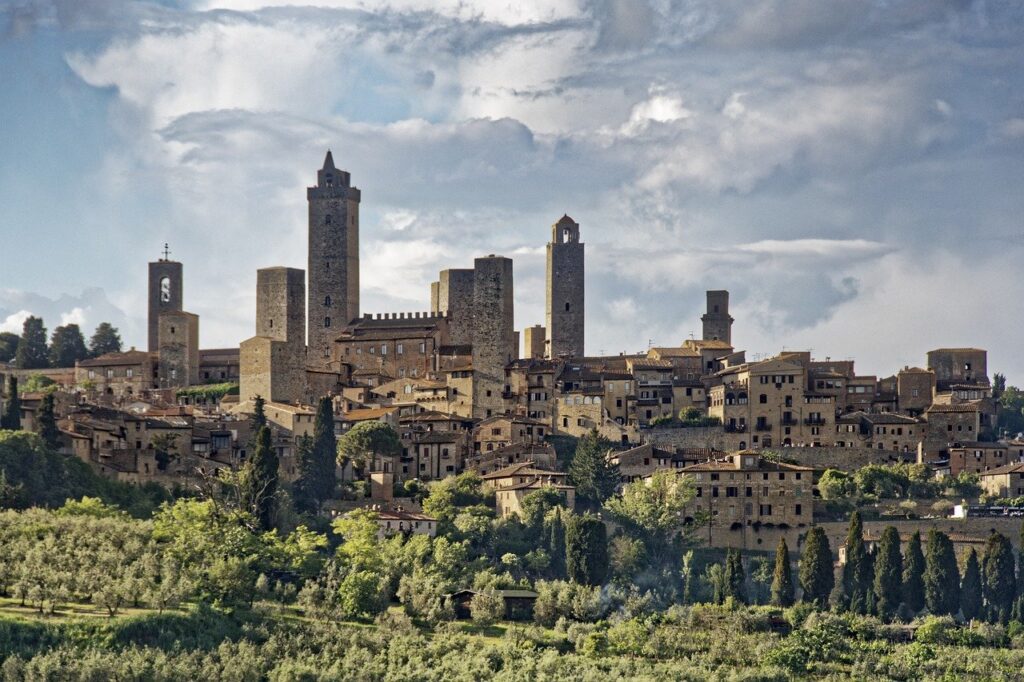 One of Tuscany's most famous towns, San Gimignano is famous for its incredible towers. 72 were built originally but only 14 remain today. Of these, the only tower visitors are able to climb up is the Torre Grossa but it's certainly worth doing so to enjoy the incredible views over the Val d' Elsa from the top. San Gimignano is one of Italy's many UNESCO World Heritage Sites and is a superb example of a Medieval Tuscan town, filled with incredible atmosphere and beauty.
The journey from Florence to San Gimignano will take about an hour whether you go by train or by road. Neither buses nor trains go directly there though and instead involve changes at Poggibonsi, so you may even find it easier to hire a car. Or instead, why not consider opting for an organised all-day excursion to Siena, San Gimignano and Chianti from the heart of Florence. Or, stick instead to just a guided tour of Siena and San Gimignano, allowing you to explore two UNESCO World Heritage sites in a day. There are lots of organised day trips from Florence to San Gimignano to choose from.
We hope you have been inspired to travel by some of our favourite day trips from Florence. Now why not check out the Florence apartment rentals available from Italy villa rental specialists, Bookings For You, all of which provide the perfect base for your day trips from Florence.