Every year, we are always on the look out for new villas in Tuscany to add to our portfolio of villas in Italy. And this year, we think we'll be exceeding all expectations with this absolutely stunning Cortona villa.
It's clear before you even step inside that this is a very special place to stay. Steeped in history, the origins of this villa in Cortona date as far back as the 14th century when the central part of the house was used as a watchtower built to defend the city against invasion. Since then it has also been owned by a Grandmaster of the Knights of Malta before being the birthplace of Paolino Tribbioli in 1868.
Tribbioli is probably the most distinguished of the residents that have lived here in the past. It was clear from a very early age that Tribbioli was destined for the church and in 1891 he was given special dispensation to be ordained a priest at the age of just 23. Straight after, he expressed a desire to become a missionary and later that year he left for India. He stayed there for 7 years before being called back to Italy. He always planned to return to India but never managed to, choosing to remain in Italy our of obedience to Pope Pius X. However, he nevertheless had played an absolutely vital role in bringing the Catholic Church to India.
The current owners of the villa share the illustrious name Hampden. John Hampden was a 17century landowner and politician who opposed the arbitrary taxation imposed by Charles I and whose reputation for honest and principled opposition to arbitrary rule also meant he was referenced by key figures in the 18th century American Revolution such as Franklin and Adams.
More recently, these owners have spent a number of years painstakingly and lovingly renovating this villa in Cortona to what you see today – a beautiful 4 bedroom luxury villa in Tuscany that comfortably sleeps up to 8 guests.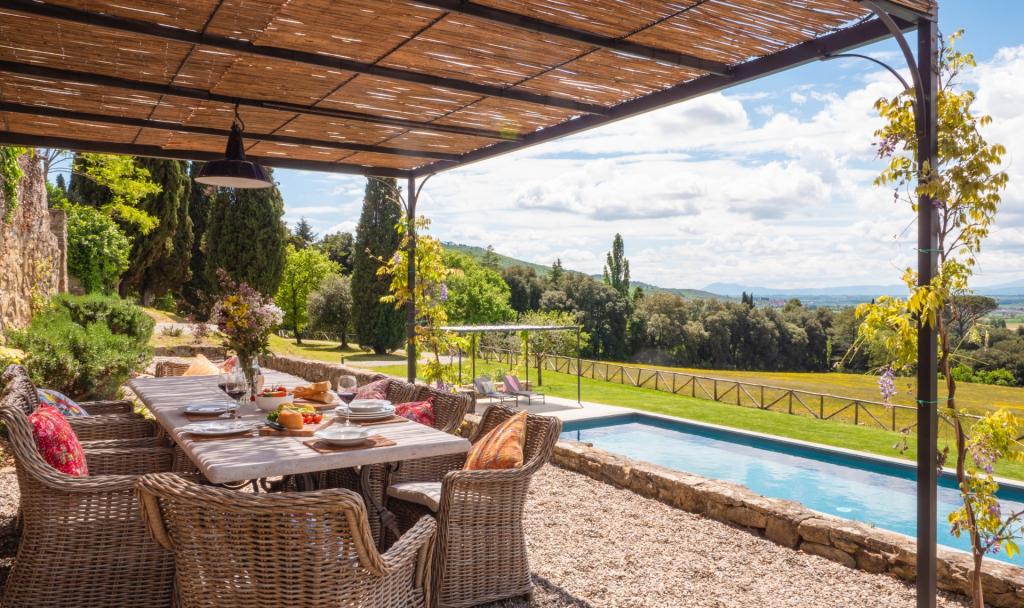 The setting is nothing short of spectacular. Guests can sit on the private terrace to enjoy dinner whilst watching the sun set over the Valdichiana valley beyond. Views stretch well into the distance and on a clear day, it's easy to spot nearby Montepulciano as well as Mount Amiata over 80 km away! The terraced gardens are immaculately kept, with lush green lawns, lemon trees and mature trees providing shade. The large private pool is the perfect length to do those laps and another separate pergola has been constructed here to provide additional shade from the heat of the midday sun. Whilst the immediate gardens are flawless, beyond the immediate estate lie acres of olive groves, all owned by the owners who hand pick the olives each Autumn to create their very own olive oil.
The setting of this Cortona villa truly is private and peaceful but, importantly, it's not completely isolated. Far from it as it's also perfectly placed to explore the very best that both Tuscany and Umbria have to offer. For example, it's just a short 10 minute drive from the popular town of Cortona, made famous thanks to Frances Mayes' novel Under the Tuscan Sun. We've never hidden the fact that we're big fans of Cortona and certainly think that it's a charming hilltop town. It's also a town steeped in history with origins that go as far back as the Etruscans. However, what you see there today dates back to Medieval times and is characterised by picturesque but steep, narrow cobbled streets sitting 600 metres above sea level. Not surprising perhaps then that Cortona made our list of the Top 10 Most Beautiful Towns in Tuscany.
And, of course, after a days sightseeing, you get to come back to the beautiful villa and relax and unwind on the terrace whilst the sun sets over the hills in the distance.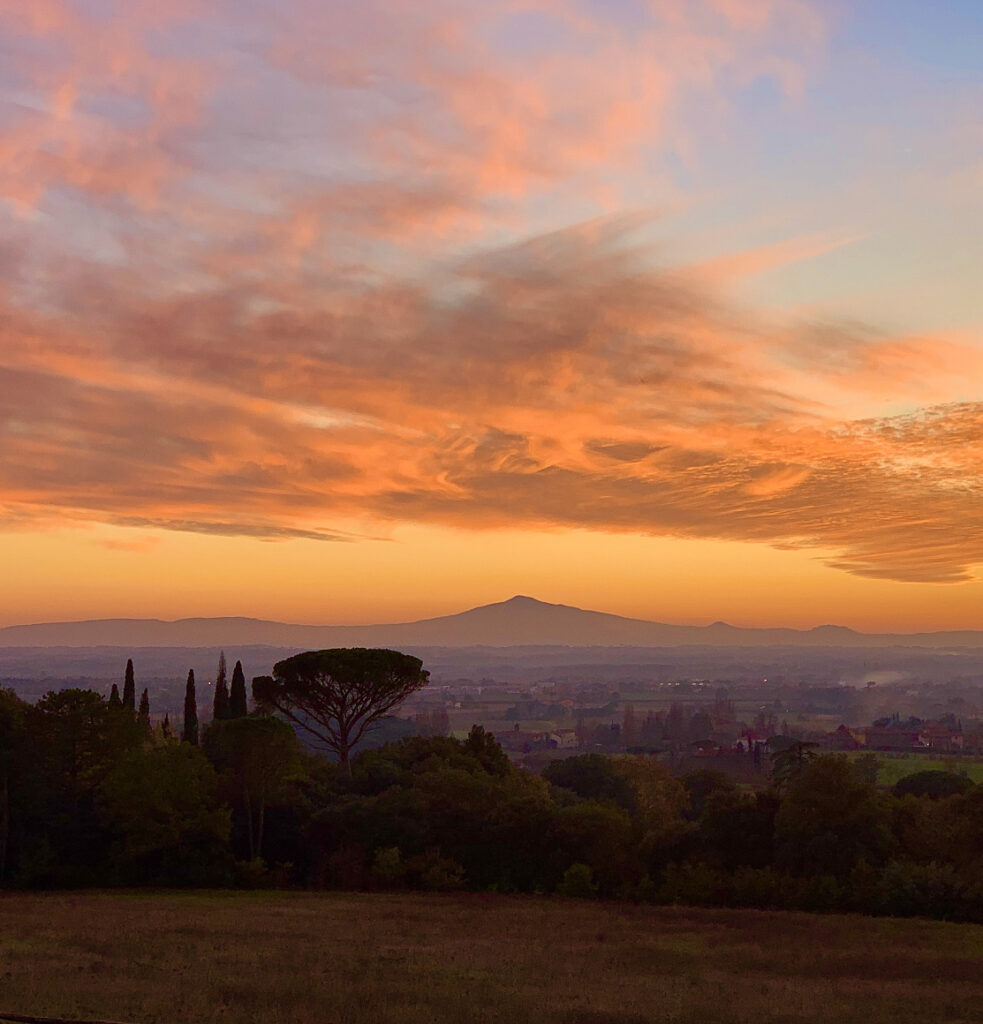 The interior of this Cortona villa is just as spectacular as the exterior and the setting. Immaculately presented throughout, on the ground floor there is a stylish and spacious living room with furnishings arranged around a beautiful antique fireplace. Perfectly furnished with splashes of bright red and blue singing out over the neutral pallet behind, this is a relaxing space to rest and rewind. The separate kitchen and dining room are just as enchanting and provide guests with all the indoor entertainment space they could need.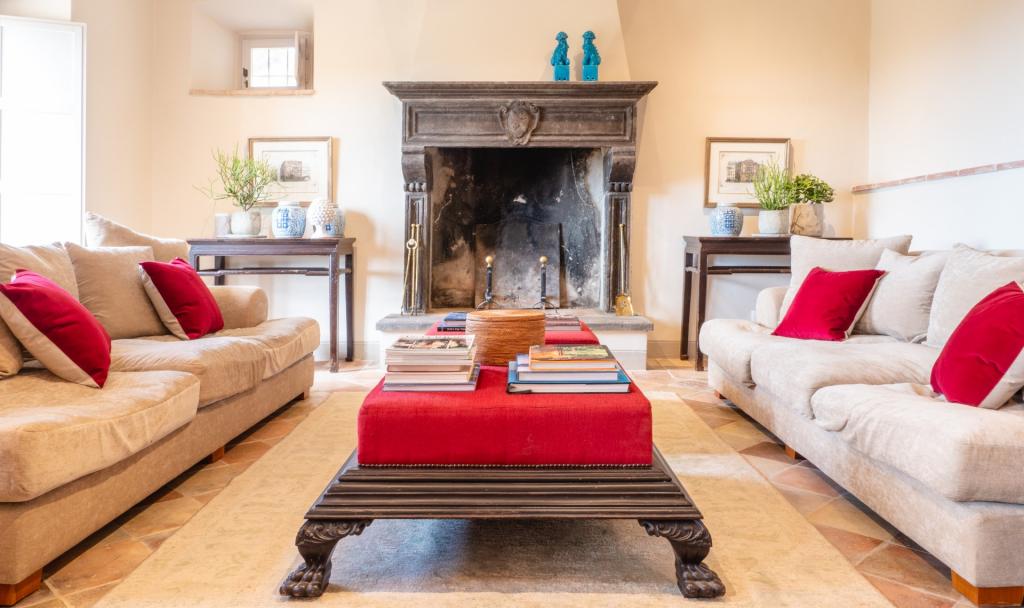 The husband and wife team have worked their magic on the first floor of this Cortona villa too. Four beautiful bedrooms each boast their own luxurious bathroom with travertine tiles, stone sinks and high quality fittings. There is even a free standing bath tub for those who enjoy a long soak at the end of the day. Throughout, the owners have very cleverly weaved together touches of old and new, retaining many original features such as the original wooden beams and clay and marble floor tiles, whilst furnishing it with beautiful antiques as well as more contemporary pieces.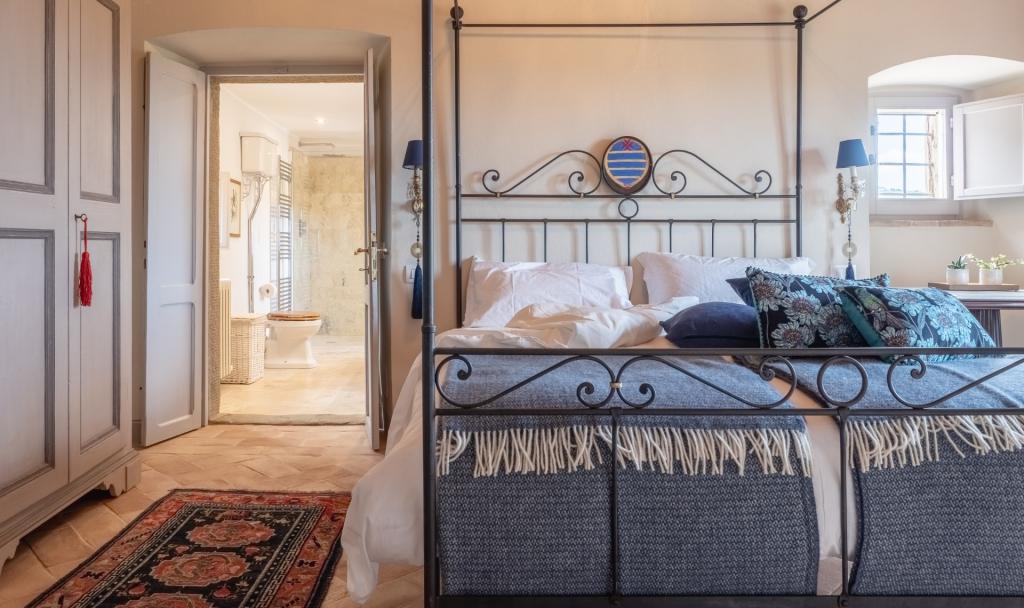 We're sure that you're going to fall in love with this luxury Tuscany villa as quickly as we did, especially when you discover that prices start from as little as 85 euros per person per night. To find out more about Villa Cortona and check availability, please head over to the Bookings For You website.