Quality holiday accommodation in the beautiful region of Tuscany

Perhaps Italy's most famous region, there's a reason Tuscany features so heavily on 'must visit' lists the world over; incredible vistas, fantastic food, the historic cities such as Florence, Pisa and Siena… We could go on (but we won't). Whether you're searching for a romantic villa for two, a countryside escape or a Tuscan villa fit for a family – we have a range of villas and apartments across Tuscany, so we're sure we have the perfect one for you.
Can't find the villa you want? Get in touch with your requirements and we'll send you our suggestions.
Tuscany villa with spa
This is a stunning 5 bedroom contemporary villa sleeping up to 13 guests, set in spacious gardens and boasting not just its own swimming pool but also an indoor spa area with heated hydromassage pool, sauna, Turkish bath and relaxation beds. it's the perfect setting for a luxurious holiday in Tuscany whilst being well placed to explore the very best that the area has to offer.
5 Bedroom
Sleeps 13
Villa
Val d'Orcia villa with pool
This is a six bedroom villa set on the top of a hillside in the beautiful Val d'Orcia and enjoying the most incredible 360 degree views over the nearby village of Pienza. Immaculately restored by the owners, the property is a charming mix of styles creating a warm and welcoming base for a holiday in Tuscany.
6 Bedroom
Sleeps 12
Villa
Villa Borgo: Stunning luxury Tuscany villa
Villa Borgo is a stunning luxury villa in Tuscany, set within immaculately kept grounds and enjoying wonderful views over the valley, surrounding olive groves and woods of hazelnut trees. This is a truly peaceful spot in which to enjoy a holiday in this beautiful part of Italy. The large private swimming pool (6m x 12m) is the perfect spot from which to relax, take in the views, and enjoy a glass of wine!
9 Bedroom
Sleeps 20
Villa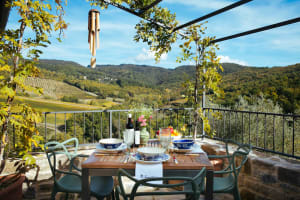 Villa Castiglioni
Villa Castiglioni is a stunning Tuscany villa in the Chianti region, an area famous for its food, wine and exceptional rural landscape. It has been beautifully furnished and the owners have even installed your very own wine bar within the Medieval tower. As well as this, you have your own gym and wellness area, four stunning bedrooms and a private pool.
4 Bedroom
Sleeps 10
Villa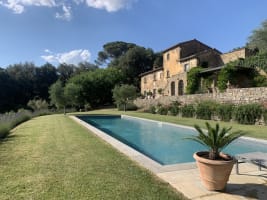 Villa Cortona
This Cortona villa is an absolutely stunning 4 bedroom luxury Tuscany villa, extensively renovated by the current owners over a two year period to create the incredible luxury holiday villa you see today. Villa Cortona is steeped in history. Its origins date as far back as the 14th century when the central tower served as a watchtower to defend the city of Cortona. Since then, its history has been rich and varied, once owned by a Grandmaster of the Knights of Malta and later, in 1868, it was the birthplace of Paolino Tribbioli, a prominent Catholic clergyman who played a vital role in bringing the Catholic Church to India.
Villa Grazia: 3 bedroom Tuscany villa with pool
Villa Grazia is a former barn that has been recently restored. It has 3 bedrooms and 3 bathrooms. It offers wonderful views over the countryside and is set in a private furnished garden with a pool and a nearby spa.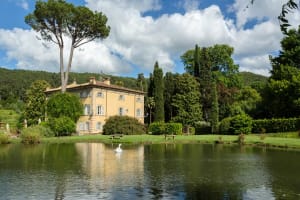 Villa Lucca
Villa Lucca is an exclusive 17th century luxury villa near Lucca sat in extensive parkland with private lake (home to swans) and a private pool (20m x 10m and 1.5m to 3m deep). It was originally the Summer residence of Count Cosimo Bernadici but is now rented so that others can enjoy the incredible antiques and majestic frescoed rooms..
7 Bedroom
Sleeps 14
Villa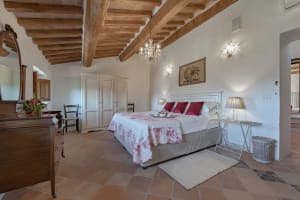 Villa Monterchi
Villa Monterchi is a delightful 6 bedroom country house in Tuscany which has been completely renovated. Surrounded by 5 acres of private garden and with a good sized swimming pool to enjoy, this 200 year old Tuscany villa occupies a delightful position surrounded by the woods and green hills of the Val Tiberina.
6 Bedroom
Sleeps 12
Villa
Villa Punta Ala
Villa Punta Ala is a beautiful, newly constructed 5 bedroom villa in Tuscany overlooking the Bay of Punta Ala. Boasting a private swimming pool (10m x 4m) and set in 4000 square metres of private gardens that border a larger nature reserve, guests staying here also enjoy direct access to a natural beach.
5 Bedroom
Sleeps 10
Villa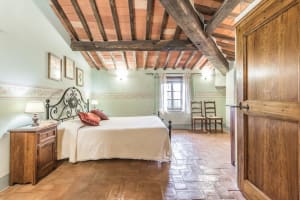 Villa Torre
Villa Torre was built in the first half of the 17th century by Ferdinand II of the Medici and was originally a lookout tower, used by a small group of soldiers to guard against an enemy attack. Given its original use, it's perhaps not surprising that it enjoys terrific views over the Valtiberina and the Tuscan hills. The property was then extended in 1894 by the grandfather of the current owners, creating the property that we see today. Of course, since then it has been restored and modernised whilst still maintaining its original charm.
5 Bedroom
Sleeps 10
Villa