Thanks to its location right down in the heel of Italy, temperatures in Puglia can soar, particularly during the Summer months. It's not unusual to expect temperatures to top 35 degrees centigrade in July and August. As a result, it's one of those Italian regions where we think you definitely either need to be close to the beach or have access to a swimming pool so that you can easily cool off.
So we thought we'd share with you our top 6 villas in Puglia with private pools, perfect for your next Italy villa holiday.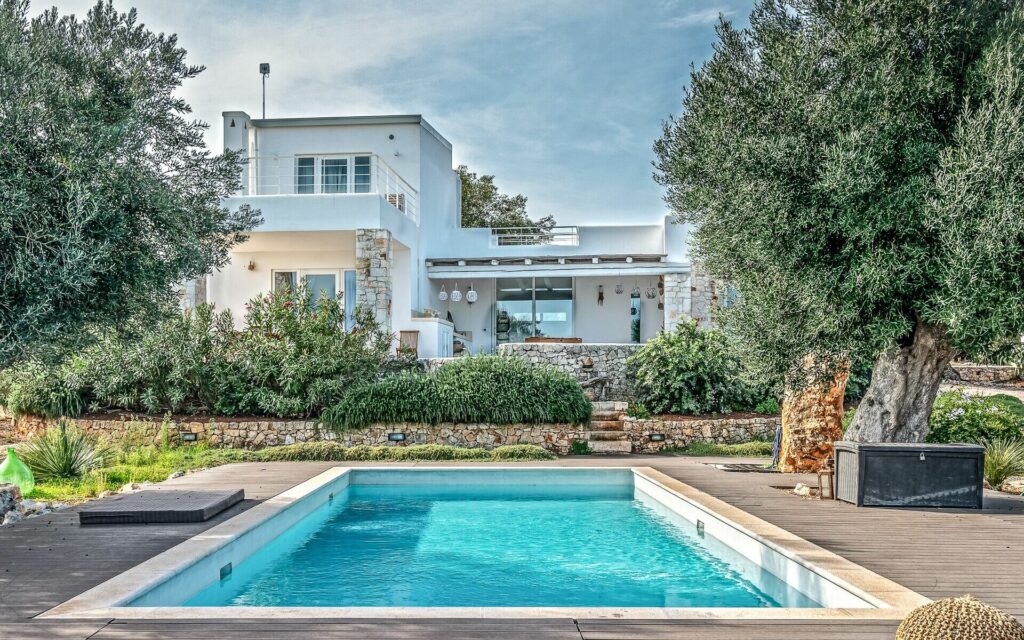 Villa Papillon is a Puglia villa that ticks both boxes when it comes to having somewhere to cool off. It boasts a stunning private pool surrounded by wooden terracing furnished with comfortable loungers, but for those that prefer a dip in the sea, it's just 5 kilometres from Puglia's idyllic coastline and sandy beaches. Not only that, but as the sun sets, you can enjoy some wonderful views from the private roof terrace across the olive groves to the sea.
Find out more about this villa in Puglia >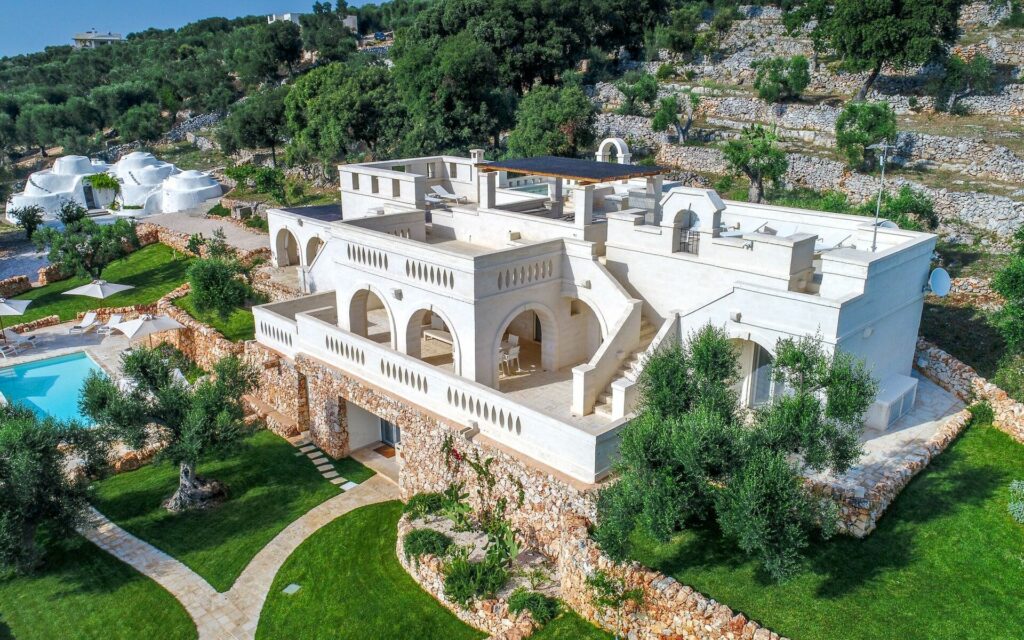 Why have just one pool when you can have three?!! Corte dei Messapi is a luxurious Puglia villa with accommodation for up to 24 guests split over three main buildings. Opt to spend the day relaxing at one of the two heated swimming pools in the garden and then, at night, why not opt for the rooftop plunge pool for a change of scene?!!
Find out more about this villa in Puglia >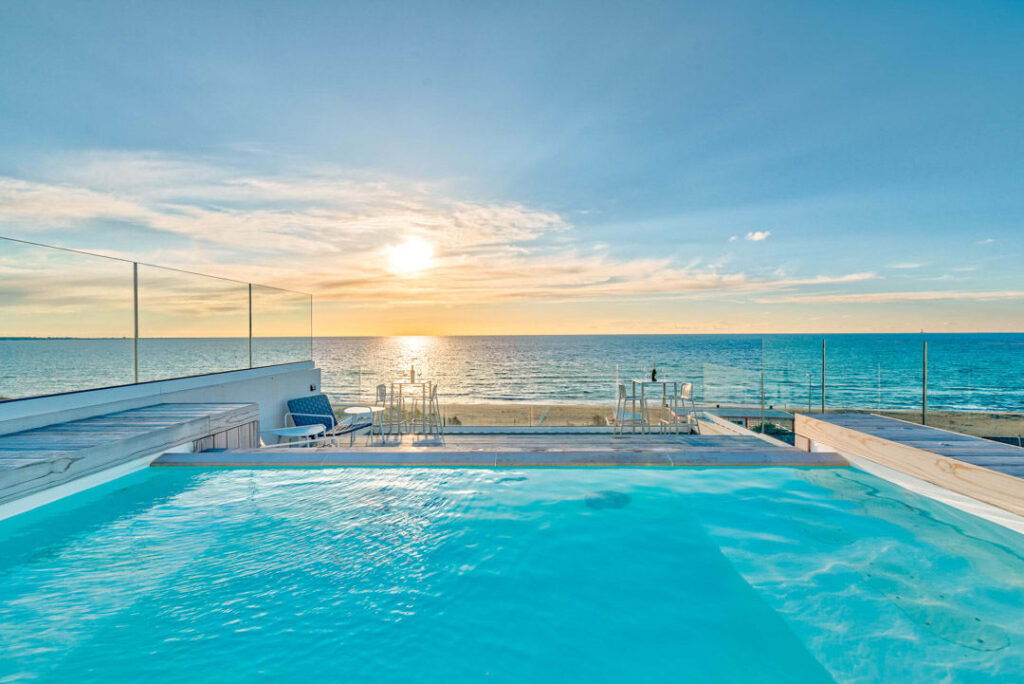 This Puglia villa really does offer the best of both worlds… Your very own private heated rooftop pool complete with massage jets along with the added luxury of having one of the best beaches in Puglia on your doorstep! The Baia Verde of Gallipoli sits literally across the road from the house, where you will find the sea perfect for swimming in from April through to late October.
Find out more about this villa in Puglia >
This Puglia villa oozes luxury. Not only do you have an exquisite private pool to enjoy, you also have an outdoor jacuzzi, gym, spa, sauna and massage suite all to yourselves too. Oh, and if you also plan to travel in style, you even have your own heliport too!
Find out more about this villa in Puglia >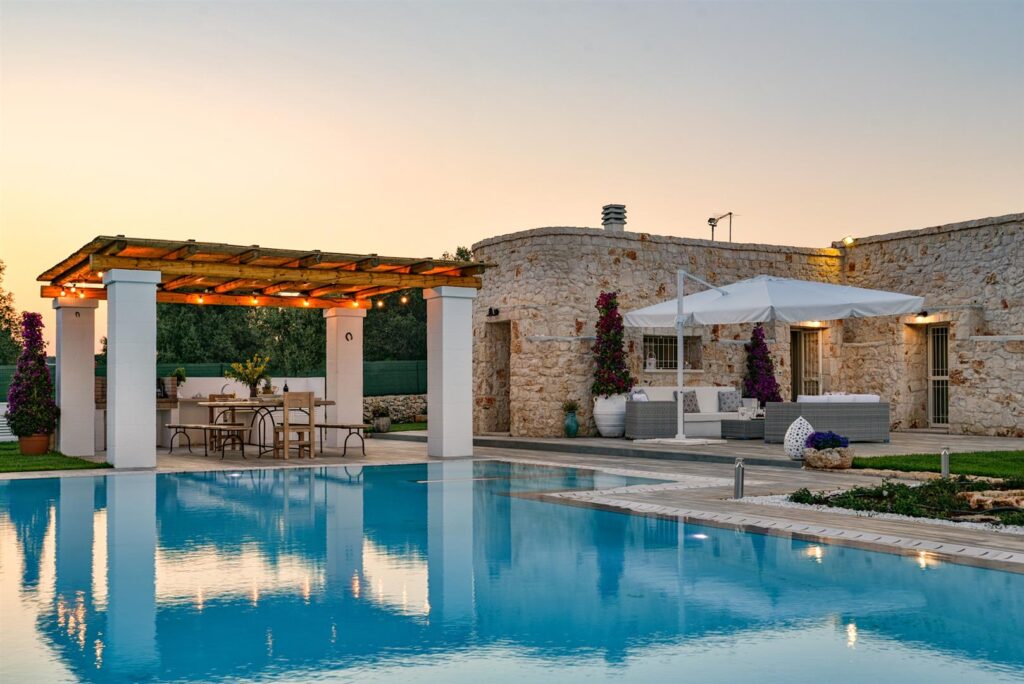 Whilst I'm sure we'd all love to have the finances to be able to afford to stay in Puglia villas like Villa Oriana, we're also very aware that not everyone's budgets can stretch so far. Introducing Trulli Nicola, a stunning Puglia villa near Ostuni. Its traditional exterior contrasts with its contemporary interior. Beautifully lit at night, this is a pool you'll be jumping back into after dinner, unable to resist its temptation!
Find out more about this villa in Puglia >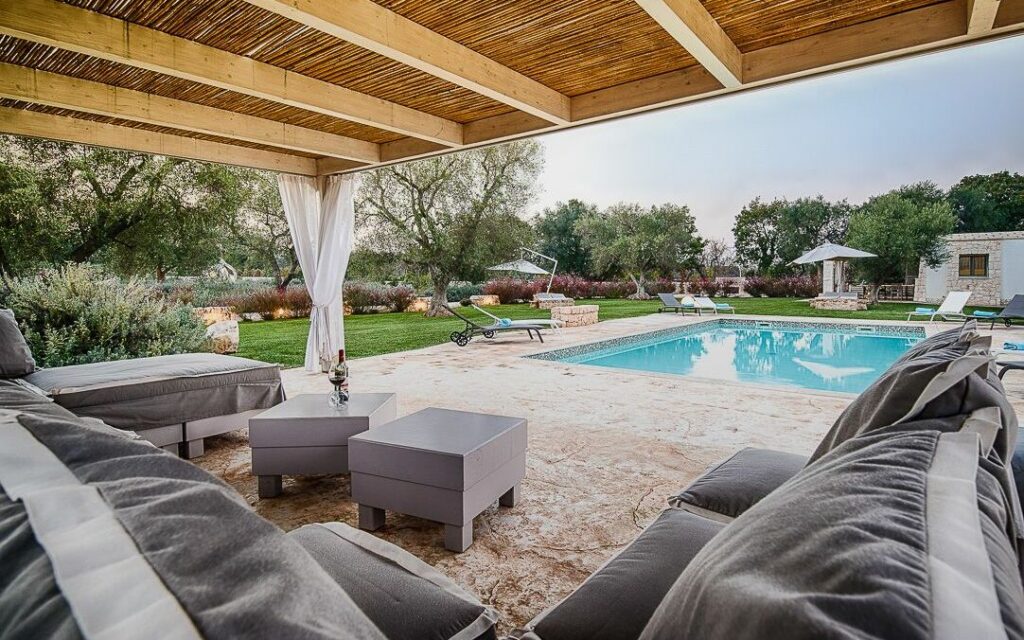 With a contemporary stylish interior, there's plenty to love about this Puglia villa. But, for us, it's the outside space that is most exceptional. The stunning private pool is surrounded by beautiful gardens, with a plethora of different seating and relaxation options to be enjoyed. Just don't blame us if you find you can't drag yourself away from the pool to do all that sightseeing you had planned to do!
Find out more about this villa in Puglia >
Tempted?!! Then take a look at all the Puglia villas available to rent from Puglia villa rental specialists, Bookings For You.