We had such a massive response to an article we wrote last year in which we shared an itinerary for spending a month in Italy, with many of you naturally looking for accommodation options to accompany it. So we thought we'd update it with some villa and apartment rental options for you to choose from this time round.
Once again, we've taken the option to focus on slow travel. This isn't necessarily an itinerary to choose if you want to fit absolutely everything into one trip. But we think it's the perfect Italian itinerary to spend a month in Italy living like a local. It's a way to really absorb the local Italian culture, relax and unwind. Don't worry – you'll still be able to tick off some Italian bucket list highlights but this will be balanced alongside time discovering some more 'off the beaten track' locations which is what we think gives Italy its unique and incredible charm.
Of course, it's up to you how long you spend in each place or how many different bases you choose to stay in. We recommend spending a week in each place to do them justice. In other words, if you have only a fortnight to spend in Italy, then you may opt to stay in just a couple of places so that you can explore them more fully. But, however long you stay, by choosing an apartment or villa rental as a base from which to explore some of our suggested highlights in each area, we think you will definitely be able to enjoy the very best that Italy has to offer. And, to make it easy, we've selected our pick of the very best villas in Italy for you to choose from in each region.
Base 1: The Italian Lakes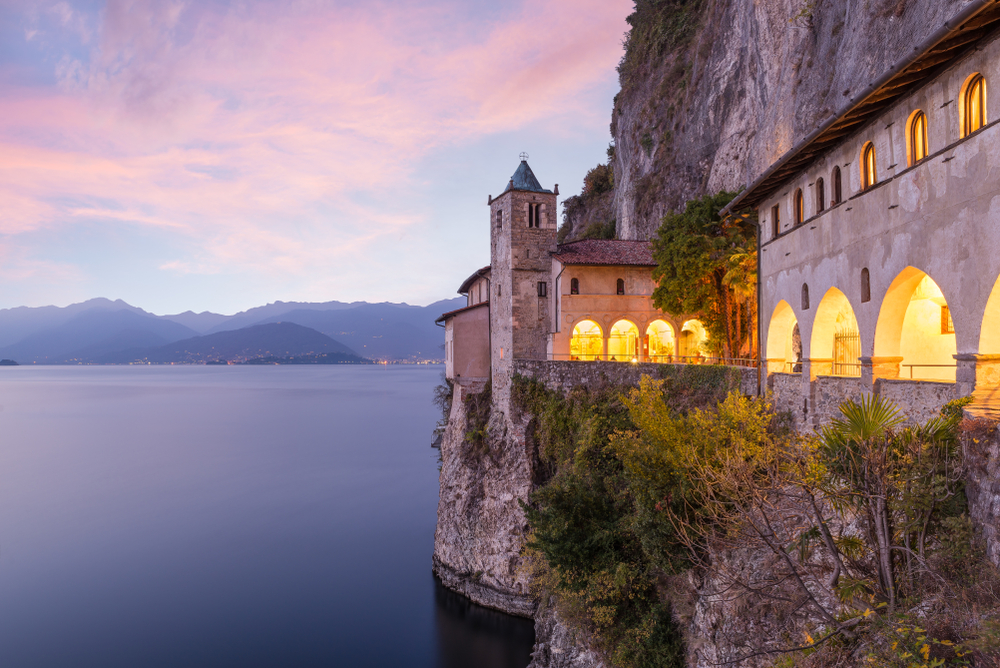 The Italian Lakes is the perfect base to start your 4 week tour of Italy. Whilst there are six main lakes to choose from (Lugano, Iseo, Orta, Como, Garda and Maggiore), we'd recommend picking one of the last three for this particular tour. It's not that Lake Iseo, Lake Orta and Lake Lugano aren't worth seeing but we feel that the others will be a better base for you to explore the wider area.
Our favourite of the lakes is Lake Maggiore. It's also an extremely convenient base from which to explore the wider Italian Lakes region. Less than an hour from Milan, it's also under 2.5 hours from Verona and from here, just a 90 minute train journey to Venice. It's also under 2.5 hours from Lake Garda and Lake Iseo, less than an hour from Lake Como and Lake Lugano and less than 30 minutes from Lake Orta. Not only that, but Lake Maggiore is one of the lesser known of the lakes so time spent here will serve as a pleasant contrast to the hustle and bustle of the regional cities. There are so many things to do on Lake Maggiore itself but in the wider Italian Lakes area some of the bucket list highlights would be would be the Duomo in Milan, the Arena in Verona and the Basilica di San Marco in Venice.
Italian Lakes villa rental options:
Italian Lakes villas for 2 people: Apartment Manzoni, Villa Lesa and Sopra il Lago.
Italian Lakes villas for 4 people: Casa Casarini, Villa Sereni and Casa Belva.
Italian Lakes villas for larger groups: Villa Ermelinda, Villa Castellaccio, Apartment Tranquillo, Villa Dagnente and Villa Colmegna.
Base 2: Explore Cinque Terre and Tuscany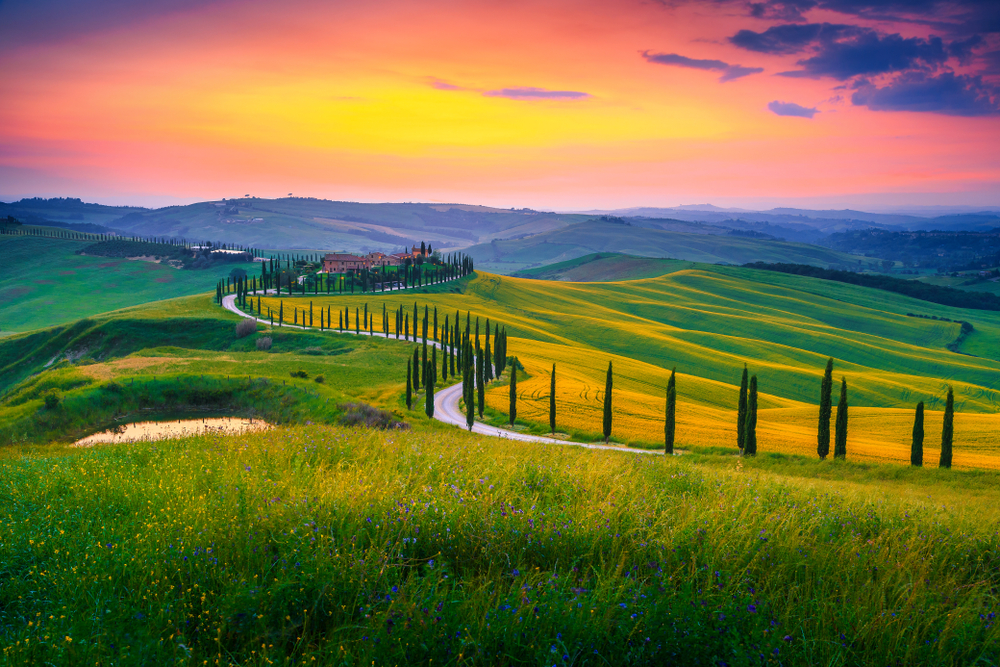 The Cinque Terre is made up of five neighbouring villages – Monterosso, Vernazza, Corniglia, Manarola and Riomaggiore. These coastal towns literally cling on to the rocky cliffs of Liguria, on a stretch of coastline affectionately referred to as the Italian Riviera. Since the villages are connected via a series of coastal trails that need to be explored on foot, we don't recommend you drive here but instead enjoy a private tour or transfer to Cinque Terre from a base in Tuscany. We recommend a tour with Get Your Guide.
It is possible to take a train to Cinque Terre from Pisa, a journey that will take just over an hour. Alternatively, you can take a private transfer from Lucca to Cinque Terre in less than 90 minutes. Of course, Pisa and Lucca are is just two of many towns and cities in Tuscany well worth a visit. Others include Siena, Florence and San Gimignano. However, Tuscany can not be fully appreciated without also spending a few days in the rural landscape that connects all these cities. It's in this more rural landscape from the Chianti vineyards of the north to the rolling hills of the Val d'Orcia in the south that you will discover some of Tuscany's smaller towns and villages. These include Volterra, Anghiari, Cetona, Cortona, Montalcino, Montepulciano and Pienza. Some of the bucket list highlights for any stay in Tuscany would be the Duomo in Florence, the Piazza del Campo in Siena and the Piazza dei Miracoli in Pisa.
Tuscany villa rental options:
Tuscany villas for 2 people: Casa Granaio, Apartment Origano and La Capanna.
Tuscany villas for 4 people: Villa Benedetta, Villa Cortona and Villa Grazia.
Tuscany villas for larger groups: Villa Capanne, Villa Colombaio, Villa Vetrichina, Villa Ronco and Villa Borgo.
Base 3: Amalfi Coast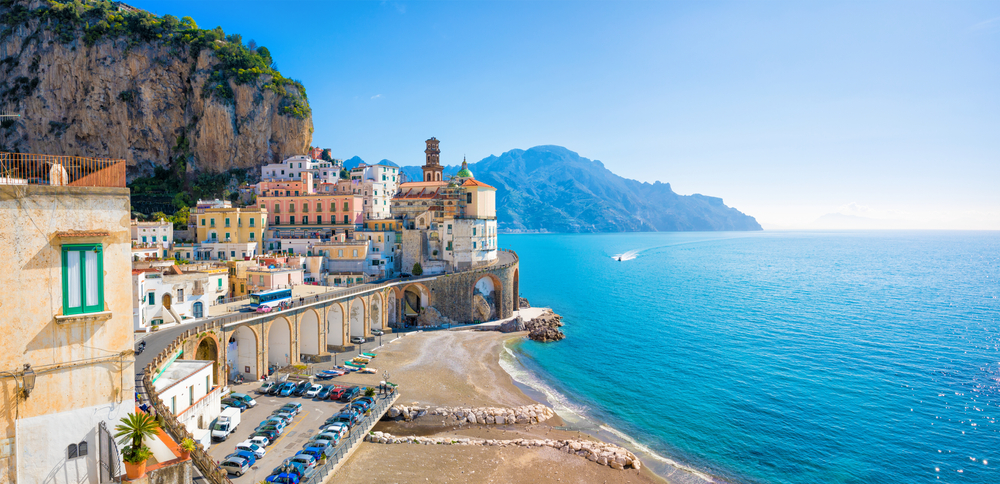 The Amalfi Coast is an area of Italy that is approximately 50 kilometres long and takes visitors from Punta Campanella on the Sorrentine Peninsula all the way to the charming town of Vietri sul Mare further east. The scenery all along this stretch of coastline is dramatic, characterised by terraced vineyards, lemon groves and sheer cliffs that drop into the turquoise coloured sea below. You'll find a number of picturesque, pastel-coloured fishing villages to discover – Positano, Ravello and Amalfi for example – but you're also ideally placed to discover some of Italy's most famous bucket list highlights. These include historic sites such as Pompeii and Herculaneum. The fascinating city of Naples is also close by as is the only active volcano in mainland Europe – Mount Vesuvius. And we mustn't forget the proximity of the glitz and glamour of the island of Capri.
Amalfi Coast villa rental options:
Amalfi Coast villas for larger groups: Villa Sorrento
Base 4: Umbria and Le Marche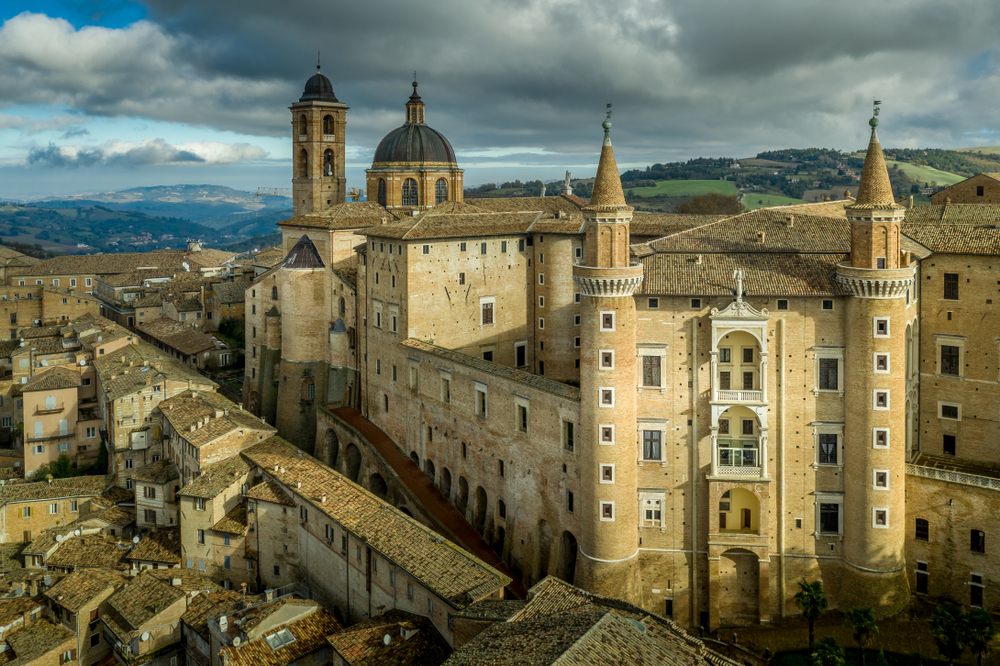 We think that Umbria and Marche are a couple of Italy's best kept secrets. Both of these central Italian regions are just as beautiful as their more famous neighbour Tuscany, but, as a general rule, in both regions you'll find far less holidaymakers. To put this in perspective, in 2019, approximately 48 million nights were spent in tourist establishments in Tuscany. In Le Marche, the figure was just over 10 million in that same period whilst it was less than 6 million in Umbria. We think that this allows you to experience a much more authentic stay.
Whilst Umbria and Le Marche may not have the famous cities that attract people to Tuscany (Pisa, Florence and Siena for example), it is home to some of favourite towns in Italy. Some of our favourites in Umbria include Assisi, Orvieto, Montefalco, Spello and Spoleto whilst in Le Marche there is Urbino, Gradara, Ascoli Piceno and Corinaldo. Not only that but both regions boast the most spectacular rural landscape whilst Marche also has an incredibly spectacular coastline too. Its beaches under the limestone cliffs of Monte Canero can certainly rival any found on the opposite coast in Tuscany. And Marche can also rival its more famous neighbour, Tuscany, when it comes to art and architecture too. Urbino was actually one of the primary centres of the Italian Renaissance and it was the birthplace of Raphael.
Whilst in Umbria and Le Marche, some of the highlights to tick off your bucket list would be a journey to the Basilica of Saint Francis in Assisi, a walk through the the Furlo Gorge in Marche and a visit to the Tempietto del Valadier.
Umbria villa rental options:
Umbria villas for 2 people: Le Volte, Apartment Sangiovese and The Courtyard.
Umbria villas for 4 people: Villa Giardino, Buonanotte Barbanera, Podere Marone, Caidominici 3 and Apartment Montefalco.
Umbria villas for larger groups: Fonte Cicerum and Villa Assisi and Caidominici 8.
Le Marche villa rental options:
Le Marche villas for 2 people: Apartment Segreto and Casa Infernaccio.
Le Marche villas for 4 people: Villa Bora and Maison Oliveto.
Le Marche villas for larger groups: Monastero di Favori, Villa Olivo and Villa Marche.
Base 5: Rome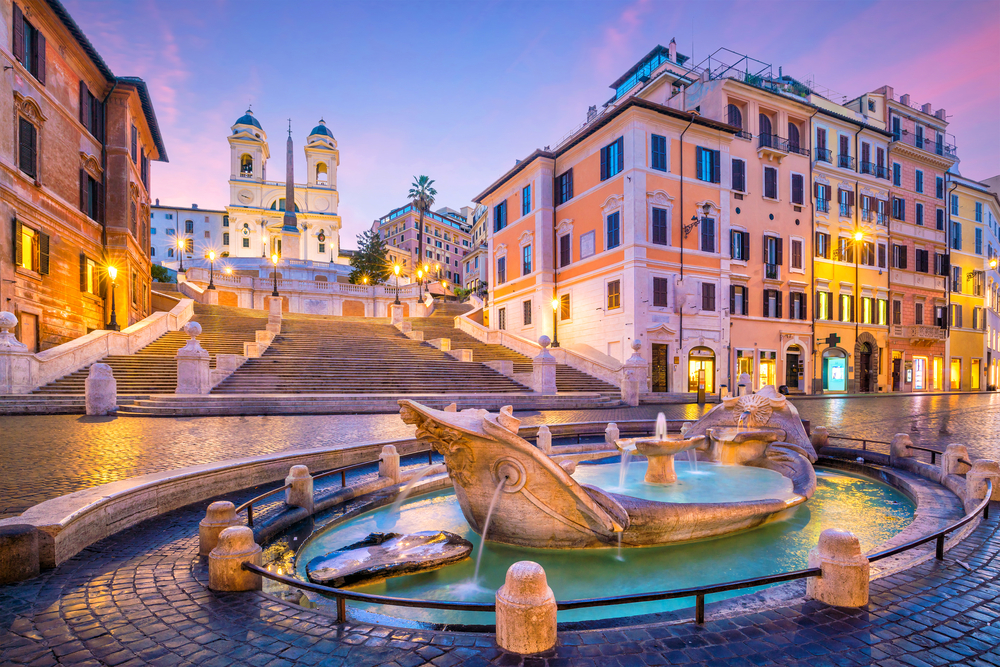 No visit to Italy would be complete without spending time in its capital city, Rome. Attracting around 10 million visitors each year, Rome is an incredibly popular destination for a weekend break, but we'd argue you'd need at least a week to do it justice. Its buildings are so iconic that, even when visiting for the first time, you almost feel like you have been there before. The Colosseum will take you back to your history lessons at school whilst the Vatican City, Trevi Fountain, Spanish Steps and Pantheon will have been witnessed so many times in newspapers, books, magazines, films and TV that you'll almost feel at home when visiting them. Take a look at our bucket list to Rome for more ideas on what to see and do in the city.
Base 6: Puglia and Basilicata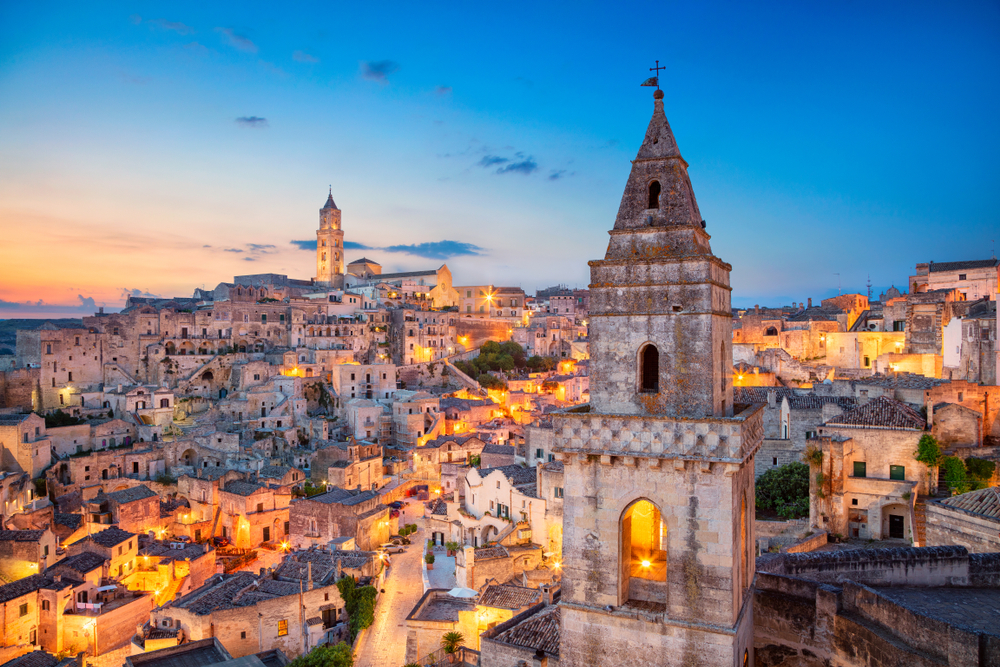 Situated in the very south of the country, in the 'heel' of Italy, Puglia is a region of real contrasts. The landscape in Puglia changes quite dramatically from North to South. In the north, you will discover the dense, green forests of the Gargano National Park and the rugged cliffs of the charming seaside town of Polignano a Mare. More centrally in Puglia, you'll discover a swathe of inland towns in the picturesque Valle d'Itria, many of which feature in the list of borghi piu belli d'Italia. These include Ostuni, Alberobello, Cisternino and Locorotondo. And then further south, you'll find the vineyards of Manduria, the coastal towns of Otranto and Lecce, as well as the incredible white beaches of Salento. These are affectionately nicknamed the 'Maldives of Italy', thanks to the long stretches of white golden sands and turquoise coloured seas.
Basilicata sits sandwiched between Puglia to the east and Calabria and Campania to the south and west. If we're being brutally honest, the region hasn't really fully made it onto the tourist map just yet. However, the exception to this is its most famous town, Matera. Fifty years ago and you definitely wouldn't have seen a tourist stepping anywhere near Matera (in the 1950s it was an incredibly impoverished place characterised by slum dwellings). However these days, its sassi have been converted into luxury boutique hotels, upmarket restaurants and attractive independently owned shops. Less than 15 minutes drive from the Puglia border, it's also the perfect trip to combine with any Puglia holiday.
Puglia villa rental options:
Puglia villas for 2 people: La Casa Piccola and Apartment Gelso.
Puglia villas for 4 people: Trulli Nicola, Trullo il Fragno, Villa Cristina, Il Casolino and Trulli Messapia.
Puglia villas for larger groups: Villa Miracolo, Villa Mirage, Villa Carovigno and Corte dei Messapi.
Base 7: Sicily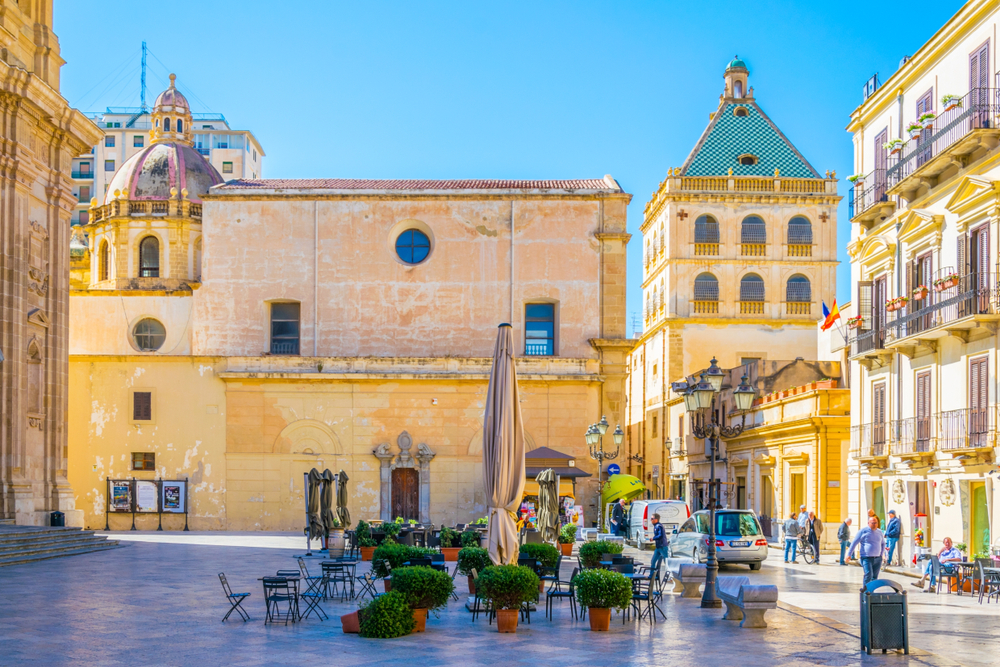 It's far too easy to forget how vast Sicily is. To try and put some perspective on it, it's the largest island in the Mediterranean and, for those Brits reading this, this makes it slightly bigger than Wales. At nearly 10,000 square miles, it's also the largest of Italy's twenty regions. As such it would be impossible to do justice to the island in even a couple of weeks, never mind just one.
However, if you are trying to prioritise some of its most important sites, then it's worth bearing in mind that Sicily is home to two of Italy's four UNESCO Nature World Heritage sites – the Aeolian Islands and Mount Etna. The latter is the tallest active volcano in Europe and home to numerous picturesque, tiny villages and hamlets that are nestled on its fertile slopes. Sicily is also home to five of Italy's 58 UNESCO Cultural World Heritage sites. These include Agrigento, Villa Romana del Casale, Syracruse and the Rocky Necropolis of Pantalica, the Late Baroque towns of the Val di Noto and the Arab Norman Palermo and the Cathedral Churches of Cefalu and Monreale. Not only that, but the island boasts a plethora of fascinating towns and cities in Sicily to discover – Palermo, Siracusa, Ragusa, Piazza Armerina, Noto and Taormina to name just a few. The latter is home to the incredible Teatro Romano. And Sicily's coastline is filled with some of the most beautiful beaches anywhere in Italy.
Sicily villa rental options:
Sicily villas for 2 people: Villa Simona and Villa Coral.
Sicily villas for 4 people: Casa Terre di Bea and Villa Lori.
Sicily villas for larger groups: Villa Marsala, Villa Maura, Villa Saracen and Villa Lux.
We recognise that this month long Italian itinerary excludes some key regions – Emilia Romagna, Sardinia and Calabria being the most obvious exceptions. Don't for a minute think that we're saying that these places aren't worth a visit. Not in the slightest! But, with limited time in Italy, difficult choices have to be made and compromises taken. We don't apologise for being firm believers in taking your time when travelling. Better to spend a week in each base and see more of that particular area and get a sense of what it's like to live there, than rush from place to place never quite getting a feel for its people and its character.
If you're planning a holiday in Italy and would like some advice on where to stay, please do get in touch with Bookings For You and we'd be happy to help you with a suggested itinerary for your villa holiday in Italy.